John De Lancie, Gary Lockwood, Sally Kellerman, & More At Shore Leave 33 This Weekend
By Captain Pyke | July 6, 2011 - 8:42 pm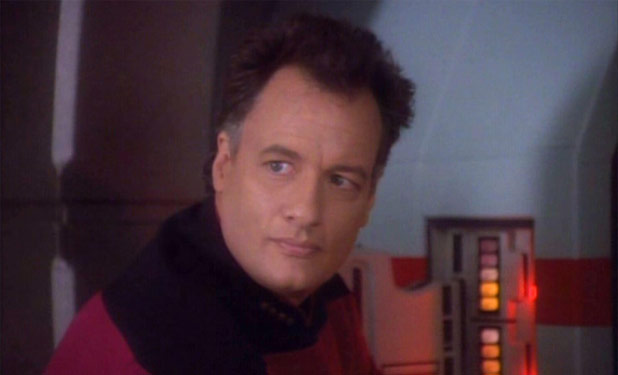 Shore Leave, one of the longest running fan operated conventions, is quickly approaching. We've never been to this particular con, but we have had fantastic reports the last two years thanks to The SciFi Diner's Miles McLoughlin. Be sure to check out the Shore Leave 31 & 32 reports to get an idea of what to expect. There's an interesting group of stars that visit Maryland every year and this time is no different. If you're a TOS fan (and who isn't?) Gary Lockwood & Sally Kellerman from "Where no man has gone before" will be on hand. Of course you'll know Gary from 2001: A Space Odyssey and Sally from the motion picture version of MASH as well as many other TV and motion picture appearances. On top of that, our favorite omnipotent being Q, John De Lancie, Star Trek authors Dayton Ward, Kevin Dilmore, David Mack, Keith DeCandido, Peter A. David and many others will also be on hand.
Check out the full list of Stars and convention info below.
Shore Leave 33
July 8-10, 2011
Marriot's Hunt Valley Inn
Balitomore, MD.
Official Website here.
Trek Guest List
John de Lancie
ST:TNG, ST:SD9, & ST:Voyager's Q; Stargate SG-1's Colonel Simmons; Charmed's Odin; Legend's Professor Bartok
Gary Lockwood
ST:TOS's Lt. Cmdr. Gary Mitchell ; 2001's Dr. Frank Poole
Sally Kellerman
ST:TOS's Dr. Elizabeth Dehner; M*A*S*H's Major Margaret Houlihan
Keith DeCandido
Dayton Ward
Kevin Dilmore
David Mack
Peter A David
Other Scifi Guests
Christopher Judge
Stargate SG-1's Teal'c; Andromeda's Hector
Tricia Helfer
Battlestar Galactica's Number Six; Warehouse 13's Agent Bonnie Belski; No Ordinary Family's Sophia Adler; Chuck's Agent Alex Forrest
Eddie McClintock
Warehouse 13's Pete Lattimer; Moonlight's Jason Abbott
Emilie Ullerup
Sanctuary's Ashley Magnus; Riese's Aliza; Battlestar Galactica's Julia Brynn; Smallville's Cat Grant Blood Ties' Sandra
Cliff Simon
Stargate SG-1's Ba'al
(source Shore Leave 33)