Chase Masterson
By Captain Pyke | January 25, 2012 - 10:56 pm
We're pleased to announce episode 18 of our "Life After Trek" podcast, the "R U R" Special, featuring Chase Masterson & James Kerwin. Chase & James sit down with us to talk about their new film project R.U.R. & the crowd sourced "spin-off" short R.U.R.: Genesis. A play written by Karel Capek in 1919 -- and decades ahead of its time -- R.U.R. is a sharp commentary on progress, politics, and relationships, accurately predicting advances in biotechnology and setting the tone for future science fiction masterpieces like Metropolis and Blade Runner. In this retro-futuristic adaptation of the classic play (co-written & directed by James & starring Chase) R.U.R. depicts a world populated by genetically engineered workers ("artificials") — perfect, made-to-order humans who lack fundamental rights. We've loved Yesterday Was a Lie and are really looking forward to the release of this project.
By Captain Pyke | May 30, 2011 - 11:06 pm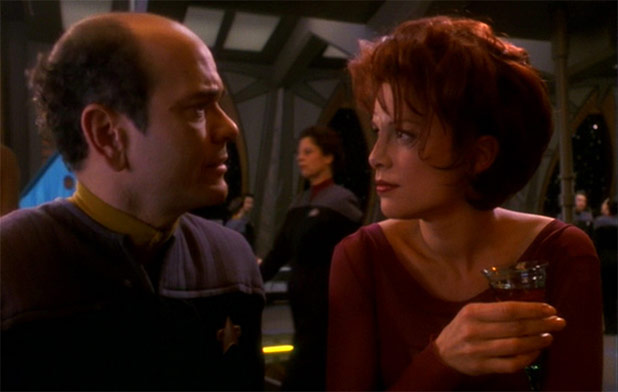 Here's an interesting event that was just brought to our attention by the show organizers. It's is called the Frank & Son Collectable show and on June 11th they will be hosting they're 2nd annual Star Trek Day featuring cast members & guest stars from every Trek series. It's not a convention per se, but more of a chance for fans to get autographs and photo-ops with their favorite stars. Also at the event, the Cinema Makeup School of Los Angeles will be on hand doing Star Trek/ Sci-Fi makeup effects on attendees. Cryptic Studios will be there as well, with PCs setup for you to try out "Star Trek Online", plus free trials of the game for the first 150 people in attendance.
By Crewman Becky | May 14, 2011 - 6:23 pm
Here's one that almost snuck past us. If you don't have plans for this evening how about going to see Chase Masterson (Leeta on Deep Space Nine) live at the Warner Grand Theatre in San Pedro, CA. She will be there narrating "Disney in Concert: Tale as Old as Time" with the Golden State Pops Orchestra.
GSPO will be reprising the popular concert "Tale as Old as Time" featuring screen film clips from favorite Disney Classics such as The Little Mermaid, The Lion King and Mulan and song selections "A Dream is a Wish Your Heart Makes," "Bella Notte," "Part of your World," and "Beauty and the Beast" sung by four soloists. Tale as Old as Time is the story of hopes and dreams, meeting strangers, developing friendships, finding true love and living happily ever after.
The concert is scheduled for tonight, Saturday, May 14th 2001 and 8pm at the Warner Grand Theatre (478 W. 6th St., San Pedro, CA)
Get there by 7:30 and see Stage Side with Disney Composer Carl Rydlund, moderated by Leo Smith Editor of the Daily Breeze.
By Captain Pyke | February 24, 2011 - 11:13 pm
We had an absolute blast last year at the Austin Comic Con presented by Wizard World and it looks like another awesome Comic Con is shaping up in Anaheim, CA this April. Among the tons of guests appearing in Anaheim, Star Trek's own Robert Picardo, Chase Masterson, John De Lancie, Catherine Hicks, & Lee Arenberg will be in attendance. Take it from us, Wizard World puts on one of the best conventions around and chances are if you miss Anaheim, there will be a show near you sometime this year. Check out the Wizard World website for a full list of Comic Cons nationwide.
From the Wizard World Press release:
By Captain Pyke | October 19, 2010 - 10:00 pm
We're pleased to announce the fourth episode of our podcast called, "Life After Trek" featuring Chase Masterson & James Kerwin. As you all know, Chase played Leeta on "Star Trek: Deep Space Nine" and is an accomplished singer, feature film producer & actor. Her most recent role is that of the "Jazz Singer" in the film noir science fiction thriller "Yesterday Was a Lie". In this special episode of "Life After Trek", we talk in depth with "Yesterday Was a Lie" writer / director James Kerwin about the new film and then finish out the episode with a insightful discussion with Chase about her time on DS9.
By Crewman Becky | September 10, 2010 - 8:50 pm
While we were at this year's Vegas Khaaan!! we received a copy of "Yesterday Was a Lie" (featuring Deep Space Nine's own Chase Masterson) to watch, enjoy, and review. We recently sat down and watched it (twice) and thought you might like to read about it.
It's a psychological mystery/thriller in the style of the best film noir detective movies of the 1940's. Written and directed by James Kerwin and starring Kipleigh Brown (Enterprise), Chase Masterson (DS9), John Newton, and Mik Scriba, this movie takes you on a stunning ride through fog filled alleys and moonlit city streets that will have you questioning reality at every turn.
By Captain Pyke | July 29, 2010 - 9:27 pm
The well versed actor, singer, and producer Chase Masterson, is joining the likes of Leonard Nimoy and Zachary Quinto in Star Trek Online. Two Spocks and a Dabo girl, hey, I see a series in that! Anyway, Chase is lending her voice to STO Season Two aboard Deep Space Nine in her familiar role as a Dabo girl. Well, A holographic Dabo girl, which is the property of Quark Enterprises. Let's hear what Chase had to say about joining STO.
By Captain Pyke | July 15, 2010 - 9:55 pm
As you know, the Scifi Diner Podcast is one of our favorites. Scott & Miles have become true friends of our site and were gracious enough to invite me to sit in on their most recent interview. Chase Masterson, a Trek fan favorite, stopped by the diner to talk about her time spent on "Star Trek: Deep Space Nine", her singing career & charity work, plus her new movie "Yesterday Was A Lie". "Yesterday" was not only a great co-starring role for Chase, but she also wore the producer hat on the film.
Check out a brief synopsis for "Yesterday Was A Lie":