Data Feed
By Crewman Becky | March 17, 2012 - 11:39 pm
Star Trek's Q, otherwise known as John De Lancie, is the newest guest added to the Dallas Comic Con Roster. As we previously reported, Patrick Stewart is also attending. How perfect is it now that the two polar opposite characters of TNG are going to both be represented. We're hoping that they will share stage time on a two man panel so we can see a little of the old Q vs. Picard shenanigans we all love.

Dallas Comic Con
May 19-20, 2012
Irving Convention Center 500 W Los Colinas Blvd
Irving, TX (At intersection of 114 and NW Highway)
Official Website
By Crewman Becky | January 14, 2012 - 11:14 pm
LeVar Burton will be voicing one of the characters in the new Hasbro cartoon, Transformers: Rescue Bots. It Premiers on the HUB channel, on February 18th at noon ET and 9am PT
His character, Doc Greene is described as; Frankie's dad, Doc Greene, is head of research at The Lab. He knows everything about Griffin Rock, and he's an expert on all the gadgets and devices that have ever existed on the island. He may be a bit quirky and eccentric, but when it comes to figuring out how things work or inventing new things, he's a genius. So how long will it take him to figure out the truth about the Rescue Bots?
(Source: hubworld.com)
By Captain Pyke | October 25, 2011 - 10:33 pm
Our good friends Scott and Miles from The SciFi Diner Podcast are at it again with another great Trek interview. This time the boys are talking with Gary Lockwood, "Gary Mitchell", from the TOS episode "Where No Man Has Gone Before" as well as "Frank Poole" from 2001: A Space Odyssey. It seems like The SciFi Diner has been Trek'd up as of late with last week's interview of John De Lance.
Recorded at this year's Shore Leave convention, Scott, Miles & Gary talk about "Where No Man Has Gone Before" as well as the Kubrick's masterpiece 2001. As always, we can't say enough good things about The SciFi Diner. While we try to put together another episode of "Life After Trek", be sure to get your Trek fill with this awesome SciFi Diner episode.
By Captain Pyke | October 18, 2011 - 10:51 pm
I have to admit that I don't watch reality TV... not enough Vulcan's or phaser blasts for my tastes, but that could soon change (although probably not). George Takei is joining Donald Trump for Celebrity Apprentice 5. If anyone can take on Trump, it's George... OH MYYYY! Also joining the cast this season; Adam Carolla, Austin Comic-con favorite and Liberator star Lou Ferrigno, Dee Snider, & Penn Jillette to name a few. So let's face it. Trek fans will watch simply because George is awesome. Heck, we would too if we could get past the pseudo-drama, horribly fake confrontations, & terrible editing to make any situation contentious. Although, The Shat on Cupcake Boss might change our minds on Reality TV as a whole. Yes folks, there's a show called Cupcake Boss. Check out the full list of stars that will be joining George on Celebrity Apprentice:
By Captain Pyke | September 19, 2011 - 10:10 pm
From now until September 25th, you can catch Robert Picardo (the non-holographic version) in the musical Cabaret. Robert plays fruit-salesman Herr Schult in this slightly tamed version of the classic. Also starring O'Hare as Sally Bowles, Jeff McLean as Cliff Bradshaw, Mary Gordon Murray as Fräulein Schneider, and Bryce Ryness as the Master of Ceremonies. You can catch Cabaret at the Freud Playhouse at UCLA.
About Cabaret:
Willkommen to Germany in the 1930s, a time of excess for those who seek out such pleasures, and a time of fears as the Nazi Party begins to take political power. Cliff Bradshaw is an American writer in search of meaning in his life, and he seeks them out in the dancehalls and clubs that make up Berlin's seedy underground nightlife. Along his journey, he encounters the enigmatic, 19-year-old Sally Bowles who introduces him to the desperate, gaudy and haunting world of the Cabaret. Featuring some of musical theatre's most famous songs, including Willkommen, Don't Tell Mama,Tomorrow Belongs To Me and Cabaret, this show is an enduring classic.
By Captain Pyke | August 25, 2011 - 10:32 pm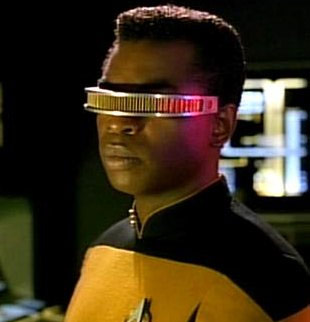 If you're in Orange County, CA. this weekend and more specifically Laguna Beach, stop by the ever popular Festival of Arts and say hi to LeVar Burton & Alfre Woodard. Both Trek stars will be appearing at the event along with Singer/songwriter Richard Marx (who is set to perform), Camryn Manheim (Ghost Whisperer), Greg Grunberg (Heroes, and the airplane pilot from Lost who got totally eaten by the black smoke monster), , Richard Karn (Home Improvement and Family Feud host), & Marion Ross (Mrs Cunningham, Happy Days)
It will cost you $7 to get in and it's first-come first-serve, so get there early. Heck you could even win an Acura ZDX valued at over $50,000.
2011 Festival of Arts Celebrity Event
Festival of Arts grounds
650 Laguna Canyon Rd.
Laguna Beach, California
Saturday at 4:30 p.m.
Official Website
(Source LagunaBeachPatch.com)
By Crewman Becky | June 24, 2011 - 11:58 pm
There's almost 2 days left to bid on a Vintage 1978 Original Star Trek Pinball Machine from an Austin TX auction house, and as of the release of this article the high bid is only $250. We heard about this one recently and you better believe that if we had a place to put it in our house we wouldn't be telling you about this, but since we are packed to the nacelles here we're letting you in on the opportunity. This particular auction house accepts online bids (as well as in person bidding). That way you don't have to live anywhere near Austin to win this item. They are even willing to help with the shipping coordination, you just have to spring for the cost. From their description and pictures, it looks like the pinball machine is in pretty good condition and even has it's original manuals...however with an "as is" tag we can't tell if it's actually in operating order.
Even if you aren't in the market for a pinball machine of your very own it's still pretty cool to look at. They have quite a few pictures online and quite a bit of detailed information.
If you end up buying this pinball machine let us know. We'd love to post pictures of you at play.
Good luck...and let the bidding begin!
By Crewman Becky | June 6, 2011 - 4:05 pm
We just heard that J.J. Abrams has announced that Leonard Nimoy is hidden somewhere within his latest film "Super 8", due out on June 10 (in the US). How Trek-tastic is that?!? Now we have yet one more reason to go see this highly anticipated film.
In an interview with Collider, Abrams stated that there are a number of hidden features in the highly secretive movie, including the Star Trek actor.

"Leonard Nimoy is in the movie somewhere if you can find him," Abrams said.
So get your popcorn and bathroom breaks out of the way before the show starts so you can keep an eye out for Spock Leonard Nimoy somewhere within the film.
By Captain Pyke | June 3, 2011 - 7:46 pm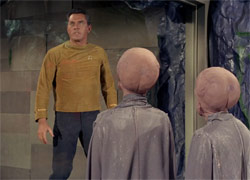 If you like Improv, TOS, & live in the Portland, Oregon area, have we got a deal for you. The show is called "USS Improvise The Musical" and is the only place we know where you can see Kirk sing a love duet with an alien princess or Scotty sing a song about the joys of transporter travel. Staged by The Unscriptables, the show is running several weekends this month with it's debut performance tonight (June 3rd, 2011). Check out details below for dates, time, & location.