Marina Sirtis, Tim Russ, Robert Picardo, John DeLancie, Chase Masterson & More In City Of Industry June 11th
By Captain Pyke | May 30, 2011 - 11:06 pm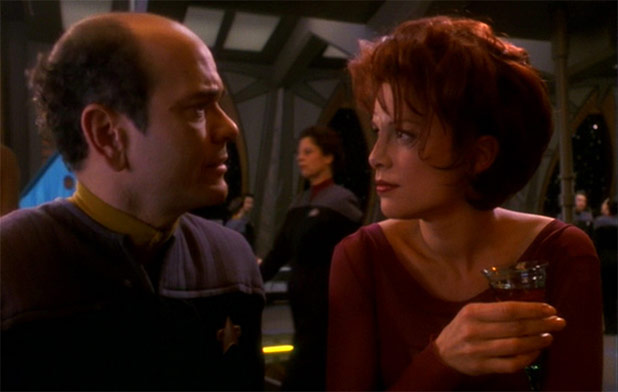 Here's an interesting event that was just brought to our attention by the show organizers. It's is called the Frank & Son Collectable show and on June 11th they will be hosting they're 2nd annual Star Trek Day featuring cast members & guest stars from every Trek series. It's not a convention per se, but more of a chance for fans to get autographs and photo-ops with their favorite stars. Also at the event, the Cinema Makeup School of Los Angeles will be on hand doing Star Trek/ Sci-Fi makeup effects on attendees. Cryptic Studios will be there as well, with PCs setup for you to try out "Star Trek Online", plus free trials of the game for the first 150 people in attendance.
According to the press release; for over 20 years Frank & Son's has been the premier weekly collectible show in the U.S. featuring over 200 of the finest collectible dealers under one roof spanning over 60,000 square feet.
Check out the full details below.
Frank & Son Collectible show Star Trek Sci-Fi Fan Day
June 11th, 2011
9649 San Jose Ave.
City of Industry, CA 91748
Official Website
Trek & scifi stars in-attendance:
Marina Sirtis,
Counselor Deanna Troi - Star Trek: The Next Generation
Tucker Smallwood
Xindi-Primate Councilor - Star Trek: Enterprise, Admiral Bullock - Star Trek: Voyager
Tim Russ
Lieutenant Tuvok - Star Trek: Voyager / Star Trek: Generations
Chase Masterson
Leeta - Star Trek: Deep Space Nine
John De Lancie
Q - Star Trek: The Next Generation/ Deep Space Nine/ Voyager
Catherine Hicks
Dr. Gillian Taylor - Star Trek IV: The Voyage Home
Richard Herd
Admiral Owen Paris - Star Trek: Voyager
Carolyne Barry
Metron - Star Trek: TOS "Arena"
Kevin Sorbo
Captain Dylan Hunt - Andromeda & Hercules: The Legendary Journeys
Robert Picardo
EMH - Star Trek: Voyager
Larry Hankin
Gaunt Gary - Star Trek: Voyager
Carel Struycken
Mr. Homn - Star Trek: The Next Generation
Anthony Vitale
Shipyard Welder - Star Trek Movie (2009) teaser