Star Trek: Voyager
By Captain Pyke | May 24, 2011 - 8:30 pm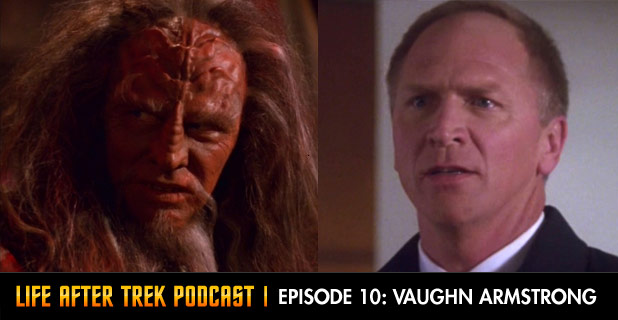 We're pleased to announce the tenth episode of our "Life After Trek" podcast, featuring Vaughn Armstrong. Many of you will remember Vaughn as Admiral Maxwell Forest from Star Trek: Enterprise, but Vaughn has also played countless characters throughout the Trek universe. From TNG to Voyager, Vaughn has played a myriad of Klingons, plus a Borg, Romulans, Cardassians, Hirogen, etc., etc. We had the pleasure of spending time with Vaughn at BayouCon this year and he was kind enough to sit down and tell us about his life after trek.
By Captain Pyke | May 18, 2011 - 10:27 pm
Starz Entertainment has announced that Nana Visitor (Star Trek: Deep Space Nine) and John DeLancie (Next Gen, DS9, Voy) will be among the guest stars in their new 10-episode, hour-long series, "Torchwood: Miracle Day". For those unfamiliar with the show, "Torchwood" was created by Russell T Davies. The series is a spin-off from Davies' 2005 revival of the long-running science fiction program "Doctor Who". We were kinda hoping that a Bajoran and a Omnipotent being were new additions to the show's characters, but no luck...
By Captain Pyke | May 4, 2011 - 8:59 pm
So, a Klingon & a hologram walk into a bar... Maybe not a bar, but a remote Idaho ranch. Michael Dorn & Robert Picardo play scheming Television producers in the new film "Spirit Hunters", along side co-stars Doug Jones, Zack Ward, Danielle James, and Davina. The movie takes place on a remote Idaho ranch were a reality TV show is being filmed. Apparently the show's host ends up dead.
By Crewman Becky | May 3, 2011 - 10:47 pm
We had a great time at BayouCon this weekend! It may not have had the largest attendance in history, but that just meant that each fan that did attend had more time to spend personally with each guest. It was a great convention for one on one "face-time" with Star Trek favorites; Vaughn Armstrong, Max Grodenchik, and Larry Nemecek.
Watch for our upcoming episodes of Life After Trek that we recorded with Vaughn and Max on the last day of the con. They'll be out soon!
By Captain Pyke | April 26, 2011 - 7:53 pm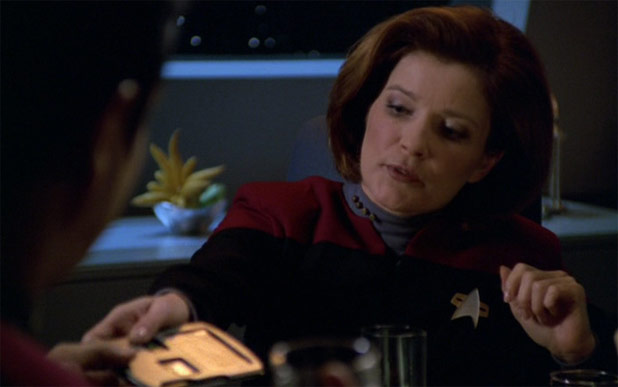 Here's your chance to have an intimate dinner with Captain Janeway (Kate Mulgrew) and at the same time give money to a worthy cause. In the 5th annual online auction Playwrights Horizons (an award-winning not-for-profit off Broadway theater) is offering up this unique opportunity to support the theater's annual season of six plays & musicals, year-round play & musical theater development programs, audience development activities, a resident internship program, the Playwrights Horizons Theater School at NYU, and Ticket Central, a low-cost box office service available to the entire performing arts community.
By Captain Pyke | April 21, 2011 - 2:30 pm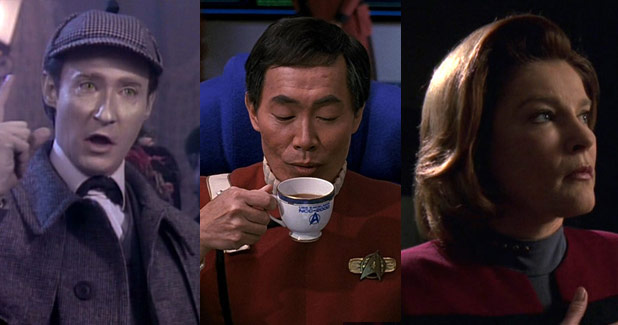 With so many new comic conventions across the country, Trek fans have a better chance at seeing their favorite stars than ever before. Detroit area fans can get up close and personal with two captains & an android. That's right, Brent Spiner, George Takei, and Kate Mulgrew will be heading to Michigan May 13th through the 15th for the upcoming Motor City ComiCon. Described as Michigan's largest comic book convention, the MCCC has been bringing awesome guests to the Motor City since 1989. Besides getting the rare chance to see Kate, the show is also packing two Brady's, a Cylon, three Colonial Warriors, and a slew of other guests. Check out the full media guest list and show details below.
By Crewman Becky | April 19, 2011 - 10:45 pm
So you saw the reminder about Dallas Comic Con, the other day…now here's the 2nd part of the Texas convention double-header this May! Next Gen's very own counselor Troi is going to be meeting, talking with, and signing autographs for Houston area fans at Comicpalooza May 27-29. Hmmm…do you think she'll be wearing her jumpsuit? Well, even if she's not, we can't wait to see her and hear what she has to say. It will be a true treat seeing her for the first time.
By Crewman Becky | April 13, 2011 - 10:48 am
For the Jeri Ryan fans out there (and come on, who isn't) we bring you more Mortal Kombat news with a new interview from DreadCentral.com. As we mentioned in our previous article(s) Jeri is starring as Sonya Blade in the Mortal Kombat: Legacy web series by director Kevin Tancharoen. This new web series is a grittier more "realistic" version of the story and doesn't have the camp that the video game contained.
By Crewman Becky | March 17, 2011 - 9:59 pm
A couple of months ago we reported on the trailer for the live action web series Mortal Kombat, by director Kevin Tancharoen, starring Jeri Ryan as Sonya Blade. Recently Jeri did her first interview on the set of the new series and talks about her experiences including; the tons of action sequences she shot, boosting her cool factor with her son, and Sonya Blade's finishing moves.
During part of the video Jeri describes what it was like filming.
"This is fun. This is really fun." Says Jeri, "It's fun to do something that's so different than the other things that I get to do."
Andy asks, "What are some of the things that have stood out for you? (that we were just talking about…)"
Jeri answers, "A lot of sore muscles. A lot of dirt. A lot of blood. - laughs - …No, it's just cool, and Kevin (Tancharoen) is amazing. I mean, a very talented guy. He's got an amazing vision. He's got an amazing eye."