Star Trek: Voyager
By Crewman Becky | March 9, 2011 - 8:30 pm
Star Trek Voyager's Robert Beltran is a tough cat to track down. He doesn't do many (if any) conventions and practically never talks about his time on Voyager, so when we saw that he was starring in a new play we knew we had to report on it.
"The Devil's Advocate", based on a true story, has Robert in the starring role of Manuel Noriega.
Set in 1989, the play centers on Panamanian strong man Manuel Noriega (Beltran), who is being pursued by the CIA and American forces. Accused of murder, drug trafficking and corruption, he has sought sanctuary with Vatican emissary Archbishop Jose Sebastian Laboa. But the Archbishop has his own agenda to follow. The production will co-star Jacob Witkin as Laboa.
By Crewman Becky | March 2, 2011 - 11:22 pm
The Vulcan Tourism Board in Alberta Canada has been running a VulCon: Spock Days/Galaxyfest event for the last several decades. It's held on the second weekend in June each year. They just announced this year's special guest and it's none other than Star Trek Voyager's Garrett Wang. They had Garrett shoot a quick video announcing his participation which they played at a recent Vulcon Tourism/Trek Station evening event. You can check out Garrett's video on Facebook here.
Tourism co-ordinator Catherine Pooley said Wang was asked if he would be willing to prepare the video announcement ahead of time, and he gladly accepted.
"He did a funny one," Pooley said. "Everyone got a kick out of it so we were quite pleased."
By Captain Pyke | February 24, 2011 - 11:13 pm
We had an absolute blast last year at the Austin Comic Con presented by Wizard World and it looks like another awesome Comic Con is shaping up in Anaheim, CA this April. Among the tons of guests appearing in Anaheim, Star Trek's own Robert Picardo, Chase Masterson, John De Lancie, Catherine Hicks, & Lee Arenberg will be in attendance. Take it from us, Wizard World puts on one of the best conventions around and chances are if you miss Anaheim, there will be a show near you sometime this year. Check out the Wizard World website for a full list of Comic Cons nationwide.
From the Wizard World Press release:
By Captain Pyke | February 21, 2011 - 10:11 pm
Oh, Vegas Khhaaan! your superior intellect and super human looks are hard for us to resist. We had a blast last year covering the Official Star Trek Las Vegas Convention, meeting our readers and hanging with friends new and old. This year is setting up to be just as much fun. It's the 45th anniversary of Star Trek, and we've heard a rumor from an inside source that Creation is trying their hardest to land Avery Brooks and Scott Bakula to complete the full captain set. We have to say, that would be magically epic. Of course, Khhaaan! is always up to no good. It's all cordial and full of smiles until he tries to steal your ship. Let's just hope we don't end up with Ceti Eels attached to our cerebral cortex like last year.
Check out below for the guest roster thus far.
By Captain Pyke | February 18, 2011 - 11:26 pm
One of our con favorites, Tim Russ is heading out to Atlanta this weekend to be a part of the very first Trek Trax convention. Starting tomorrow (Feb 19th), you'll be able to catch Tim and the Duras sisters Barbara March & Gwynyth Walsh on stage plus Trek authors Larry Nemecek, Diana Botsford, Brad Strickland, & Ina Rae Hark. You'll also be able to check the crew from the fan series Starship Farragut, a Klingon beauty contest, and a ton of filking. Check out the full details and links below.
By Captain Pyke | February 11, 2011 - 11:52 pm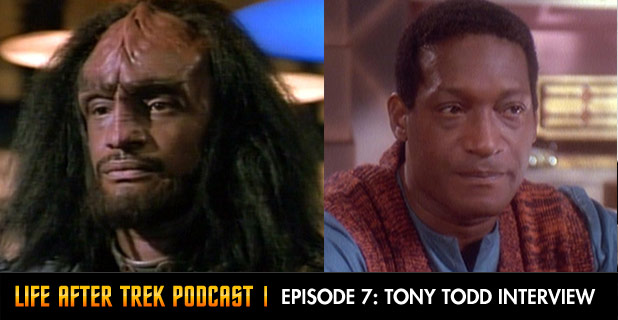 We're pleased to announce the seventh episode of our "Life After Trek" podcast, featuring Tony Todd. If you have a pulse and breathe oxygen, then you're probably familiar with Tony's work. He's been in over 90+ films including Platoon, The Crow, The Rock, The Candyman Series, Final Destination, & Transformers: The Fallen. He's also been in numerous television series including 3 of the 5 Star Trek Series in existence.
Tony is probably best know in the Trek Universe as Worf's brother Kurn who made his first appearance in Star Trek: The Next Generation and then on to Star Trek: Deep Space Nine. Tony also played an Alpha Hirogen in Star Trek: Voyager. This interview was extremely special to us because of his work in the DS9 episode "The Visitor". Which we consider it to be the best episode of Television...ever.
By Captain Pyke | February 6, 2011 - 11:24 pm
A Houston Texas area convention nearly slipped past our radar, with Marina Sirtis & Tony Todd listed as guests! Called Comicpalooza, the Houston based convention started in 2008 as a simple signing event set to coincide with the release of "The Dark Knight". In 2009, it grew to a two-day comic book festival set in a local mall, focusing on promoting creators, connecting with the media, and fostering new growth in the fanbase. In 2010, Comicpalooza moved to the George R. Brown Convention Center as a multi-format convention celebrating not just comics, but also sci-fi and fantasy, horror, steam punk, New Media, movies, film, and gaming of all types.
By Captain Pyke | January 18, 2011 - 10:50 pm
Last summer the internet was all abuzz with a fan made Mortal Kombat live action trailer featuring Voyager's Jeri Ryan as Sonya Blade. It appears the trailer was actually made by director Kevin Tancharoen to pitch Warner Bros on a new Mortal Kombat live action project. The new web series is heading to development with Jeri along for the ride.
According to PasteMagazine.com; the project has been greenlit by Warners into a 10 episode web series. The series will follow character Jax Briggs, played by the same actor as in the trailer, Michael Jai White. Other characters appearing in the trailer were Reptile, Johnny Cage, Scorpion, Baraka, and Sonya Blade, the latter played by actress Jeri Ryan.
We definitely loved Mortal Kombat & Mortal Kombat II (especially that guy who would pop out of nowhere to yell "woooohoooo") and look forward to seeing Jeri in another action role.
Check out last years teaser trailer below (FYI it's pretty graphic. Not for the young or squeamish)
By Captain Pyke | December 29, 2010 - 11:21 pm
Originally released in book form in 1996, "Star Trek: The Klingon Way, A Warrior's Guide" is now available for your Vulcan Klingon ears. Narrated by both Michael Dorn (Worf: TNG) & Roxann Dawson (B'Elanna Torres: VOY), the audio version is abridged (unfortunately) and will set you back $6.95 (or free with a new account) from Audible.com
. Many of you know "The Klingon Way", penned by Marc Okrand as a collection of adages, in Klingon and English, for contemplation by the "meeker races".