Vegas Khhaaan! 2011
By Captain Pyke | August 21, 2011 - 6:58 pm
Now that we're finally back to the land of the living and have fully recovered from Vegas Khhaaan 2011, we can officially say that this was the best con ever! I know that's saying a lot, but we truly had a blast hanging with everyone. Especially, you, our fans. We got to know so many of you on a personal level that we can call you friends. Thanks for stopping us and telling us how much Subspace Communique means to you. Hearing things like that, make what we do here at the site and through our podcast, worth more than gold pressed latinum.
Every panel that we covered had it's special charm. Many of the stars seemed invigorated by the crowd's energy, and there was plenty energy to go around. With the main hall seating close to 6,000 fans and an overall attendance of 20,000+, this convention will go down as the largest in Vegas, possibly the United States. To loosely quote Brent Spiner, "Hi to those in the back, I probably look like a raisin on a couch to you."
By Captain Pyke | August 14, 2011 - 12:08 pm
By Captain Pyke | August 13, 2011 - 11:32 am
By Captain Pyke | August 12, 2011 - 9:56 am
By Captain Pyke | August 11, 2011 - 12:58 pm
By Captain Pyke | August 9, 2011 - 9:52 pm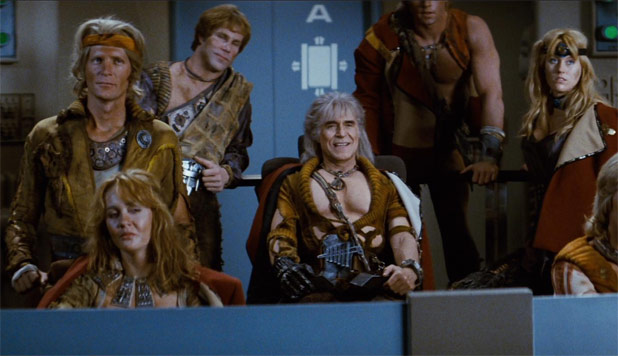 Vegas Khhaaan! is upon us once again and we're as excited as a bunch of tribbles in a quadrotriticale silo. We've been thinking about Creation Entertainment's Las Vegas Star Trek convention since last year's amazing Khhaaan! tour de force. If you're curious about the Trek guest list, you can check out our previous articles (here & here) with the current list. One side note, Subspace Communique favorite Natalia Nogulich won't be in attendance. She's in New York working on David Mamet's new biopic (about Phil Spector) for HBO starring Al Paccino & Dame Helen Mirren. We're sad she won't be there, but dang, what an awesome gig! Recently, Creation released the full schedule for the convention and we've posted it here for your Khhaaan! pleasure. Check out the details below. Oh, and, it's a long post. You've been warned!
By Captain Pyke | August 2, 2011 - 10:42 pm
We're getting stoked about the upcoming Creation Entertainment Star Trek Las Vegas convention that we so lovingly call Vegas Khhaaan! Not only will it be an awesome opportunity to catch up with all of our friends & readers, but this year Creation has something special up it's sleeve. We just got word that they will be filming a TV documentary pilot called FAN ADDICTS that will be directed by Captain Kirk himself, William "Mother Lovin'" Shatner. Much like last year, where The Shat ran around with a camera crew filming The Captains, his Kirkness will be on site throughout the weekend filming segments for the show.
Creation is putting out a call for Trek fans to participate; We invite our entire Vegas audience to participate in the filming on site. Bill has some amazing things planed for the shoot. Watch it all unfold, LIVE, next Thursday through Sunday, August 11th- 14th, ONLY at Creation Entertainment's Official 45th Anniversary Star Trek convention.
By Crewman Becky | May 12, 2011 - 10:48 pm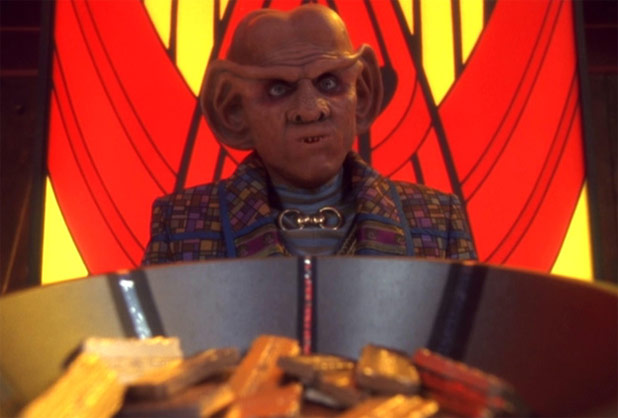 Vegas Khhaaan! is swiftly approaching and we're all on pins and needles to get there already. Personally, we can't wait to get back. With the con coinciding with Star Trek's 45th anniversary, this year is set to be explosive. Besides the panels and the parties there are a bunch of shows lined up to entertain and delight. James Darren (and his band) will be putting on a full Vegas concert, Jeffrey Combs will be performing his one man show "Nevermore...An Evening With Edgar Allan Poe", and Max Grodenchik, Vaughn Armstrong, Jeffrey Combs, Casey Biggs and Armin Shimerman will be performing their always entertaining Rat Pack show. Since our last story about Creation's guest list they've added a ton of additional guests. Be sure to check out Creation's site for a full guest roster. For now, here's a list of just some of the new guests to get you motivated to come hang out with a galaxy full of Trek fans in the middle of the neon desert.
TERRY FARRELL
Jadzia Dax of Star Trek Deep Space Nine.
By Captain Pyke | February 21, 2011 - 10:11 pm
Oh, Vegas Khhaaan! your superior intellect and super human looks are hard for us to resist. We had a blast last year covering the Official Star Trek Las Vegas Convention, meeting our readers and hanging with friends new and old. This year is setting up to be just as much fun. It's the 45th anniversary of Star Trek, and we've heard a rumor from an inside source that Creation is trying their hardest to land Avery Brooks and Scott Bakula to complete the full captain set. We have to say, that would be magically epic. Of course, Khhaaan! is always up to no good. It's all cordial and full of smiles until he tries to steal your ship. Let's just hope we don't end up with Ceti Eels attached to our cerebral cortex like last year.
Check out below for the guest roster thus far.