Creation's Star Trek Las Vegas, I mean, Uh, Vegas Khhaaan! Even More Guests Added!
By Crewman Becky | May 12, 2011 - 10:48 pm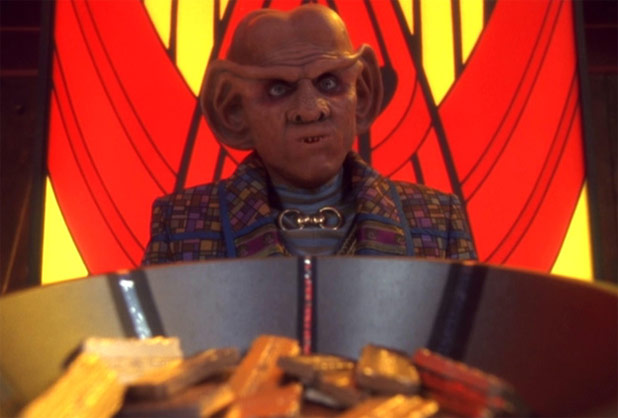 Vegas Khhaaan! is swiftly approaching and we're all on pins and needles to get there already. Personally, we can't wait to get back. With the con coinciding with Star Trek's 45th anniversary, this year is set to be explosive. Besides the panels and the parties there are a bunch of shows lined up to entertain and delight. James Darren (and his band) will be putting on a full Vegas concert, Jeffrey Combs will be performing his one man show "Nevermore...An Evening With Edgar Allan Poe", and Max Grodenchik, Vaughn Armstrong, Jeffrey Combs, Casey Biggs and Armin Shimerman will be performing their always entertaining Rat Pack show. Since our last story about Creation's guest list they've added a ton of additional guests. Be sure to check out Creation's site for a full guest roster. For now, here's a list of just some of the new guests to get you motivated to come hang out with a galaxy full of Trek fans in the middle of the neon desert.
TERRY FARRELL
Jadzia Dax of Star Trek Deep Space Nine.
JOHN CHO
Sulu of the new STAR TREK movies
DAVID WARNER
First Creation Star Trek Convention Appearance! Star Trek V: The Final Frontier's St. John Talbot, Star Trek VI: The Undiscovered Country's Chancellor Gorkon, Star Trek: The Next Generation's Gul Madred of Chain of Command Part 1 & 2, also noted appearances in Titantic, Doctor Who, Time After Time, The Omen, Holocaust, and so many, many more! This is awesome!
JAMES DARREN
Legendary singing star and Star Trek Deep Space Nine's Vic Fontaine. Mr. Darren also starred in the cult fave Time Tunnel and with Bill Shatner in TJ Hooker. Mr Darren will do his convention appearance on Sunday and will perform live in concert on Saturday Night at our Gala Celebration.
EUGENE RODDENBERRY
The son of Gene and Majel Roddenberry, Eugene is a creative force in his own right working on many projects while continuing the legacy of his parents. We're happy to welcome Eugene back to the convention where he will be doing a presentation on his work as well as meeting fans at the roddenberry.com booths in the vendors room.
TIM RUSS
Tuvok of Star Trek Voyager
CHARLIE BRILL
"Arnie Darvin" of classic Trek's The Trouble with Tribbles, he recreated this role 27 years later for Star Trek: Deep Space Nine's Trials and Tribble-ations. Charlie and his wife Mitzi McCall, with their comedy act, followed The Beatles first live appearance on The Ed Sullivan Show.
DENISE CROSBY
Lieutenant Tasha Yar / Sela
NATALIJA NOGULICH
Admiral Alynna Nechayev in four episodes of Star Trek: The Next Generation and two episodes of Star Trek: Deep Space Nine. Natalija will be on hand throughout the convention at her table in the vendors room offering her autograph and collectibles at a nominal fee.
RICHARD HERD
Admiral Owen Paris of Star Trek: Voyager Richard will be on hand throughout the convention at his table in the vendors area where he will be offering his autograph and merchandise for a nominal fee to attendees.
CLINT HOWARD
Balok in the classic Star Trek episode The Corbomite Maneuver, Clint has been in tons of movie and TV shows over the past 5 decades!
(Source Creation Entertainment)