Star Trek: Voyager
By Captain Pyke | May 22, 2012 - 10:53 pm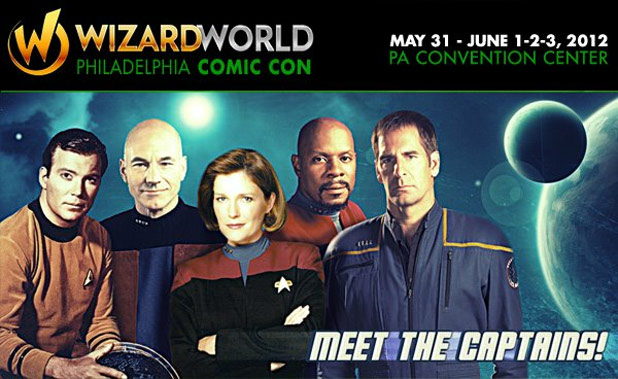 We've said it before and we'll say it again, we love Wizard World Comic Cons. They run some of the best conventions in the business. It seems that their world famous Philadelphia Comic Con is shaping up to be, not only a well run convention, but also a Trek fan's dream come true. All five captains are signed on as guests for the upcoming, May 31st through June 3rd convention. That's right woodchuck-chuckers, William Shatner, Patrick Stewart, Avery Brooks, Kate Mulgrew, & Scott Bakula are beaming down to the city of brotherly love. Really, you could say 6 captains will be on board since Chris Hemsworth will also be a featured guest. Chris plays Thor in all the Marvel awesomeness that's going on lately, but he also played George Kirk. He was captain of the USS Kelvin for 12 minutes, after all...
By Captain Pyke | April 29, 2012 - 10:53 pm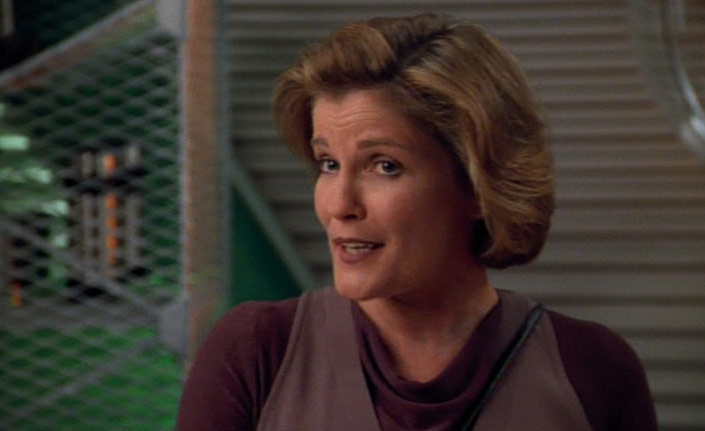 I fondly remember watching the first episode of Star Trek: Voyager back in January of 1995 with high expectations. I would dare say that my expectations were too high. I remember thinking; there's no way that this will be as good as TNG or DS9. After watching "Caretaker", I was left with one thought. Holy crap, Captain Janeway is awesome! Fast forward 16 years later and I got to experience Kate Mulgrew's appearance on stage at Vegas Khhaaann! 2011. I left the panel thinking; Holy crap, Kate Mulgrew is awesome! With that said, we'd like to wish a very Happy Birthday to the awesome Kate Mulgrew who, in turn, made Captain Janeway so awesome.
By Crewman Becky | March 17, 2012 - 11:39 pm
Star Trek's Q, otherwise known as John De Lancie, is the newest guest added to the Dallas Comic Con Roster. As we previously reported, Patrick Stewart is also attending. How perfect is it now that the two polar opposite characters of TNG are going to both be represented. We're hoping that they will share stage time on a two man panel so we can see a little of the old Q vs. Picard shenanigans we all love.

Dallas Comic Con
May 19-20, 2012
Irving Convention Center 500 W Los Colinas Blvd
Irving, TX (At intersection of 114 and NW Highway)
Official Website
By Captain Pyke | March 4, 2012 - 11:48 pm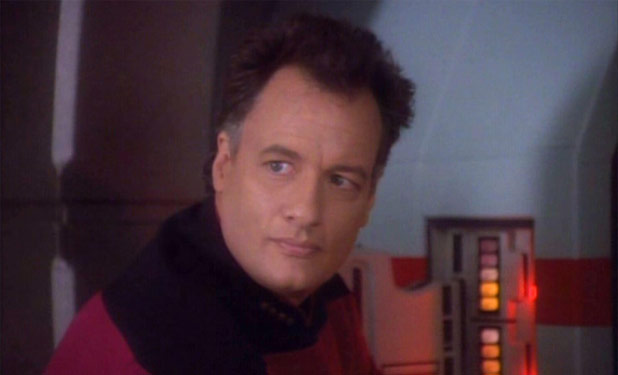 That's right kiddies, the universe's most mischievous omnipotent being is heading to The CW's The Secret Circle. John De Lancie is set to play Royce Armstrong, the powerful, yet recluse grandfather of Jake (Chris Zylka). Royce comes out of hiding to reveal disturbing conspiracy theories about the events of 16 years ago and how the present-day circle is involved.
By Captain Pyke | February 20, 2012 - 11:50 pm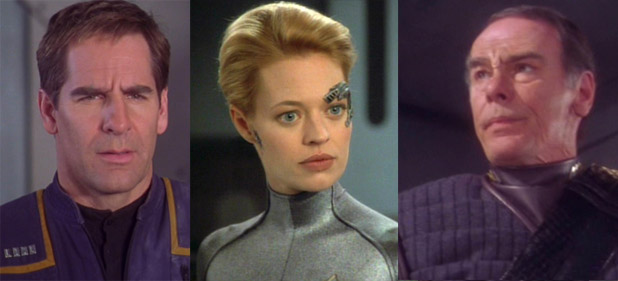 We've said it before and we'll say it again, Wizard World puts on a fantastic convention. With the likes of Scott Bakula & Jeri Ryan, it seems that their Toronto Comic-con will be no exception. That's right kiddies, April 14th-15th at the Metro Toronto Convention Centre, both Seven of Nine & Captain Archer will be in attendance. As an added bonus, for all you Quantum Leap fans, Dean Stockwell will also be in attendance. We're huge QL fans (not mention BSG) and would make the trip in a heartbeat to see Sam Beckett/Jonathan Archer & Al/Cylon John Cavil/Colonel Grat (bet you thought we forgot about Dean's appearance on Enterprise); oh and Seven of Nine too. Plus there are plenty of other stars, from various scifi series, that will be in attendance as well. Check the full press release below for all the details.
By Captain Pyke | February 13, 2012 - 12:11 am
Over the weekend, we made the drive up to Dallas again for another fantastic show; Scifi Expo. Sure, it's not necessarily a Trek con, per se, but the convention is featuring another scifi series that's near and dear to our hearts. The ill-fated Joss Whedon spectacular known as Firefly. I gotta say, if we weren't Trek fans, we would definitely be Browncoats, but I digress.
A little less than half of the crew of Serenity made the "trek" to Big-D . The role call includes; Ron Glass, Adam Baldwin, Jewel Staite, and Sean Maher. There is one Trek connection here however, Ron was in the Voyager episode "Nightingale". You know the one… Harry Kim finally gets the chance to be in command of a ship. It's one of our favorites from Voyager. Anyway, We got the chance to hang out during the Serenity / Firefly panel and here are a few highlights….
By Captain Pyke | January 22, 2012 - 11:03 pm
If you're in the Orlando, Florida area on the weekend of February 17th through February 19th, be sure to swing by the Orange County Convention Center for this year's MegaCon. It's shaping up to have a fantastic Trek lineup with Brent Spiner, Tim Russ, & Robert Picardo. We haven't made it down to Orlando for MegaCon, but we've heard good things. It would definitely be a worth while trip to check out. Not only do they have an awesome Trek lineup, but you can also see Stars from Buffy, Stargate, Babylon 5, & much more.
By Captain Pyke | December 18, 2011 - 11:45 pm
Thanks to our friend Stompy for posting a very funny and special season's greetings from one non-holographic Robert Picardo. That's right kiddos, The Doctor sends his best to you and me in this special youtube video. We even get to see a glimpse of his alter-latin-ego Alphonso. Who's Alphonso, you ask? He's the most interesting man this side of a Dos Equis. Actually, he's the star of several short web clips starring Bob as a latin (or Italian, were not sure) lover who answers viewer's questions in "Ask Alphonso".
Also something that Bob mentions in the video is his new CD "Scrooge". He takes on the lead role as Scrooge in this new recording of the soundtrack from the 1970 film version of A CHRISTMAS CAROL, featuring original music by Academy Award-winner Leslie Bricusse. Bob is also joined by Trek alumni Chase Masterson who appears as Mrs. Fezziwig in the recording.
By Captain Pyke | December 16, 2011 - 12:17 am
We would like to wish a very happy birthday to one of our favorite ensigns, Harry Kim, Garrett Wang from Star Trek: Voyager. As you know, Garrett is a fan favorite at conventions and is very active in the fan-run convention circuit. For all of the Trek fans in Germany, Garrett will be attending FedCon May 17-20, 2012 in Dusseldorf.