Star Trek: DS9
By Crewman Becky | March 3, 2011 - 11:27 pm
We don't know how this got past our sensors, but apparently Nana Visitor's pastry shop, Un Petit Morceau , has new bouboulette flavors. This time they are all chocolate related…weeeeeee. The Classic Fudge Collection is the newest of the three available bouboulette collections.
By Captain Pyke | February 28, 2011 - 10:41 pm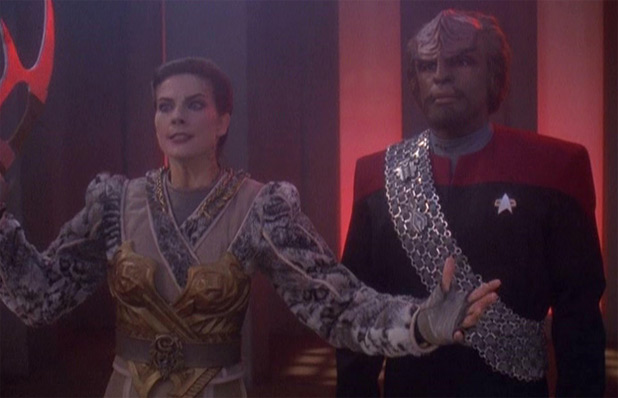 A bit of Trek history is up for auction on Ebay. The original Klingon opera costume worn by Terry Farrell in DS9's "Looking for par'Mach in all the Wrong Places" is available for bids. Not only was it screen worn by Terry Farrell, but the costume was purchased at the Christie's 40 Years of Star Trek auction by Lynn Sterling (Major Khalen) of Star Trek The Experience. Lynn wore the costume as Major Khalen on less than a dozen occasions, for Special Events at The Experience. Sure there was another made for the Lady Grilka character, but this one is special on two levels. Got a thousand clams? Here's your chance to start bidding on a DS9 & Star Trek: The Experience memento that is one-of-a-kind.
Start your bidding here.
Check out an image of the costume and the auction description below.
By Captain Pyke | February 24, 2011 - 11:13 pm
We had an absolute blast last year at the Austin Comic Con presented by Wizard World and it looks like another awesome Comic Con is shaping up in Anaheim, CA this April. Among the tons of guests appearing in Anaheim, Star Trek's own Robert Picardo, Chase Masterson, John De Lancie, Catherine Hicks, & Lee Arenberg will be in attendance. Take it from us, Wizard World puts on one of the best conventions around and chances are if you miss Anaheim, there will be a show near you sometime this year. Check out the Wizard World website for a full list of Comic Cons nationwide.
From the Wizard World Press release:
By Captain Pyke | February 21, 2011 - 10:11 pm
Oh, Vegas Khhaaan! your superior intellect and super human looks are hard for us to resist. We had a blast last year covering the Official Star Trek Las Vegas Convention, meeting our readers and hanging with friends new and old. This year is setting up to be just as much fun. It's the 45th anniversary of Star Trek, and we've heard a rumor from an inside source that Creation is trying their hardest to land Avery Brooks and Scott Bakula to complete the full captain set. We have to say, that would be magically epic. Of course, Khhaaan! is always up to no good. It's all cordial and full of smiles until he tries to steal your ship. Let's just hope we don't end up with Ceti Eels attached to our cerebral cortex like last year.
Check out below for the guest roster thus far.
By Captain Pyke | February 11, 2011 - 11:52 pm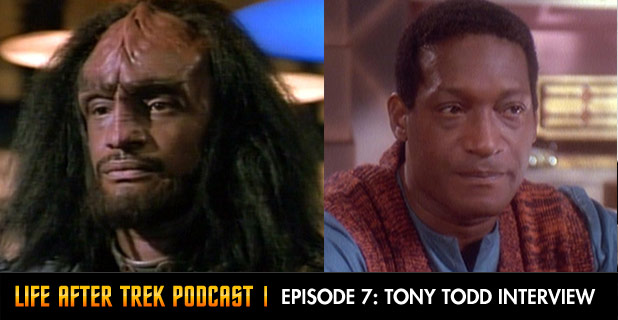 We're pleased to announce the seventh episode of our "Life After Trek" podcast, featuring Tony Todd. If you have a pulse and breathe oxygen, then you're probably familiar with Tony's work. He's been in over 90+ films including Platoon, The Crow, The Rock, The Candyman Series, Final Destination, & Transformers: The Fallen. He's also been in numerous television series including 3 of the 5 Star Trek Series in existence.
Tony is probably best know in the Trek Universe as Worf's brother Kurn who made his first appearance in Star Trek: The Next Generation and then on to Star Trek: Deep Space Nine. Tony also played an Alpha Hirogen in Star Trek: Voyager. This interview was extremely special to us because of his work in the DS9 episode "The Visitor". Which we consider it to be the best episode of Television...ever.
By Captain Pyke | February 6, 2011 - 11:24 pm
A Houston Texas area convention nearly slipped past our radar, with Marina Sirtis & Tony Todd listed as guests! Called Comicpalooza, the Houston based convention started in 2008 as a simple signing event set to coincide with the release of "The Dark Knight". In 2009, it grew to a two-day comic book festival set in a local mall, focusing on promoting creators, connecting with the media, and fostering new growth in the fanbase. In 2010, Comicpalooza moved to the George R. Brown Convention Center as a multi-format convention celebrating not just comics, but also sci-fi and fantasy, horror, steam punk, New Media, movies, film, and gaming of all types.
By Captain Pyke | January 25, 2011 - 10:59 pm
This week Larry Nemecek (or as we like to call him; Amazing Larry) posted a brand new video interview with Star Trek: DS9's Cirroc Lofton (Jake Sisko). Larry got the chance to sit down with Cirroc, at last year's Hollywood Xpo, and discuss what the younger Sisko has been up to since leaving the promenade. Apparently Cirroc has become a restaurateur and operates a small cafe aptly named "Cafe Cirroc" in Culver City, CA. Check an excerpt below.
And the honor of standing first in line in the backlog of videos waiting to be seen is none other than Cirroc "Jake Sisko" Lofton. He's no stranger to cons, but hardly over-exposed, either. So it was that we had a blast catching up at the heavily-guested but lightly-attended Hollywood Xpo last fall.
Most of all, check out the info on his latest project these days, Cafe Cirroc. I'll let him tell you the details, but for local SoCal-ers here's an update on special events at his community-oriented Italian fare eatery:
By Crewman Becky | January 22, 2011 - 9:51 pm
A new Bouboulette collection of flavors, the "Aromatic Collection", is available at Nana Visitor's gourmet dessert company, Un Petit Morceau. We ordered them. Ate them. Loved them! …and Reviewed them. All just for you…certainly not just because we needed an excuse to order and enjoy them ourselves…honest!
By Crewman Becky | January 16, 2011 - 9:51 pm
We all know Penny Johnson as Kasidy Yates, Captain of the cargo vessel SS Xhosa and Captain Sisko's love interest on DS9. Her portrayal of Kasidy as the fearless Captain brought to life this character's strength and dogged determination to do what she believed was right. Now, Penny is in a new play written by Regina Taylor and directed by Ethan McSweeny. The play called "The Trinity River Plays" is actually three plays in one.
Jar Fly, Rain and Ghoststory create this intimate and compelling performance of three timeless works—a moving exploration of family loyalty and betrayal.