Star Trek DS9 "Looking for par'Mach..." Dax Klingon Costume Up For Bids on Ebay
By Captain Pyke | February 28, 2011 - 10:41 pm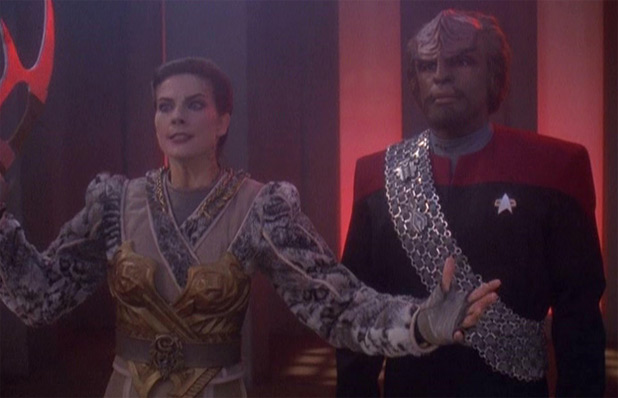 A bit of Trek history is up for auction on Ebay. The original Klingon opera costume worn by Terry Farrell in DS9's "Looking for par'Mach in all the Wrong Places" is available for bids. Not only was it screen worn by Terry Farrell, but the costume was purchased at the Christie's 40 Years of Star Trek auction by Lynn Sterling (Major Khalen) of Star Trek The Experience. Lynn wore the costume as Major Khalen on less than a dozen occasions, for Special Events at The Experience. Sure there was another made for the Lady Grilka character, but this one is special on two levels. Got a thousand clams? Here's your chance to start bidding on a DS9 & Star Trek: The Experience memento that is one-of-a-kind.
Start your bidding here.
Check out an image of the costume and the auction description below.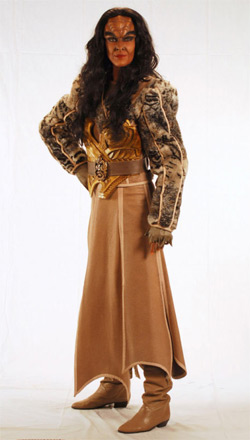 You are bidding on DAX'S KLINGON OPERA COSTUME
Klingon theatrical costume, comprising: a long-sleeved jacket of imitation fur and leather with fur sash adorned with gilt metal neckpiece, mounted with elaborate resin and glass fiber breast plate painted as bronze, with corresponding imitation leather skirt, collar, fingerless gloves and belt with Klingon-style metal buckle, with Deep Space Nine labels inside inscribed Terry Farrell -- worn by Farrell as Dax in the Klingon opera scenes in "Looking for par'Mach in All the Wrong Places" in Star Trek: Deep Space Nine.
I was fortunate enough to attend the "40 years of Star Trek" auction hosted by Christie's auction house in October of 2006 where I acquired this gorgeous costume.
There are only two in existence. The other was made for Mary Kay Adams in her role as "Grilka" in the same episode. It was worn on less than a Dozen occasions, for Special Events, while I was serving as Klingon Female, "Major Kahlen" at Star Trek the Experience in Las Vegas.
As for sizing, I estimate the uniform to be Size 8. Ms Farrell is quite tall. Almost 6 feet I believe. I am a size 4 and 5' 7". As you can see from the composite images it will fit anyone within this range.
If you have any questions, please feel free to contact me. I will be glad to answer all.
Thanks for Looking,
Lynn
Thanks to Vernon Wilmer (Star Trek: My Experience) for originally posting this on Facebook. If you haven't liked Star Trek: My Experience on the book they call face, what are you waiting for? Vernon posts lots of great photos and tons of "inside The Experience" info. Check out the Facebook fan page here.