Star Trek: DS9
By Captain Pyke | August 28, 2009 - 9:45 pm
If you're in Toronto Canada this weekend, be sure to check out Fan Expo Canada to see some of your favorite Trek stars live and in person. Held at the Metro Toronto Convention Centre, the expo was started in 1995 with the launch of the Canadian National Comic Book Expo. Eventually it become the multi-faceted Con that it is today. Check out the list below to see who will be attending.
By Captain Pyke | August 19, 2009 - 8:05 pm
Jeffery Combs has to be one of our favorite Star Trek actors of all time. He has played 9 different roles in the Star Trek universe and now you can see him in his one man show playing poet Edgar Allen Poe. Called 'Nevermore . . . An Evening With Edgar Allan Poe', Jeffery will continue playing Poe Fridays & Saturdays at the Steve Allen Theater in Hollywood until September 26th. (thanks to reader Elisa for the corrections)
By Captain Pyke | August 13, 2009 - 1:52 pm
Den of Geek recently posted an entertaining article featuring their appreciation of the latest in Deep Space Nine fashions. Be sure to visit the link below for the full article and some great compilation shots of fashion from the future. We're especially fond of Ferengi fashion. Maybe it's all the bling.
Tags:
By Captain Pyke | July 28, 2009 - 3:12 pm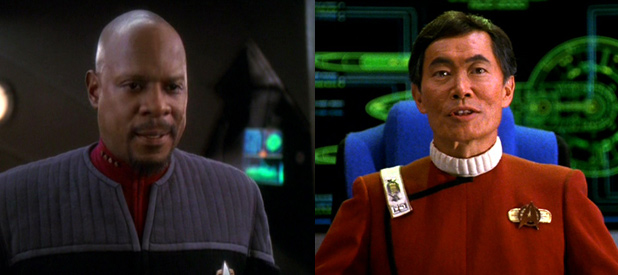 By Captain Pyke | July 20, 2009 - 11:06 am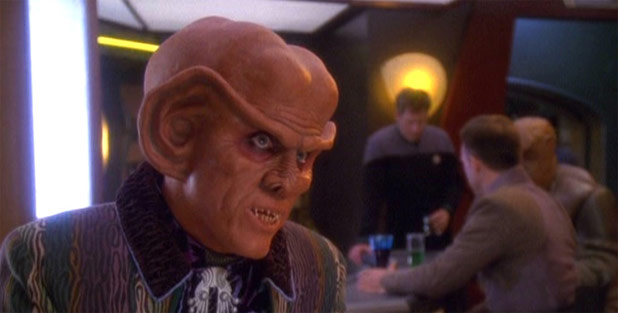 Our favorite ferengi is set to direct Shakespeare's 'Twelfth Night' in West Hollywood at Fiesta Hall Courtyard in Plummer Park. The production will run now through August 23rd.
The City of West Hollywood and Classical Theatre Lab present the third season of FREE Shakespeare in the Park with a production of "Twelfth Night, or What You Will," directed by Armin Shimerman, Shakespearian scholar and "Quark" from the Star Trek: Next Generation series and films.

By Captain Pyke | July 12, 2009 - 7:58 pm
While coasting around Youtube, we found several Star Trek related videos that we've never seen before. Always wanting to share with our fellow trekkers, we thought we would put together a simple post with links to some of the highlights.
The first video is a fantastic interview with our favorite bartender Quark. Well, Armin Shimmerman. He seems like a terrifically down-to-earth kinda guy. Being under his employ at Quarks bar for over 8 years, Darren Benjamin from Trekcast reaffirms that. Well, maybe he didn't work for Armin but he did work for Quark.
Armin Shimmerman Interview
By Captain Pyke | June 16, 2009 - 1:51 pm
Former DS9 and Voyager writer / producer Bryan Fuller talked about what he thinks a new Star Trek series should look like. In an interview with Sci Fi Wire, Bryan notes that a new trek series should be in the Altered J.J. Abrams timeline, but shouldn't revolve around the Enterprise.
By Captain Pyke | June 13, 2009 - 4:57 pm
Newsarama just posted an interview with actor Phil Morris, who has been in almost every incarnation of Star Trek.
First he was the wily 8 year-old wearing an army helmet in the TOS episode 'Miri'. Next he played Trainee Foster in Star Trek III. He then went on to play two roles in Star Trek: Deep Space Nine. And, lastly he played astronaut Lieutenant John Kelly in Star Trek: Voyager.
By Captain Pyke | June 9, 2009 - 7:40 pm
As reported by the Chicago Tribune, Colm Meaney (Chief O'Brien, TNG, DS9) is set to play the King of Hearts in the upcomming Sci Fi miniseries 'Alice'.

Oscar winner Kathy Bates is making a foray into television as the Queen of Hearts in the upcoming Sci Fi miniseries "Alice."