Star Trek: DS9
By Captain Pyke | May 30, 2011 - 11:06 pm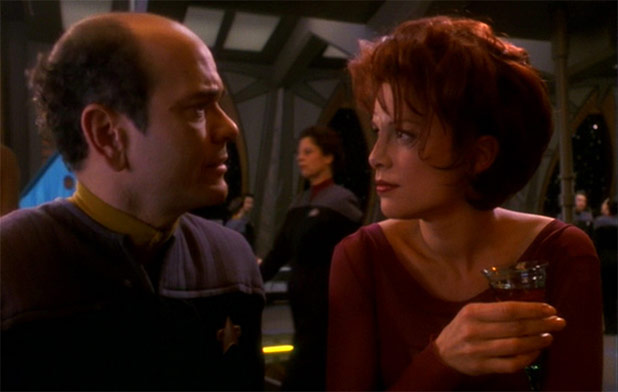 Here's an interesting event that was just brought to our attention by the show organizers. It's is called the Frank & Son Collectable show and on June 11th they will be hosting they're 2nd annual Star Trek Day featuring cast members & guest stars from every Trek series. It's not a convention per se, but more of a chance for fans to get autographs and photo-ops with their favorite stars. Also at the event, the Cinema Makeup School of Los Angeles will be on hand doing Star Trek/ Sci-Fi makeup effects on attendees. Cryptic Studios will be there as well, with PCs setup for you to try out "Star Trek Online", plus free trials of the game for the first 150 people in attendance.
By Crewman Becky | May 26, 2011 - 10:58 pm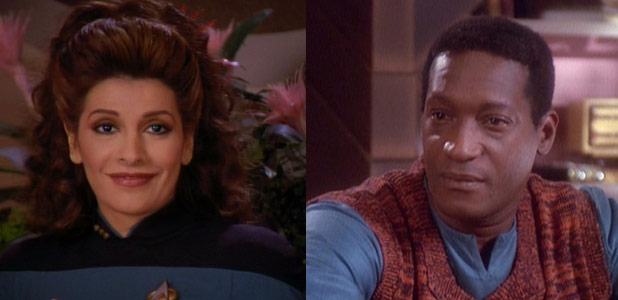 Get your party hats on and head to Houston, cuz Comicpalooza is happening this weekend! You'll get a chance to see, hear, and meet Marina Sirtis (Next Gen) and Tony Todd (Next Gen, DS9, Voy) over a fantabulous three day weekend.
In addition to the Trek representation they have a ton of other guests including; Edward James Olmos (Battlestar Galactica), Sean Maher (Firefly/Serenity), Meaghan Rath (Being Human), Sam Tramell (True Blood), and many many more. You say, "Who's gonna be there?!"
By Captain Pyke | May 18, 2011 - 10:27 pm
Starz Entertainment has announced that Nana Visitor (Star Trek: Deep Space Nine) and John DeLancie (Next Gen, DS9, Voy) will be among the guest stars in their new 10-episode, hour-long series, "Torchwood: Miracle Day". For those unfamiliar with the show, "Torchwood" was created by Russell T Davies. The series is a spin-off from Davies' 2005 revival of the long-running science fiction program "Doctor Who". We were kinda hoping that a Bajoran and a Omnipotent being were new additions to the show's characters, but no luck...
By Crewman Becky | May 14, 2011 - 6:23 pm
Here's one that almost snuck past us. If you don't have plans for this evening how about going to see Chase Masterson (Leeta on Deep Space Nine) live at the Warner Grand Theatre in San Pedro, CA. She will be there narrating "Disney in Concert: Tale as Old as Time" with the Golden State Pops Orchestra.
GSPO will be reprising the popular concert "Tale as Old as Time" featuring screen film clips from favorite Disney Classics such as The Little Mermaid, The Lion King and Mulan and song selections "A Dream is a Wish Your Heart Makes," "Bella Notte," "Part of your World," and "Beauty and the Beast" sung by four soloists. Tale as Old as Time is the story of hopes and dreams, meeting strangers, developing friendships, finding true love and living happily ever after.
The concert is scheduled for tonight, Saturday, May 14th 2001 and 8pm at the Warner Grand Theatre (478 W. 6th St., San Pedro, CA)
Get there by 7:30 and see Stage Side with Disney Composer Carl Rydlund, moderated by Leo Smith Editor of the Daily Breeze.
By Captain Pyke | May 4, 2011 - 8:59 pm
So, a Klingon & a hologram walk into a bar... Maybe not a bar, but a remote Idaho ranch. Michael Dorn & Robert Picardo play scheming Television producers in the new film "Spirit Hunters", along side co-stars Doug Jones, Zack Ward, Danielle James, and Davina. The movie takes place on a remote Idaho ranch were a reality TV show is being filmed. Apparently the show's host ends up dead.
By Crewman Becky | May 3, 2011 - 10:47 pm
We had a great time at BayouCon this weekend! It may not have had the largest attendance in history, but that just meant that each fan that did attend had more time to spend personally with each guest. It was a great convention for one on one "face-time" with Star Trek favorites; Vaughn Armstrong, Max Grodenchik, and Larry Nemecek.
Watch for our upcoming episodes of Life After Trek that we recorded with Vaughn and Max on the last day of the con. They'll be out soon!
By Captain Pyke | April 28, 2011 - 10:07 pm
We hear that Louisiana is famous for it's seafood, friendly people, humidity...Klingons & Ferengi?! That's right, this weekend you can spend time with your favorite Grand Nagus & member of Starfleet Admiralty. Not only Max Grodenchik & Vaughn Armstrong, but you can also pick the brain of Star Trek's ultimate authority, Larry Nemecek. Why wouldn't you stop what you're doing and head to Lake Charles, LA. this weekend?! Oh... and we'll be there too live blogging, just in case you can't make it. We're really looking forward to hanging with the Trek fans of southwest Louisiana. If you're going to make the trip, be sure to stop us and say hi. We may even have some Subspace Communique stickers for you! Check out the full details below.
By Crewman Becky | April 19, 2011 - 10:45 pm
So you saw the reminder about Dallas Comic Con, the other day…now here's the 2nd part of the Texas convention double-header this May! Next Gen's very own counselor Troi is going to be meeting, talking with, and signing autographs for Houston area fans at Comicpalooza May 27-29. Hmmm…do you think she'll be wearing her jumpsuit? Well, even if she's not, we can't wait to see her and hear what she has to say. It will be a true treat seeing her for the first time.
By Crewman Becky | April 14, 2011 - 9:44 pm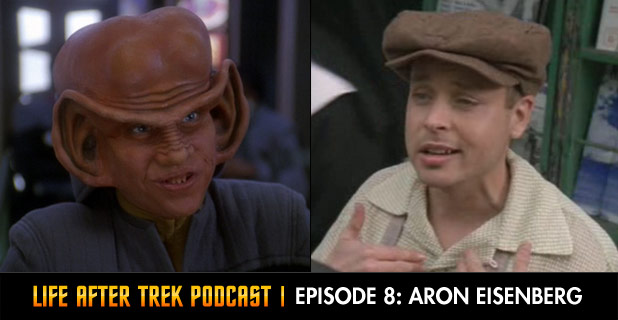 We're pleased to announce the eighth episode of our "Life After Trek" podcast, featuring Aron Eisenberg. As you all know, Aron played Nog, the youngest of the Ferengi family, on Star Trek: Deep Space Nine. Even though he wasn't a "regular" (Aron corrected us about that during the podcast), Nog was such a presence that he enhanced the entire feel for the series. Being HUGE DS9 fans, we were totally stoked to spend time talking to Aron about his current projects and his life after Trek.
During the podcast he talked about his time on DS9, his videography business, his career/life strategies, and he even filled us in on his inspiration for his role in "It's Only A Paper Moon" (the episode we, personally, find ourselves returning to over and over again).