Life After Trek Podcast Episode 8 Featuring Aron Eisenberg
By Crewman Becky | April 14, 2011 - 9:44 pm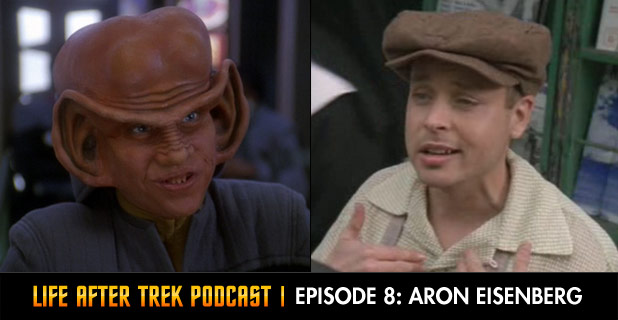 We're pleased to announce the eighth episode of our "Life After Trek" podcast, featuring Aron Eisenberg. As you all know, Aron played Nog, the youngest of the Ferengi family, on Star Trek: Deep Space Nine. Even though he wasn't a "regular" (Aron corrected us about that during the podcast), Nog was such a presence that he enhanced the entire feel for the series. Being HUGE DS9 fans, we were totally stoked to spend time talking to Aron about his current projects and his life after Trek.
During the podcast he talked about his time on DS9, his videography business, his career/life strategies, and he even filled us in on his inspiration for his role in "It's Only A Paper Moon" (the episode we, personally, find ourselves returning to over and over again).
It was a true pleasure to talk with Aron! Man…he's got it so together that he even inspired us to do a little more planning with our own future (and we mean, beyond which Trek episodes to watch tonight). This is a fantastic talk that we're sure you're going to enjoy. Now…hit that download button! What are you waiting for?!?!
Be sure to check out his videography business, Reel Life Pictures, here. Their work is gorgeous!