Star Trek: DS9
By Crewman Becky | September 10, 2010 - 8:50 pm
While we were at this year's Vegas Khaaan!! we received a copy of "Yesterday Was a Lie" (featuring Deep Space Nine's own Chase Masterson) to watch, enjoy, and review. We recently sat down and watched it (twice) and thought you might like to read about it.
It's a psychological mystery/thriller in the style of the best film noir detective movies of the 1940's. Written and directed by James Kerwin and starring Kipleigh Brown (Enterprise), Chase Masterson (DS9), John Newton, and Mik Scriba, this movie takes you on a stunning ride through fog filled alleys and moonlit city streets that will have you questioning reality at every turn.
By Crewman Becky | September 9, 2010 - 8:57 pm
First off, let's start by wishing Jeffrey Combs a very Happy Birthday today!! We love ya!!
One of our favorite Star Trek actors of all time, Shran (I mean) Jeffrey Combs, will be performing his one man stage show "Nevermore" at Fantastic Fest in Austin, TX near the end of this month. The show, which is described as "an evening with Edgar Allan Poe," harkens back to the end of Poe's life when he would give live readings of his stories on stage. Oh, shivers! Jeffrey Combs seems tailor made for this play (although we're pretty sure it was the other way around). Not only does he resemble the dark writer of old, but his famous facial expressions and acting prowess are sure to bring Poe back to life with a vigor (see what we did there?), and cause audiences to squeee with delight! We are certainly NOT going to miss this performance and we suggest you don't either.
By Captain Pyke | August 19, 2010 - 11:19 pm
Eugene Wesley Roddenberry was born August 19th 1921 in El Paso, Texas. Today would have been Gene's 89th birthday and to celebrate the life of this extraordinary man, we bring you a special Youtube Video Round-up: The Gene Roddenberry Edition. Gene wore many different hats over the years, writer, director, producer, husband, father, friend, and as most would agree; visionary. Gene's vision for the future was that of hope in mankind and the hope for a better tomorrow. It has played out on televisions screens all over the world starting on September 8th, 1966 through to today. So, to celebrate the life & legacy of the Great Bird of the Galaxy, we've scoured the halls of Youtube to find the very best of Gene Roddenberry. Enjoy.
By Captain Pyke | July 15, 2010 - 9:55 pm
As you know, the Scifi Diner Podcast is one of our favorites. Scott & Miles have become true friends of our site and were gracious enough to invite me to sit in on their most recent interview. Chase Masterson, a Trek fan favorite, stopped by the diner to talk about her time spent on "Star Trek: Deep Space Nine", her singing career & charity work, plus her new movie "Yesterday Was A Lie". "Yesterday" was not only a great co-starring role for Chase, but she also wore the producer hat on the film.
Check out a brief synopsis for "Yesterday Was A Lie":
By Captain Pyke | June 30, 2010 - 9:06 pm
Corey Allen, actor and prominent television director, passed away in his home on Sunday. He was 75. Allen was most famous for the playing the teenage gang leader that dies in a knife fight with James Dean in "Rebel Without a Cause". Allen was also an Emmy winning television director, with credits ranging from 70's cop and detective shows "Mannix" & "Police Story" to "Dallas" & "Magnum PI" in the 80's.
By Captain Pyke | June 20, 2010 - 10:35 pm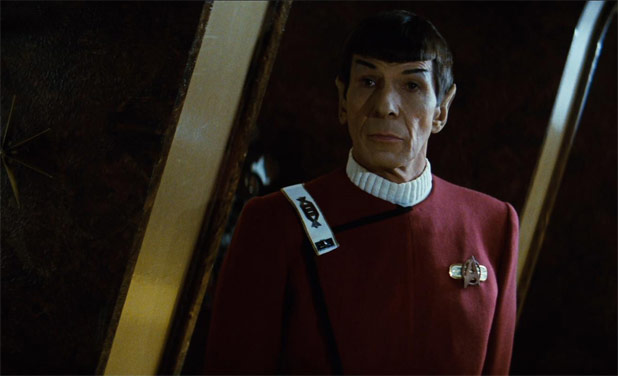 With the recent announcement of his retirement, Leonard Nimoy has been hitting the convention circuit pretty heavily. Not that we're complaining. We definitely want to see him before he buys a condo and moves to Florida. With the retirement news though, we just assumed that Vegas Khhaaan! was going to be his last show. Apparently not. It looks like the 44th annual Chi-town convention could be our Vulcan friend's last show (maybe). So, if you're looking for a chance to get a photo or autogarph with Mr. Nimoy beyond Vegas, you still have a chance.
By Captain Pyke | March 1, 2010 - 8:08 pm
The mystery of Andrew Koenig's disappearance and untimely passing played out all of the internet these last few weeks. Many online gathered together to help find and then morn Andrew, including several Trek universe and tv / movie stars. As reported by MTV News, several stars expressed the sympathies and grief via Twitter when learning the terrible news.
"RIP Andrew Koenig, missing since Valentine's Day, was found dead in Vancouver, Canada," fellow '80s child star Alyssa Milano tweeted. She also urged her followers to help anyone they know with similar issues to Koenig's: "If you know someone suffering from depression, please do everything in your power to get them help. R.I.P. Andrew."

By Captain Pyke | February 25, 2010 - 10:25 pm
Andrew Koenig, son of Walter Koenig and star of several TV appearances (including a long running stint on "Growing Pains" and a guest appearance on DS9) was found dead from an apparent suicide. Andrew had gone missing in Vacouver, British Columbia on February 16th, sparking a flury of activity on the internet and among Trek fans, who tried to help solve the mystery.
Andrew's body was discovered around 11:30 am today in the 1,000-acre Stanley Park, a favorite place for Koenig to frequent during his visits to Vancouver.
"My son took his own life," his father, Walter Koenig, said in an emotional news conference in the park.
By Captain Pyke | February 21, 2010 - 9:27 pm
Andrew Koenig who played Richard 'Boner' Stabone on "Growing Pains", as well as Tumak on the DS9 episode "Sanctuary", has been missing since February 14th. Andrew, son of TOS star Walter Koenig, was last seen in Vancouver, Canada.
Andrew is "in a depressed state," his father told Entertainment Tonight. Walter said he and his wife Judy had last heard from Andrew, 42, in early February when he was visiting friends in Toronto. He then went to Vancouver where he was last seen February 14. He didn't show up for his February 16 flight back to L.A.