Star Trek: DS9
By Captain Pyke | October 1, 2011 - 12:23 pm
Just as a quick reminder for all of you DS9 fans out there, Sisko and the crew are now available for your viewing pleasure on Netflix. If you haven't watched DS9, what are you waiting for? In fact, if you've never seen the series, here's the perfect chance to start one of the best and most diverse of the Trek series. We absolutely love Deep Space Nine for it's rich cast of characters and constant flux of political and religious undertones. It is a bit darker than the rest of Trekdom, but man, what a ride!
With the release of DS9, you can now watch every episode of Star Trek created. We wouldn't suggest trying that in a single sitting considering there is nearly 600 hours in total. Unless you have nothing to do and don't feel like sleeping for the next 25 days. All though, we can think of worse ways to spend your time.
Here's a bit of corporate speak from CBS & Netflix on the topic.
By Captain Pyke | August 27, 2011 - 10:39 pm
The free-to-play browser based game, Star Trek: Infinite Space, is getting closer to beta and final release. We've been patiently waiting to get our hands on Infinite Space since the first announcement back in summer 2010. In the meantime, the game's publisher Gameforge has just released a series of Q&A videos that feature Trek consultants Mike & Denise Okuda answering questions from the Infinite Space community. Mike & Denise answer a slew of general questions about Star Trek and the game, but one that caught our attention focused on Mike's LCARS contribution to the Trek universe.
Check out the full press release below, including both Q&A videos featuring the Okudas.
Star Trek Visionaries, Michael and Denise Okuda, Answer Fan-Related Questions and Shed Light on the Upcoming Free-to-play Casual Browser Game, Star Trek - Infinite Space
Karlsruhe, Germany - August 23, 2011 - Gameforge, Europe's largest publisher of free-to-play online games, today released an all-new community-based Q&A video featuring Star Trek expert consultants, Michael and Denise Okuda. In the video, they outline details regarding the upcoming Star Trek - Infinite Space free-to-play casual browser game and dive deep into the Star Trek universe.
By Captain Pyke | August 19, 2011 - 9:03 pm
Eugene Wesley Roddenberry was born August 19th 1921 in El Paso, Texas. Today would have been Gene's 90th birthday, so we pay tribute to the late Great Bird of the Galaxy. Gene's brain child, Star Trek, is celebrating it's 45th anniversary this year and continues to inspire and provoke generations. We recently returned from Vegas Khhaaan! 2011, where more than 20,000 fans participated in one of the largest, if not THE largest, Trek Convention. This proves that Star Trek, and Gene's vision, still has an indelible mark on history with more fans added each year.
Gene started life as a sickly young boy who would dream of traveling to the stars. He flew combat missions in the Pacific Theatre during WWII with the "Bomber Barons" of the 394th Bomb Squadron, 5th Bombardment Wing of the Thirteenth Air Force. In total, Gene flew eighty-nine missions for which he was awarded the Distinguished Flying Cross and the Air Medal.
After WWII, Gene worked as a commercial pilot for Pan American World Airways (Pan Am). He received a Civil Aeronautics commendation for his rescue efforts following a June 1947 crash in the Syrian desert while on a flight to Istanbul from Karachi.
By Captain Pyke | August 6, 2011 - 10:32 pm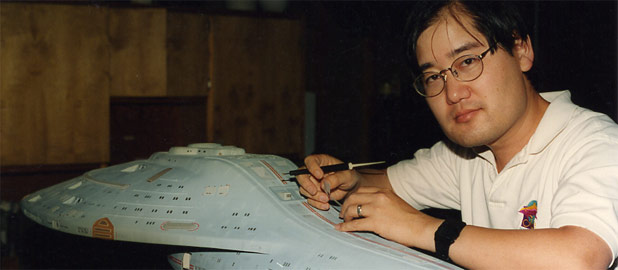 We would like to wish a very happy birthday to Mike Okuda. He has been responsible for a myriad of things throughout the various Trek incarnations since the mid-1980s starting with Star Trek IV: The Voyage Home. Mike gained notoriety for his work on Star Trek: The Next Generation as a scenic artist / technical consultant and for designing the futuristic graphical user interface (LCARS or Okudagrams) used throughout the TNG era and all the way to DS9. I would also like to personally thank Mike and give him credit for inspiring me to work professionally in the graphic arts and user interface design. Thanks Mike, your work has inspired an entire generation of graphics professionals!
By Captain Pyke | July 25, 2011 - 10:54 pm
With a release date set for "Summer 2011" and a fast approaching beta, Star Trek: Infinite Space is preparing to launch Trek fans into the Deep Space Nine era universe with a bang. We've been covering "Infinite" since it was announced last year, but for those who don't know; it will be free-to-play browser based game set in the Deep Space Nine timeline and has Trek alumni Mike & Denise Okuda on board to keep an eye on canon and consistency. Much like many browser games, "Infinite" will be free-to-play and casual, meaning you can pick up and play for short periods of time.
By Captain Pyke | July 20, 2011 - 11:59 am
Just like the recent announcement and launch with Netflix, Amazon Instant Video
is adding Star Trek: The Original Series, Star Trek: The Next Generation, Star Trek: Deep Space Nine, Star Trek: Voyager, & Star Trek: Enterprise, for your streaming pleasure. Announced today, CBS via Amazon is also going to server up other hit shows like Cheers, Fraizer, plus more on Amazon's Netflix competitor. No word on an exact release date, but Amazon is promising "this summer". Check out the full press release below.
Update - Maybe The Animated Series? We noticed that the press release said the entire Star Trek Franchise. We'll have to get confirmation...
By Captain Pyke | July 6, 2011 - 8:42 pm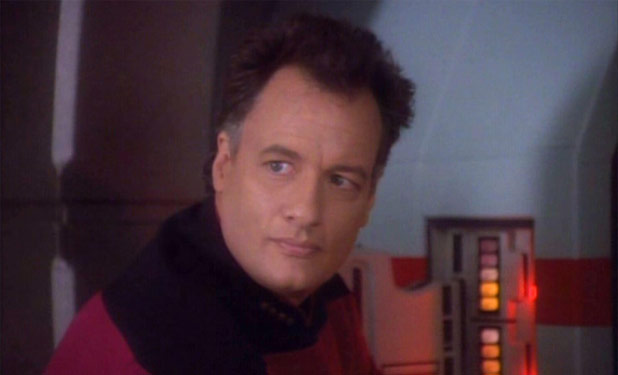 Shore Leave, one of the longest running fan operated conventions, is quickly approaching. We've never been to this particular con, but we have had fantastic reports the last two years thanks to The SciFi Diner's Miles McLoughlin. Be sure to check out the Shore Leave 31 & 32 reports to get an idea of what to expect. There's an interesting group of stars that visit Maryland every year and this time is no different. If you're a TOS fan (and who isn't?) Gary Lockwood & Sally Kellerman from "Where no man has gone before" will be on hand. Of course you'll know Gary from 2001: A Space Odyssey and Sally from the motion picture version of MASH as well as many other TV and motion picture appearances. On top of that, our favorite omnipotent being Q, John De Lancie, Star Trek authors Dayton Ward, Kevin Dilmore, David Mack, Keith DeCandido, Peter A. David and many others will also be on hand.
By Crewman Becky | June 10, 2011 - 11:45 pm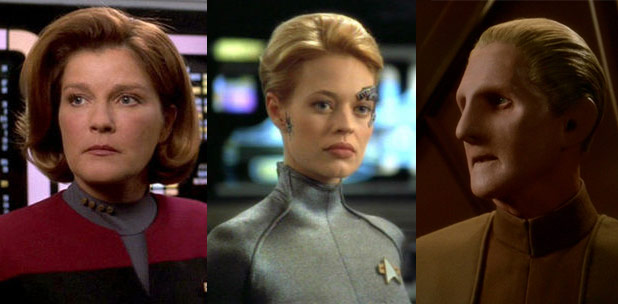 It's looking like season 3 of Warehouse 13 is turning out to be one of the best places to watch your favorite Star Trek alumni strut their stuff. So far, TV Guide says that Kate Mulgrew (Voyager), Jeri Ryan (Voyager), and Rene Auberjonois (DS9) are making appearances (or in some cases "re"appearances ) during the upcoming season.
Star Trek Voyager's Jeri "Seven of Nine" Ryan debuts as a bride named Amanda on Aug. 1, while Kate "Captain Janeway" Mulgrew begins her four-episode run as Warehouse protector Jane in September. Both characters share a shocking connection to a series regular.
Also look for Star Trek: Deep Space Nine's Rene Auberjonois to reprise his role from last season as computer expert Hugo Miller. "We discover a little bit more about his past, too," Kenny says.
By Captain Pyke | June 1, 2011 - 11:38 pm
We're pleased to announce the eleventh episode of our "Life After Trek" podcast, featuring Max Grodenchik. What's exciting about this episode is of course Max's interview, but this completes our House of Rom set with the show stopper Grand Nagus Rom! Be sure to check out the other House of Rom interview with Chase Masterson & Aron Eisenberg. We had the pleasure of hanging out with Max at BayouCon this year and he was kind enough to spend some quality time with us discussing not only his role on "Deep Space Nine", but also his time on TNG and his early years in acting.