There Are Four Lights! Patrick Stewart, David Warner, Plus Many More In Orlando This Weekend
By Captain Pyke | October 27, 2011 - 9:57 pm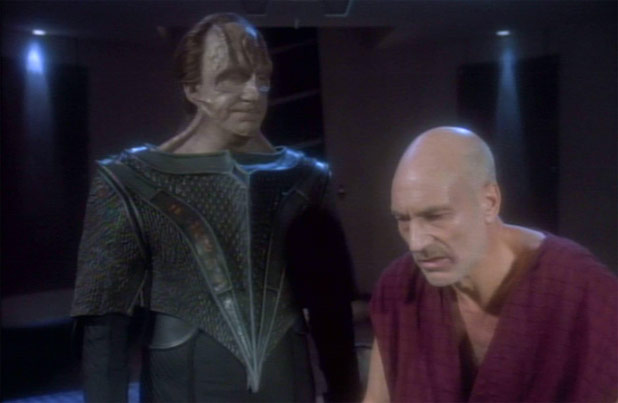 This completely slipped under our radar and if we'd known about it, we would be live blogging from there this weekend. For those of you in the Orlando, FL. area, head down to the Hilton Orlando Resort Lake Buena Vista to get your Trek on. Vulcan Events is hosting it's Away Mission: Orlando with a slew of Trek stars from the captain of the Enterprise to two famous Ferengi brothers and many others in-between. Sir Patrick Stewart will be on hand with David Warner, Armin Shimuerman, Max Grodenchick, Larry Nemecek, Rick Sternbach, Lolita Fatjo, Phil Morris, Jennifer Hetrick, & Grace Lee Whitney. For the Stargate / Firefly fans, Jewel Staite & David Nykl. The show starts tomorrow (October 28th) at 5pm and runs through Sunday.
Oh, and did we mention our friends at Sci-Fried will be on hand as the Musical guests? If you're in Orlando, you've got to hit up this con! Check out more details below.
Vulcan Events - Away Mission: Orlando
Friday, October 28th, 5:00 PM - 12:00 AM
Saturday, October 29th, 8:00 AM - 1:00 AM
Sunday, October 30th, 10:00 AM - 6:00 PM
Official Website for ticket information
Hilton Orlando Resort Lake Buena Vista
1751 Hotel Plaza Boulevard,
Lake Buena Vista, Florida 32830
Tel: 1-800-782-4414
Star Trek Guest List:
Sir Patrick Stewart is best known as the Captain of the Enterprise--Captain Jean-Luc Picard--on the seven seasons of TV's Star Trek: The Next Generation and the four subsequent feature films. He has also embodied Professor Charles Xavier in the X-Men films as well as countless other roles. His film and television credits include Dune, Robin Hood: Men in Tights, Conspiracy Theory, Masterminds, Animal Farm, Jimmy Neutron, King of Texas, Gnomeo & Juliet, and American Dad! As a trained actor with the Royal Shakespearean Company, he has performed across the globe in Shakespearean plays like I Claudius, Anthony and Cleopatra, Hamlet, Macbeth and The Tempest.
We can go on and on but Sir Patrick Stewart really needs no further introduction!
He will be appearing Saturday and Sunday allowing for plenty of autograph and photo opportunities. See below for more information including details on a private reception with Sir Patrick!
David Warner has appeared in two Star Trek films and a two-part episode of Star Trek: The Next Generation. He first played the part of Ambassador St. John Talbot in Star Trek V: The Final Frontier. In 1991, he returned to the Star Trek franchise to play Klingon chancellor Gorkon in Star Trek VI: The Undiscovered Country. The following year, he played Cardassian Gul Madred in the TNG episodes "Chain of Command, Part I" and "Part II". Warner has become well-known for his role as the unfortunate Keith Jennings, a photo-journalist who becomes one of the evil Damien's victims, in the classic horror movie The Omen. Another role for which he is remembered is that of Jack the Ripper, opposite Malcolm McDowell's H.G. Wells, in writer/director Nicholas Meyer's acclaimed 1979 science fiction adventure Time After Time. For his performance in this film, Warner was nominated for a Saturn Award from the Academy of Science Fiction, Fantasy & Horror Films. Since then, he has become well identified with villainous roles, typically in "genre" films. In the 1980s alone he played: the role of the "Evil Genius" in Terry Gilliam's sci-fi comedy Time Bandits; the villainous ENCOM executive Ed Dillinger, his evil creation, Sark, and voiced the Master Control Program in the Disney's 1982 cult sci-fi film Tron; mad scientist Alfred Necessiter in the 1983 sci-fi comedy The Man with Two Brains; and a demented vampire hunter determined to kill the young protagonist in the 1988 horror comedy My Best Friend is a Vampire. With almost 200 credits to his name, we could only list a few. Please visit his IMDb page to review his extensive credits list or visit his official website at www.davidwarnerfilm.co.uk.
He will be appearing Saturday and Sunday allowing for plenty of autograph and photo opportunities. Mr. Warner will also be attending our celebrity banquet!
Armin Shimerman is best known for his role as Quark on the television series Star Trek: Deep Space Nine, as Principal Snyder on Buffy the Vampire Slayer and as Pascal on the series Beauty and the Beast. Shimerman was also the first actor to play a Ferengi in the Star Trek universe playing "Letek" on the Star Trek: The Next Generation episode "The Last Outpost." He also played the Gift-Box Face in the episode "Haven" and DaiMon Bractor in "Peak Performance". A skilled character actor, Shimerman has hundreds of TV credits to his name with early guests appearances on Hillstreet Blues, Remington Steel, The Paper Chase, Alien Nation, Seinfeld, Stargate SG-1, Alley McBeal, The Practice, Charmed and Boston Public. More recently he appeared on episodes of Boston Legal, Numb3rs & Warehouse 13. His theatrical credits greatly outnumber his TV and voiceover work. Look for more details coming soon on a new play which he will perform at our event with Max Grodénchik!
He will be appearing Saturday and Sunday allowing for plenty of autograph and photo opportunities.
Max Grodénchik is best known for his role as Rom on the television series Star Trek: Deep Space Nine. Rom made several appearances throughout the seven-year run of Deep Space Nine. A failure as a businessman but a mechanical genius, he worked as a waiter for several years at Quark's Bar, Grill, Gaming House and Holosuite Arcade on Deep Space 9 before becoming an engineer in the Bajoran Militia. He eventually succeeded Zek as Grand Nagus of Ferenginar. Prior to landing the role as Rom, he had already made a couple of appearances in the Star Trek universe as Sovak and Par Lenor in Star Trek: The Next Generation episodes "Captain's Holiday" and "The Perfect Mate". Grodénchik has made several guest appearances on hit TV shows and films such as Apollo 13 and Bruce Almighty to a recent appearance on CSI: Crime Scene Investigation. Max also dabbles in singing, songwriting as well as play writing. Look for more details coming soon on his new play which will be performed at our event!
He will be appearing Saturday and Sunday allowing for plenty of autograph and photo opportunities.
Grace Lee Whitney is a versatile actress and vocalist born in Ann Arbor, Michigan. Beginning as a "girl singer" on Detroit's WJR radio, she soon opened in clubs for the likes of Billie Holiday and Buddy Rich, and toured with the Spike Jones Band. Grace debuted on Broadway in "Top Banana", and subsequently appeared in the United Artists film Top Banana (1954). Throughout the 50's and 60's she made several guest appearances on hit TV shows like, Bat Masterson, Gunsmoke, The Rifleman, The Untouchables, 77 Sunset Strip, The Outer Limits, and Batman to name a few. Grace is probably best known for her portrayal of Janice Rand in the original Star Trek series. She reprised the roll in the Star Trek feature films and the Star Trek: Voyager episode "Flashback".
She will be appearing Saturday and Sunday allowing for plenty of autograph and photo opportunities.
Phil Morris' first acting role was as a child when he appeared in the 1966 Star Trek episode "Miri". Star Trek was, at the time, shot at the same studio that produced Mission: Impossible, where his father was working. He made his feature film debut in Star Trek III: The Search for Spock in a small role and later guest-starred on Star Trek: Deep Space Nine and Star Trek: Voyager. In the mid-80s, he portrayed law student (later attorney) Tyrone Jackson on the CBS daytime drama The Young and the Restless. In the 90's, Morris played a recurring character, the Johnnie Cochran-inspired defense attorney Jackie Chiles, on the hit-comedy Seinfeld. Also in the 90's, Morris co-starred in the remake of Mission: Impossible as tech wizard Grant Collier (son of Barney Collier, who was played in the original series by Morris' real-life father Greg Morris). Morris voiced the supporting role of Dr. Sweet in Disney's 2001 film Atlantis: The Lost Empire as well as its 2003 sequel, Atlantis: Milo's Return. In the January 25, 2007, episode of the The CW television series Smallville, Morris also portrayed the DC Comics superhero The Martian Manhunter/John Jones, which became a recurring character in the series. He reprised that role on the show's sixth season finale as well as the episodes "Bizarro" and "Cure" in the seventh season and the episodes "Odyssey", "Prey" and "Bulletproof" in the eighth season. He reprised this role in the ninth season episodes "Absolute Justice", "Checkmate" and "Salvation". As a voice actor, he portrayed the villains Imperiex on Legion of Superheroes, and as the Immortal Caveman Vandal Savage on Justice League and Justice League Unlimited. Though largely unnoticed, Morris also was the voice of Paul the Apostle in Zondervan's The Bible Experience. He played the voice of the character 'Doc Saturday' in the animated show The Secret Saturdays. He also played a major supporting role in the PlayStation 2 game Ratchet: Deadlocked, Merc, one of the combat bots that accompany Ratchet during his journey. He also voiced the character of "Thurgood Stubbs" on the animated show The PJs, after Eddie Murphy's departure.
He will be appearing Saturday and Sunday allowing for plenty of autograph and photo opportunities.
Jennifer Hetrick played the recurring role of Vash, Picard's love interest in the Star Trek: The Next Generation episodes "Captain's Holiday" and "Qpid". She reprised her role for the Star Trek: Deep Space Nine episode "Q-Less" in 1993. Ms. Hetrick also appeared in numerous other science-fiction and fantasy series including The X-Files, Sliders, and Buffy the Vampire Slayer, and is also remembered for her recurring role on L.A. Law. More recently she appeared on 24, Prison Break, Cold Case, NCIS, Criminal Minds, Close to Home and Alias.
She will be appearing Saturday and Sunday allowing for plenty of autograph and photo opportunities.
Rick Sternbach is an Emmy and Hugo award winning illustrator who is best known for his space illustrations and his work on the Star Trek television series. He served as the senior illustrator/ designer for Star Trek: The Motion Picture, Star Trek: The Next Generation, Star Trek: Deep Space Nine, and Star Trek: Voyager. Sternbach created the designs for several studio models, including the Intrepid-class USS VOYAGER and, with Herman Zimmerman, the Deep Space Nine Station just to name a few. He was also responsible for designing hundreds of props and set pieces, including the mural painting of the Enterprise-D in Picard's ready room as well as weaponry, PADDs, tricorders and communicators for Starfleet, Klingon, Romulan, Cardassian, Bajoran, Kazon, Ferengi, and other races. As scenic artist for Star Trek Nemesis, he provided designs for everything from the Argo shuttle to a Romulan Valdore-type sculpture. Together with Michael Okuda, he served as a technical consultant to the writing staff, maintaining technical and chronological continuity and inventing scientific terms and technobabble. Sternbach is also the co-author of the Star Trek: The Next Generation Technical Manual, Star Trek: Deep Space Nine Technical Manual, Star Trek: The Next Generation USS Enterprise NCC-1701-D Blueprints all of which were published by Pocket Books. Other projects include his Emmy award winning work on Carl Sagan's Cosmos: A Personal Voyage series, The Last Starfighter and Steven Soderbergh's Solaris.
He will be appearing Saturday and Sunday hosting a few panels and participating in a Q&A session.
Larry Nemecek, after years as a Star Trek author, editor, archivist, interviewer, producer and consultant, now simply tells people, "I work in Trekland." You probably know him from years as managing editor of Star Trek Communicator, or author of the TNG Companion from Pocket Books and others. Now, he's currently helming his first film project, The Con of Wrath—a documentary preserving the wild and human story behind fandom's greatest "meltdown turned miracle," the 1982 Houston "Ultimate Fantasy" mega-Star Trek show. Of course, TREKLAND is also the name of his blog at larrynemecek.com, which holds not only his archives and photo galleries but his latest posts and video chats with Treklanders of all stripes: actors, designers, writers, licensees, and fans too! Other projects are the original Star Trek: The Experience, the World Tour and such … consulting and commentary for the DVDs … his two columns for the Titan Star Trek magazines since 1998, now sold in the US, or as a content producer for both the original and revamped startrek.com, or the guts of the long-running Star Trek Fact Files. Suffice to say, Larry's seen a lot come and go in Trekland from his front-row seat in Hollywood—which he shares in tales and humor at his convention talks, both here and abroad. He's been in the fandom trenches, too, crewing SoonerCon and founding ThunderCon back in his native Oklahoma.
He will be appearing Saturday and Sunday hosting a few panels and participating in a Q&A session.
Lolita Fatjo spent 15 years working in the writing department for Star Trek: TNG, DS9, Voyager and the first 2 TNG movies. She started off as an assistant to the writers/producers but quickly moved into the position of script coordinator. During her time there, Star Trek had an open script submission policy. Anyone could send in a script in the hopes of having it produced. Part of her dudies there was to help process the 13,000 plus scripts that the department received throughout the years. She joins us not only as a panelist and guest but as "Manager to the Stars." For the past 13 years she has represented several celebrities including a few of our guests this weekend. Lolita will be hosting a panel titled "The Past, Present and Future of Star Trek". She's an old friend and is thrilled to be back here in Florida!
(Source Vulcan Events)