Convention News
By Crewman Becky | May 25, 2011 - 5:18 pm
If you aren't familiar with Larry Nemecek, Memory Alpha describes him like this: Larry Wayne Nemecek is a noted Star Trek author, editor, archivist, consultant and producer. He is married to onetime script coordinator Janet Nemecek. A native Oklahoman, Nemecek began considering news and communications as a career in high school after being inspired by a teacher in his journalism class. He majored in theater at college with a journalism minor, and began writing about Star Trek because "all the Will Rogers and Sooners football books had been written."
By Crewman Becky | May 12, 2011 - 10:48 pm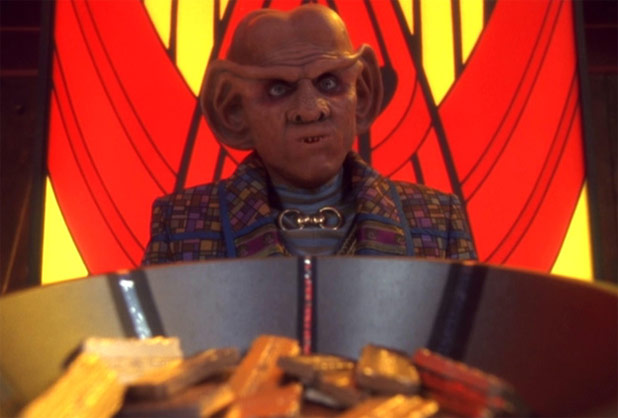 Vegas Khhaaan! is swiftly approaching and we're all on pins and needles to get there already. Personally, we can't wait to get back. With the con coinciding with Star Trek's 45th anniversary, this year is set to be explosive. Besides the panels and the parties there are a bunch of shows lined up to entertain and delight. James Darren (and his band) will be putting on a full Vegas concert, Jeffrey Combs will be performing his one man show "Nevermore...An Evening With Edgar Allan Poe", and Max Grodenchik, Vaughn Armstrong, Jeffrey Combs, Casey Biggs and Armin Shimerman will be performing their always entertaining Rat Pack show. Since our last story about Creation's guest list they've added a ton of additional guests. Be sure to check out Creation's site for a full guest roster. For now, here's a list of just some of the new guests to get you motivated to come hang out with a galaxy full of Trek fans in the middle of the neon desert.
TERRY FARRELL
Jadzia Dax of Star Trek Deep Space Nine.
By Captain Pyke | April 28, 2011 - 10:07 pm
We hear that Louisiana is famous for it's seafood, friendly people, humidity...Klingons & Ferengi?! That's right, this weekend you can spend time with your favorite Grand Nagus & member of Starfleet Admiralty. Not only Max Grodenchik & Vaughn Armstrong, but you can also pick the brain of Star Trek's ultimate authority, Larry Nemecek. Why wouldn't you stop what you're doing and head to Lake Charles, LA. this weekend?! Oh... and we'll be there too live blogging, just in case you can't make it. We're really looking forward to hanging with the Trek fans of southwest Louisiana. If you're going to make the trip, be sure to stop us and say hi. We may even have some Subspace Communique stickers for you! Check out the full details below.
By Captain Pyke | April 21, 2011 - 2:30 pm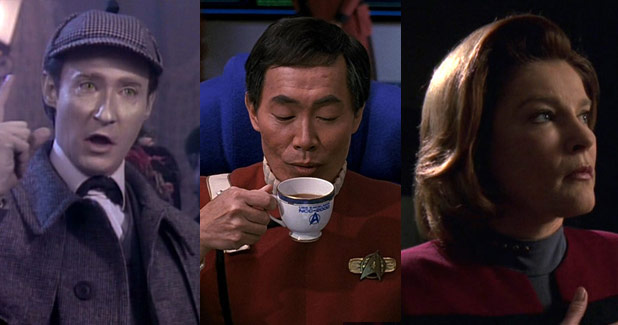 With so many new comic conventions across the country, Trek fans have a better chance at seeing their favorite stars than ever before. Detroit area fans can get up close and personal with two captains & an android. That's right, Brent Spiner, George Takei, and Kate Mulgrew will be heading to Michigan May 13th through the 15th for the upcoming Motor City ComiCon. Described as Michigan's largest comic book convention, the MCCC has been bringing awesome guests to the Motor City since 1989. Besides getting the rare chance to see Kate, the show is also packing two Brady's, a Cylon, three Colonial Warriors, and a slew of other guests. Check out the full media guest list and show details below.
By Crewman Becky | April 19, 2011 - 10:45 pm
So you saw the reminder about Dallas Comic Con, the other day…now here's the 2nd part of the Texas convention double-header this May! Next Gen's very own counselor Troi is going to be meeting, talking with, and signing autographs for Houston area fans at Comicpalooza May 27-29. Hmmm…do you think she'll be wearing her jumpsuit? Well, even if she's not, we can't wait to see her and hear what she has to say. It will be a true treat seeing her for the first time.
By Crewman Becky | April 17, 2011 - 9:03 pm
The end of May has a lot going on in Texas…two conventions, on back to back weekends. The first one is the Dallas Comic Con on May 21 & 22 and the second is Comicpalooza in Houston on the following weekend, May 27 – 29.
By Captain Pyke | April 9, 2011 - 6:36 pm
As we reported last month, Riverside, Iowa's TrekFest was in dire straits and would possibly be put on hold this year. Luckily though, that's now not the case. According to an article in the Cedar Rapids Gazette, a not-for-profit organization called the Mindbridge Foudation stepped in with the final $5000 and saved the day. Mindbridge is an orginization in eastern Iowa created to provide social venues and a social outlet for people interested in science-fiction, fantasy, nongambling gaming, anime, and related.
By Crewman Becky | April 8, 2011 - 1:08 pm
We've made it no secret that we love Shran err Weyoun ummm Brunt …wait…I mean Jeffrey Combs (that always happens). So, of course, we're super stoked to report that you can now see him all year long, live and on stage. He's scheduled to perform Nevermore once a month at the Steve Allen Theater in Los Angeles through the end of the year. *Squeeeeee!!!*
If you haven't seen this one man play stop what you're doing and go see it now. Ok…maybe that was a little dramatic, but it's so totally awesome that I couldn't help myself. It's an amazing peek through the window of time into what it must have really been like to see Edgar Allan Poe in person. Jeffrey gives an amazing performance of the man himself…not to mention the poetry.
By Captain Pyke | April 7, 2011 - 10:45 pm
If you're in the Lake Charles, Louisiana area at the end of this month, or you have the need to hang with your Trek brethren, make your way to BayouCon April 28th through May 1st. BayouCon, formerly Con Du Lac, is a fan run scifi convention for the Southwest Louisana area. According to the official website; In 2009 the convention launched as a Sci-Fi convention and was held at the Enos Derbonne Sports Complex in Lake Charles. 2010 brought about new growth and new opportunities as the festival moved downtown to the Civic Center." This year BayouCon is featuring Trek favs & friends as their honored media guests. Max Grodenchik (Rom DS9) & Vaughn Armstrong (Admiral Forest Enterprise & countless characters from TNG to VOY) will be in attendance plus more, check out the full list below.