Convention News
By Captain Pyke | July 21, 2009 - 11:31 am
If you're heading to Comic-Con this week be sure to check out the Fusion Publishing booth (#4112) on Saturday July 25th for your chance to win some fantastic prizes from Geek Monthly and Roddenberry.com.
Five lucky winners will receive the following.
By Captain Pyke | July 13, 2009 - 7:11 pm
The 2009 International Comic-Con in San Diego finally has a full program schedule posted. Included in the schedule are several panels, Q&As, and workshops. We've listed the Star Trek related events below and also be sure to click the link at the end of the article for the full schedule.
Thursday July 23rd.
By Captain Pyke | July 8, 2009 - 10:53 am
By Captain Pyke | June 23, 2009 - 6:33 pm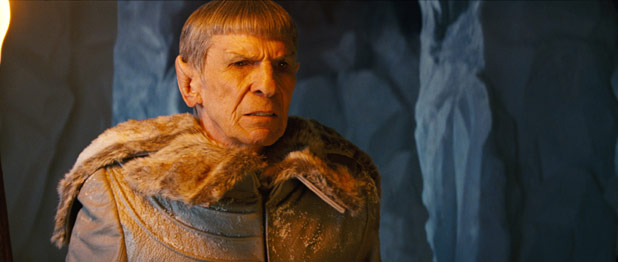 Leonard Nimoy is the headline guest for this weekends 20th anniversary Trek Expo in Tulsa, Oklahoma. Michael Smith of Tulsaworld.com got the opportunity to email Mr. Nimoy a few questions before his upcoming appearance.
By Captain Pyke | April 15, 2009 - 9:48 am
If you're in the Orlando Florida area this weekend you have chance to see Leonard Nimoy and Jonathan Frakes at the 20th Anniversary FX Show International.
Billed as the coolest show on earth, the FX show is pop culture convention featuring stars from comics, sc-fi, horror, and sports genres. The show is expected to bring 20,000 fans from all over the country to the Orange County Convention Center in Orlando.
By Captain Pyke | April 13, 2009 - 1:25 pm
New details emerge for the The Official STAR TREK Convention 2009 in Las Vegas. Over 70 stars will be in attendance with Christopher Lloyd recently added to the roster. Lloyd is most famous in Trekdom for playing Cmdr. Kruge in 'Star Trek III: The Search for Spock' and in popular culture for portraying Doc Brown in the 'Back to the Future' Trilogy. "Run for it Marty..."
By Captain Pyke | April 10, 2009 - 3:24 pm
Trekexpo.net has launched it's official site with guest lists and ticket packages. This being the 20th anniversary, fans are in for a real treat. Located in Tulsa, Oklahoma, Trek Expo is one of the largest fan run Star Trek Conventions.
The Expo runs June 26 - June 28, 2009.
Guest list after the jump.