Leonard Nimoy's Pre Trek Expo Interview.
By Captain Pyke | June 23, 2009 - 6:33 pm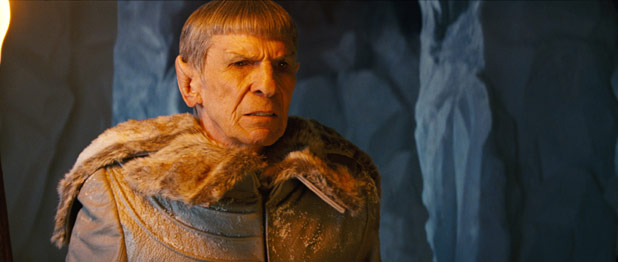 Leonard Nimoy is the headline guest for this weekends 20th anniversary Trek Expo in Tulsa, Oklahoma. Michael Smith of Tulsaworld.com got the opportunity to email Mr. Nimoy a few questions before his upcoming appearance.
Michael Smith: considering the overwhelmingly positive reaction to the new film, why do you think it has connected with new fans as well as satisfied the veteran fan base?

Leonard Nimoy: It's a film that stands on its own as a terrific adventure with great heart at the center. You don't have to be a fan to enjoy it, but it has elements that the fans recognize.

What is the key element to Star Trek's storytelling that, if you retain that element, the world of Star Trek and its characters will always be relevant?
The essential ingredient is the team of professionals working together to solve problems. All of the team are highly trained and competent.
How did it feel to put the Spock outfit and ears on again?

This performance called for an older, more resolved Spock. It's
actually closer to my own personality than the performances of the past.

What's your opinion of the characterization of Spock by Zachary Quinto, and what did you do to help him achieve it?

We spent a lot of time getting to know one another. He is a well-trained, intelligent and talented man. His performance interests me in that his was a Spock before the character that I portrayed in the series. Finding his way, I thought he brought a lot to the party.

I got the feeling from watching the film that it got many things just right in its portrayal of these well-known characters at a younger age. What was your reaction?

The script and direction were very successful in capturing the key character elements. I was quite moved to see the various performances.

You are coming to Tulsa for Trek Expo this month. in what manner have you come to appreciate the fan experience and their affection for Mr. Spock?

I'm always touched by the emotion I get from the fans. Their comments on how we have entertained them and brought something positive to their lives means a lot to me.

Maybe it's countless, but how many times have you received the vulcan greeting from fans? What are among the more memorable such greetings you have received?

Truly countless. From people young and old, of all walks of life. Barack Obama gave it to me during a campaign stop. (source Tulsaworld.com)
Read the full article here.