Convention News
By Captain Pyke | April 12, 2012 - 10:19 pm
Lake Charles, Louisiana is a hotbed of activity for Star Trek and scifi fans alike. We've told you about BayouCon recently and even live blogged from the event last year. Oh, and we'll have some exciting news about BayouCon in the coming days. This weekend though, Subspace Communique friend, Star Trek author and fount of knowledge Larry Nemecek will be headlining another event in Lake Charles called CyphaCon.
By Captain Pyke | April 11, 2012 - 11:52 pm
What do a telepath, a Klingon, and a god-like being have in common? Well, it's not those fabulous bouffant hairdos. No, in fact it's quite the opposite and more Canadian.. That's right woodchuck-chuckers, Marina Sirtis, Michael Dorn, & John de Lancie will be headlining the upcoming Fan Expo Canada in Vancouver. Not only will you get to see some of your favorite TNG's stars, but the expo features stars from all across the scifi universe. Stargate SG-1, SGU, Battlestar Galactica, Sanctuary, Smallville, & the freakin' The Hulk, just to name a few. Check out all the details below.
By Crewman Becky | March 17, 2012 - 11:39 pm
Star Trek's Q, otherwise known as John De Lancie, is the newest guest added to the Dallas Comic Con Roster. As we previously reported, Patrick Stewart is also attending. How perfect is it now that the two polar opposite characters of TNG are going to both be represented. We're hoping that they will share stage time on a two man panel so we can see a little of the old Q vs. Picard shenanigans we all love.

Dallas Comic Con
May 19-20, 2012
Irving Convention Center 500 W Los Colinas Blvd
Irving, TX (At intersection of 114 and NW Highway)
Official Website
By Captain Pyke | March 8, 2012 - 11:17 pm
What do a boy-genius and two Klingons have in common? Well besides the obvious (yeah, we don't get it either...) they'll be in Toronto for the 26th annual Polaris Convention this July. Wil Wheaton, J.G. Hertzler, and Robert O'Reilly are slated for the event scheduled for July 6th-8th (2012) at the Sheraton Parkway Toronto North Hotel. We'd love to make the "trek" to the Great White North, and if past Polaris Conventions are any indication, they'll be adding more guest as we draw closer to July.
By Captain Pyke | February 20, 2012 - 11:50 pm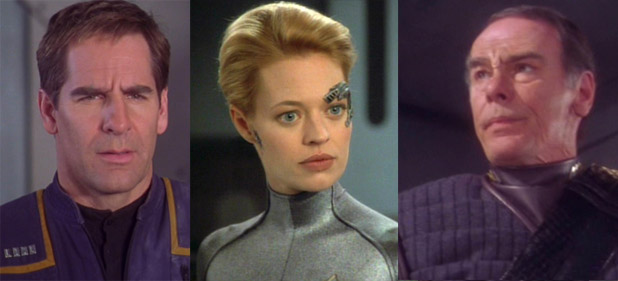 We've said it before and we'll say it again, Wizard World puts on a fantastic convention. With the likes of Scott Bakula & Jeri Ryan, it seems that their Toronto Comic-con will be no exception. That's right kiddies, April 14th-15th at the Metro Toronto Convention Centre, both Seven of Nine & Captain Archer will be in attendance. As an added bonus, for all you Quantum Leap fans, Dean Stockwell will also be in attendance. We're huge QL fans (not mention BSG) and would make the trip in a heartbeat to see Sam Beckett/Jonathan Archer & Al/Cylon John Cavil/Colonel Grat (bet you thought we forgot about Dean's appearance on Enterprise); oh and Seven of Nine too. Plus there are plenty of other stars, from various scifi series, that will be in attendance as well. Check the full press release below for all the details.
By Crewman Becky | February 2, 2012 - 9:23 pm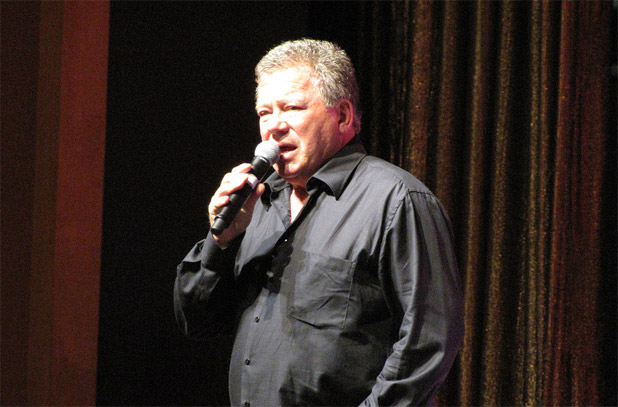 The Shat seems to be everywhere lately. I mean, really…everywhere. I don't think he ever stops working. Personally, I'm totally impressed (and a little jealous) of his never ending energy. How he juggles the dozens of projects he currently has going, I'll never know.
The latest announcement on the Shatner front is that he's joined Wizard World's Comic Con Tour. He just finished the New Orleans convention last weekend, and has three more on his schedule already.  One special note, he's listed as "Saturday Only" for each of the following locations. Be sure to check the schedules so you don't miss your favorite guest at any of them.
Philadelphia Comic Con Fri-Sat-Sun/June 1, 2, 3, 2012
Also at attending; Jeri Ryan (Voyager), Kate Mulgrew (Voyager), Avery Brooks (DS9), Paul McGillion (Stargate: Atlantis), and Bruce Campbell (…you name it)…and more
Chicago Comic Con Thur-Fri-Sat-Sun/August 9, 10, 11, 12, 2012
Also attending; Everybody from the above list, plus; James Marsters (Buffy The Vampire Slayer), Luke Perry (90210), Jason Priestly (90210) …and more
By Crewman Becky | January 30, 2012 - 11:11 pm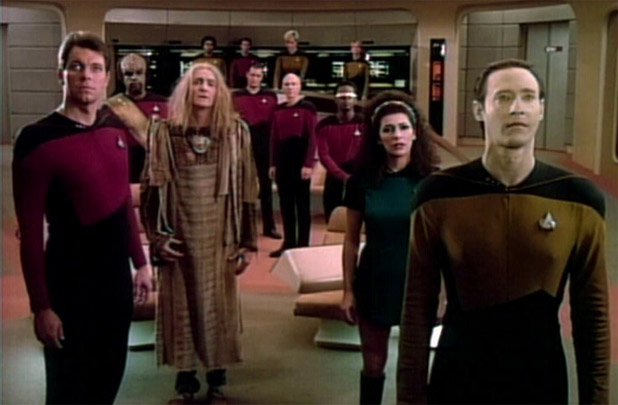 Well, the 25th anniversary of Star Trek: The Next Generation is swiftly upon us. I can't believe it's been so long. I still remember watching the first episode, begrudgingly, because my mom wanted to watch it and we only had one TV in the house. You see I was a purist…it wasn't the Original Series…so I didn't want any part of it. Needless to say, at the end of those two hours, I was totally hooked. Now, fast forward seven years to the series ender. We swear we didn't plan it this way, but "All Good Things…" just happened to be aired during our honeymoon. Being the fans that we were, we ordered in that night. There was no way either of us were going to miss that.
By Crewman Becky | January 24, 2012 - 7:40 pm
Well, knock me over with a feather…Scott Bakula was announced today, by Creation Entertainment as their latest guest at the 2012 Star Trek Las Vegas convention!!! (that totally deserved the 3 exclamation points) Do you guys realize if Patrick Stewart agrees to attend…that maybe, just maybe…we may get to see all the captains up on stage TOGETHER!!!! Oh my!
That would be the convention of all conventions to see. I can't speak for Creation, or Sir Pat, but I can't recall a Vegas convention (in recent years) that he didn't attend, so the odds are pretty good. Not to mention that this year is the 25th anniversary of The Next Generation and they already have most of that crew (sans their fearless captain) on the roster already. Yikes! I can hardly stand the suspense! If I were in Vegas now, I'd put money on it.
You can see the full Creation STLV guest list here.
By Captain Pyke | January 22, 2012 - 11:03 pm
If you're in the Orlando, Florida area on the weekend of February 17th through February 19th, be sure to swing by the Orange County Convention Center for this year's MegaCon. It's shaping up to have a fantastic Trek lineup with Brent Spiner, Tim Russ, & Robert Picardo. We haven't made it down to Orlando for MegaCon, but we've heard good things. It would definitely be a worth while trip to check out. Not only do they have an awesome Trek lineup, but you can also see Stars from Buffy, Stargate, Babylon 5, & much more.