Convention News
By Captain Pyke | March 13, 2010 - 10:18 pm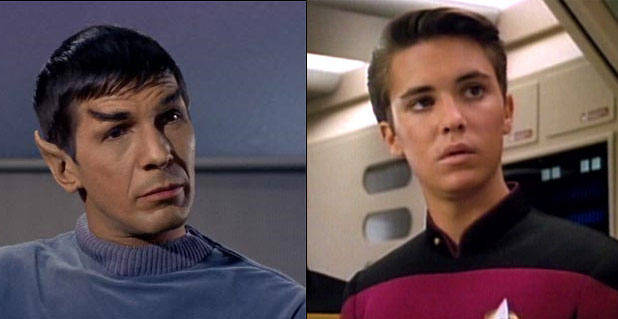 Well we're a little late to the game, but apparently Leonard Nimoy and Wil Wheaton are guests at the Emerald City Comic-Con in Seatle this weekend. If you live in or near Seatle and are just hearing about this (like us) you still have one more day to catch Spock and young Wesley Crusher.
Here's a quick breakdown of their appearance schedule for tomorrow.
Leonard Nimoy
11:00am - 12:15pm - Autograph Signing
1:00pm - Photo Ops
2:00pm - Autograph Signing
By Captain Pyke | March 7, 2010 - 11:18 pm
Convention season is quickly approaching. We're even getting in high gear already for Vegas Con, but there is one convention we would love to visit. Shore Leave 32 is set for July 9-11, 2010 and is known to be one of the biggest fan run conventions on the giant blue marble. This year's guest list is already starting to shape up. Our buddy Miles McLoughlin from the SciFi Diner Podcast reminded us about the update. Thanks Miles!
By Captain Pyke | November 18, 2009 - 11:05 pm
With more than 7 months to go, the 21st annual Trek Expo in Tulsa, Oklahoma is shaping up to be quite a show. This is the first time we've seen guest listed this early and who knows, this could end up being their biggest con yet. Check out the short list below with guests and ticket prices.
William Shatner
CAPTAIN KIRK / STAR TREK: TOS
SATURDAY ONLY
Garrett Wang
ENSIGN HARRY KIM / STAR TREK: VOYAGER
ALL THREE DAYS
MASTER OF CEREMONIES TREK EXPO 2010
Michael Dorn
LT. CMDR. WORF / STAR TREK: TNG & DS9
ALL THREE DAYS
By Captain Pyke | September 18, 2009 - 8:34 pm
We've been waiting for a list of guests to be announced for the Creation Entertainment L.A. Star Trek Grand Slam. Heck, we were even planning a meetup for that weekend at the LAX Marriot.
Tags:
By Captain Pyke | August 28, 2009 - 9:45 pm
If you're in Toronto Canada this weekend, be sure to check out Fan Expo Canada to see some of your favorite Trek stars live and in person. Held at the Metro Toronto Convention Centre, the expo was started in 1995 with the launch of the Canadian National Comic Book Expo. Eventually it become the multi-faceted Con that it is today. Check out the list below to see who will be attending.
By Captain Pyke | August 24, 2009 - 10:27 pm
Oh, Conventions, how the anticipation grows as you slowly approach that fateful day were you are reunited with your Trek family. There's nothing quite like being a group of like-minded people who are all gathered together for one common cause. Especially if that cause is Star Trek.
Tags:
By Captain Pyke | August 18, 2009 - 9:39 pm
Dragon-Con, the largest multimedia, popular culture convention focusing on science fiction and fantasy, gaming, comics, literature, art, music, and film in the US, is set for launch September 4th thru the 8th. This year several Star Trek stars will be in attendance including three captains, a vulcan, and an evil mastermind that looks remarkably like H.G. Wells.
By Captain Pyke | July 30, 2009 - 11:36 am
Did you miss Comic-Con? Don't fret, Paramount Home Entertainment has you covered. As reported by Home Media Magazine, Star Trek fans who weren't able to attend the 2009 San Diego Comic-Con International can get a glimpse of what they missed via BD Live.
By Captain Pyke | July 22, 2009 - 7:06 am
Yesterday we brought you info on what you can win at Comic-Con from Roddenberry.com & Geek Monthly. Today, you can find out what Roddenberry Productions is bringing to San Diego this year.