Star Trek: TOS
By Crewman Becky | January 15, 2013 - 11:44 pm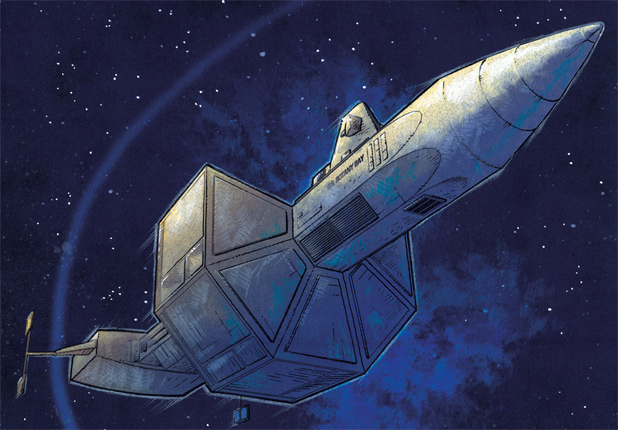 Look out Khan! We've got your ship! …and now you, at home, can have it too. We're very pleased to announce Bye Bye Robot's newest officially licensed Star Trek poster release, "SS Botany Bay" by illustrator Mark Brayer.
By Captain Pyke | January 15, 2013 - 12:52 am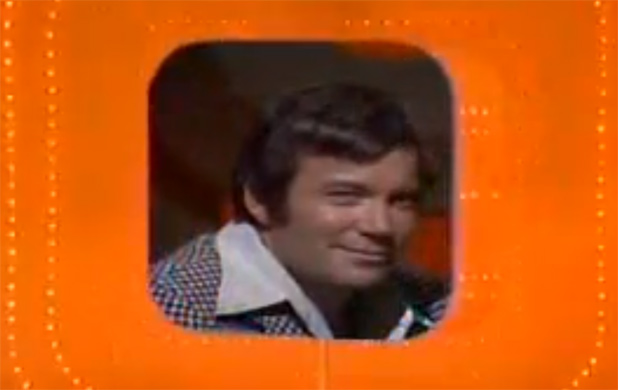 If there's one thing I love almost as much as Star Trek (besides The Rockford Files), it's Match Game. It could be any incarnation, 73, 74, 78, PM, it doesn't matter. Just give me a YouTube playlist and lots of Charles Nelson Reilly. I hear he won the Tour de France with two flat tires and a missing chain...but I digress. Recently watching an episode (or six) of Match Game, I got to thinking... Surely there are episodes of Match Game and other game shows chock full o'Trek stars. And, since we live in the future, I was able to fire up the Googles and find several episodes for all you Vulcans and Andorians alike. So, in my best Gene Rayburn, "There are so many Trek stars in these game shows [long pause] that you'll have to [BLANK]." As an added note, even though the title of this article sounds like a question from Jeopardy, this list is Alex Trebek-less. That's on principle... Enjoy.
By Captain Pyke | December 2, 2012 - 11:49 pm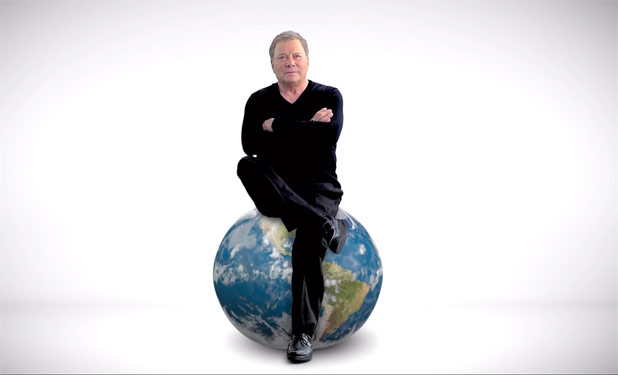 The "world" tour of William Shatner's one man play Shatner's World: We Just Live In It is coming to our neck of the woods early next year with stops in Galveston, Orange, & San Antonio, January 6th, 7th, and 9th respectively. The Shat will end the Texan leg of his tour on January 10th at the Paramount Theater in Austin. Will we go? We'll see, but we wanted to share the news for any other Austinites that might want to see Sir Billiam on stage.
By Captain Pyke | October 17, 2012 - 9:34 pm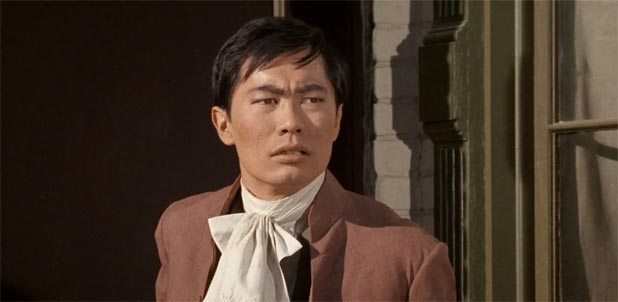 Quick, but awesome news, kids. Our favorite swashbuckling swordsman is headed to the beautiful isle of Hawaii in a brand new guest role on the popular Hawaii Five-0. In a tweet today, CBS announced that George will appear as the uncle of Chin Ho Kelly, played by one of favs from Lost Daniel Dae Kim. Oooh My! Yeah, I couldn't resist.
By Captain Pyke | October 15, 2012 - 9:06 pm
While cruising the tubes (the late Senator Stevens would be proud) I ran across a really cool video from 1990 featuring DeForest Kelley & the TNG cast / crew. Described as a news segment for Primetime Live, the video features Dee giving us a tour of the inner workings of Star Trek: The Next Generation. The video quality is pretty terrible, but it's definitely worth a watch. Man, Dee, we miss you.
By Captain Pyke | October 14, 2012 - 10:48 pm
A brand new announcement breaking from New York Comic-Con has licensed Trek comic book publisher IDW launching a prequel comic to the upcoming J.J. Abrams Star Trek Into Darkness. Comic Book News reported that IDW will be launching "Countdown to Darkness." sometime before the May 17, 2013 movie premier. As an added bonus, Bleeding Cool snapped the above blurry pic of the cover at NYCC. Does this tell us much about the new films possible villian, played by Benedict Cumberbatch? Not really... I still think he's going to play Landru...
By Captain Pyke | October 7, 2012 - 1:08 pm
Earlier this year we wrote an article about a 3D animated puppet parody of Star Trek called Stalled Trek that's featured on a web-series hosted by a one-eyed alien called Paunk! The Paunk! Show, as it's aptly titled, is a pilot episode that snowballed into a full-blown 15 minute parody of the well know Trek episode "Amok Time", called "Amutt Time", now available on DVD.
By Crewman Becky | September 21, 2012 - 9:39 pm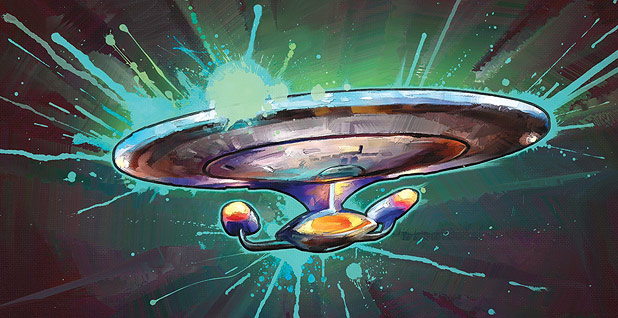 We're pleased to announce the official release of Bye Bye, Robot's eight newest posters. If you attended Vegas Khhaaan this year and stopped by the Bye Bye, Robot booth you had the inside scoop and saw them (early) in person. Maybe you were even there while Ira Steven Behr (writer of TNG's "Captains's Holiday") signed a copy of the new "Escape to Risa" poster. I know I was, and it was a blast! Well, for the rest of humanity (and extraterrestrials, alike), who didn't have the pleasure of spending a week in Vegas reveling in all things Trek, we're here to tell you all about the new posters.
By Captain Pyke | September 16, 2012 - 9:16 pm
For the past couple of years we've been bringing you news of George Takei's Allegiance - A New American Musical, based on his experience in the Japanese-American interment camps of WWII. Now, the musical is headlining at The Old Globe Theatre in San Diego through October 21st. Starring George as Sam Kimra an elderly veteran and war hero from World War II, the play also stars Lea Salonga as Kei Kimura, Telly Leung as Sammy Kimura, with Michael K. Lee, Paul Nakauchi, Alle Trimm, and Paolo Montalban.