Star Trek: TOS
By Captain Pyke | August 22, 2011 - 7:53 pm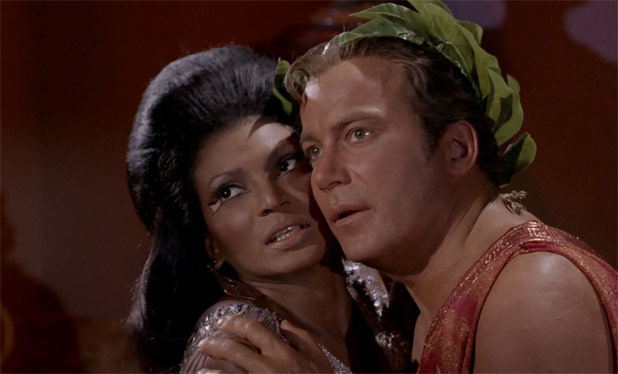 Calling all Trek fans in the Great White North! This weekend is shaping up to be a stellar one for Canadian Star Trek & Scifi fans alike. William Shatner (Sir Billiam, as we now call him), Nichelle Nichols, Marina Sirtis, Ethan Phillips, & Malcolm McDowell are all set to attend Canada's largest science fiction convention, Fan Expo Canada.
Now entering its 17th year, Fan Expo Canada showcases over 700 exhibits and sprawls to over 400,000 square feet and over 75,000 fans. On top of the listed Trek alumni, everything from Star Wars to Battlestar Galactica & I Dream of Genie to The Six Million Dollar Man will be represented. Oh, and did we mention that Freddy Kruger will be there as well. That's right, one of our favs, Robert England is set to appear. We say Freddy Kruger, but really Robert will always be Willy from V, to us. We still have a special place in our eight-chambered hearts for the original V & V:The Final Battle. But the series?... Not so much.
Anyway, check out the full guest list & convention details below.
By Captain Pyke | August 19, 2011 - 9:03 pm
Eugene Wesley Roddenberry was born August 19th 1921 in El Paso, Texas. Today would have been Gene's 90th birthday, so we pay tribute to the late Great Bird of the Galaxy. Gene's brain child, Star Trek, is celebrating it's 45th anniversary this year and continues to inspire and provoke generations. We recently returned from Vegas Khhaaan! 2011, where more than 20,000 fans participated in one of the largest, if not THE largest, Trek Convention. This proves that Star Trek, and Gene's vision, still has an indelible mark on history with more fans added each year.
Gene started life as a sickly young boy who would dream of traveling to the stars. He flew combat missions in the Pacific Theatre during WWII with the "Bomber Barons" of the 394th Bomb Squadron, 5th Bombardment Wing of the Thirteenth Air Force. In total, Gene flew eighty-nine missions for which he was awarded the Distinguished Flying Cross and the Air Medal.
After WWII, Gene worked as a commercial pilot for Pan American World Airways (Pan Am). He received a Civil Aeronautics commendation for his rescue efforts following a June 1947 crash in the Syrian desert while on a flight to Istanbul from Karachi.
By Captain Pyke | August 16, 2011 - 10:36 pm
We just got back from Vegas Khhaaan! 2011 and are starting to get back into the swing of things. In the meantime, our good friends over at The SciFi Diner Podcast just released a new episode with a fantastic interview featuring the original Dr. Elizabeth Dehner, Sally Kellerman. Many of you know Sally as Dr. Dehner from the TOS episode "Where No Man Has Gone Before" plus her role as Margaret "Hot Lips" Houlihan in the motion picture version of M*A*S*H. Scott & Miles got a chance to sit down with Sally during Shore Leave 33 and spent some time talking about both Star Trek & M*A*S*H.
By Captain Pyke | August 3, 2011 - 11:05 pm
Cruising around the web, performing our ubiquitous Star Trek searches that we do on regular basis, we ran across a new service from our friends at Google. It seems that their fine cadre of engineers & magicians have started archiving old newspapers from around the country, possibly the world, and we've found some Trek gold, or latinum as it were. According to the Deseret News, circa June 18th 1977, Star Trek is to launch a new series! We're guessing that the article is talking about the ill-fated Star Trek Phase II that eventually got rolled into Star Trek: The Motion Picture.
Buried amongst the various stories about the early shuttle program, lingering Watergate appeals, outbreaks of legionnaires disease in Olympia, Washington, and ads for plywood (sold by the trusty folks at Ketchum's) is a brief AP story mentioning the re-launch of our beloved sci-fi series. "Hopefully it will be even superior to the early Star Trek shows" Says The Great Bird of the Galaxy, Gene Roddenberry. Adding that he would like to "use as many of the faces as possible, as well as an infusion of new ones."
By Captain Pyke | July 22, 2011 - 7:51 am
For Trek fans in the Austin, TX area; a local favorite, Master Pancake, is set to premiere the sixth iteration of their popular Star Trek debates/TV parties. Because they can't agree on which is the best iteration of the show (JOHN is a fan of original Star Trek; JOE loves Next Generation) they'll be showing – and mocking – one episode of each.
Past formats have included Kirk vs Picard, Spock vs Data and Old Klingons vs New Klingons. This time around they'll be pitting Lt. Uhura against Deanna Troi to see who is the "least-uselesss scantily-clad communications facilitator on the bridge".
We'll be there to soak in the Pancake goodness! If you see us bouncing around, be sure to stop and ask for Subspace Communique stickers. Check out more details and order tickets here.
By Captain Pyke | July 20, 2011 - 11:59 am
Just like the recent announcement and launch with Netflix, Amazon Instant Video
is adding Star Trek: The Original Series, Star Trek: The Next Generation, Star Trek: Deep Space Nine, Star Trek: Voyager, & Star Trek: Enterprise, for your streaming pleasure. Announced today, CBS via Amazon is also going to server up other hit shows like Cheers, Fraizer, plus more on Amazon's Netflix competitor. No word on an exact release date, but Amazon is promising "this summer". Check out the full press release below.
Update - Maybe The Animated Series? We noticed that the press release said the entire Star Trek Franchise. We'll have to get confirmation...
By Captain Pyke | July 19, 2011 - 10:22 pm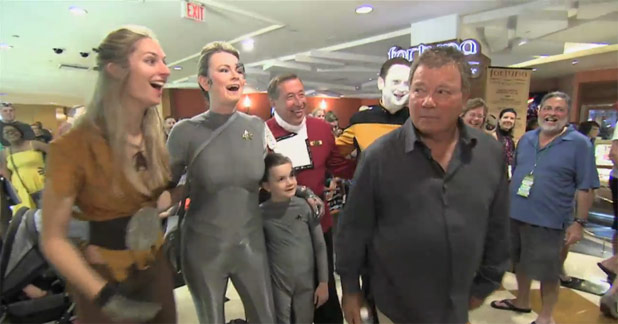 As all of you probably know by now, William Shatner's The Captains documentary is set to premiere on EPIX July 22nd. In fact, we have a special contest were you can win The Captains schwag and be a part of Trek fandom history. Aside from that, there are two special events set for July 25th & 30th that include The Shat, Trek costuming (or cosplay as the kids call it), and a whole bunch of dead celebrities. Okay, okay, so maybe that last part seems morbid, but it's not, we swear. Oh, and best of all, it's FREE.
On July 25th, EPIX will be holding a special screening of The Captains at the Hollywood Forever Memorial Park in Los Angeles that includes a showing of the doc (of course) with an in person appearance and introduction by Shatner, himself, plus a Trek costume contest with the lucky winner getting a chance to hang with the original James Tiberius Kirk. So be sure to show up in your best Landru, Mugatu, or even Nomad costume to win the special meet and greet with The Big Man.
By Captain Pyke | July 16, 2011 - 9:52 pm
Back in January at the Women of SciFi convention in Plano, TX., we overheard Nichelle Nichols mention an upcoming interview with famed astrophysicist Dr. Neil deGrasse Tyson. It seems that the most recent episode of the Dr's StarTalk Radio show features our favorite chief communications officer. In the first part of a two part series, Nichelle recounts her time on Star Trek and how her role as Uhura impacted her life and society "over space and time." The second half of the interview will air tomorrow (July 17th) at 6pm ET. You can catch the broadcast on the radio (stations listed below) or streaming via the interwebs here, plus a podcast version is available via iTunes here.
By Captain Pyke | July 14, 2011 - 10:11 pm
UPDATE - We just got word from Marc Zicree (you can see it in the comments below) that George Takei will not be attending this event. Also, due to certain restrictions, there won't be a panel. Instead Robert Butler, Sally Kellerman, Christina Moses and Marc will be making some introductory remarks at 2 PM just after the screening of "The Cage" and before "World Enough & Time"
It's not often that a special Trek event comes a long that is epically awesome and free. If you live in Southern California and feel like braving Carmagedon 2011, you'll be in for an extremely special treat. This Saturday (July 16th) at the Paley Center for Media in Beverly Hills George Takei, Sally Kellerman, "The Cage" director Robert Butler and Star Trek writer Marc Zicree will be on hand for a screening of TOS epsiodes "The Cage" & "Where No Man Has Gone Before" plus Star Trek: New Voyages episode "World Enough and Time".