Star Trek: TOS
By Captain Pyke | April 20, 2012 - 10:41 pm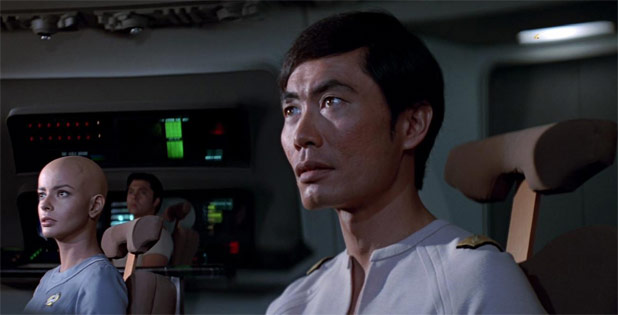 All around the globe, 4/20 is celebrated for a very special reason. No, it's not that....in fact it's something even better. It's George Takei's birthday! It seems that every year George becomes more relevant and spectacular. We've seen him a handful of times at various conventions and he's always fascinating (for the lack of a better word). In fact, George will be on stage at the upcoming Comicpalooza in Houston this May. We'll be there as well and on the edge of our seats for his panel. We love George for his acting ability, his whit, his social activism, and because he smells like a million bucks. So, on this very special day, we'd like to celebrate by watching Star Trek VI, tons of TOS, and by sending a very warm Happy Birthday to the man who helped make Trek what it is today.
By Captain Pyke | April 15, 2012 - 11:21 pm
So, for the past 35+ years Star Trek's Nichelle Nichols has been heavily involved with NASA's public relations department. From recruiting astronauts and public speaking, to singing at the Kennedy Space Center, Nichelle has done her fair share for the space program. Tomorrow night (April 16th), the lovely lieutenant will host the finals for Nasa's FameLab Astrobiology contest, live via NasaTV and streaming on the web.
By Captain Pyke | April 3, 2012 - 10:19 pm
The ever popular and fantastic smelling George Takei was in Seatle over the weekend for Emeral City ComicCon. During the convention he took part in a question and answer panel hosted by none-other-than Danny Bonaduce.. Random, right? Anyway, George answered a few run of the mill questions, but one that peeked our interest was the origin of his signature catch phrase "Ohh Myyy!". According to George; it's something He's used all his life, but didn't become wide spread until The King of all Media got his hands on it.
By Crewman Becky | March 26, 2012 - 10:18 pm
It's March 26th, and today is Leonard Nimoy's 81st birthday!! Happy Birthday Mr. Nimoy!! I don't know why, but I always feel like I need to be more grown up when I write about Leonard Nimoy. It's not like I respect him more than the rest of the cast, but his personal grace and demeanor seem to signal my brain to "stand up tall", "make good eye contact" and "stop using slang". Of course…that's all out the window tonight.
By Crewman Becky | March 22, 2012 - 10:24 pm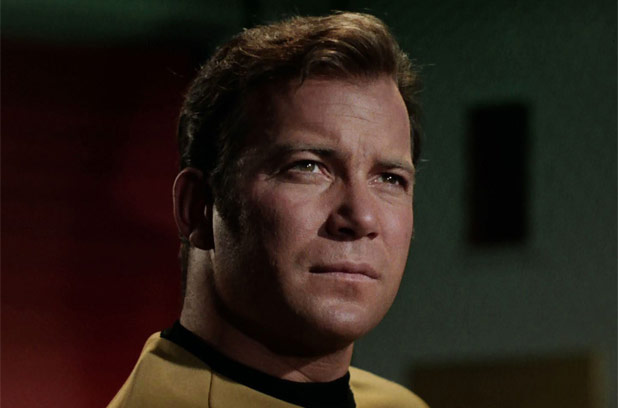 Hey out there, in case you haven't heard, it's William Shatner's birthday! Yah, we spelled out his name for that. It's special. It's March 22nd, his 81st birthday and he's showing NO signs of slowing down…or aging, for that matter. I gotta say, he looks fantastic on and off screen!! I hope I look that good when I'm 81.
By Captain Pyke | February 19, 2012 - 11:12 pm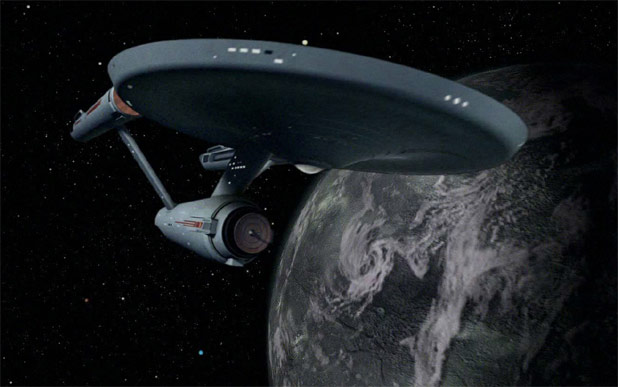 Many of you know Norman Spinrad as an award winning science fiction novelist as well as the writer of the TOS classic "Doomsday Machine". Up until recently, Norman's second, unproduced and ill-fated, Star Trek episode "He Walked Among Us" was thought to be lost to the ages.
Norman explains: "I thought the text of my original version--written on a typewriter!--was lost forever until recently a fan asked me to autograph a faded copy he had bought somewhere. I did, and in return he sent me a pdf off a scan"
By Captain Pyke | February 8, 2012 - 11:42 pm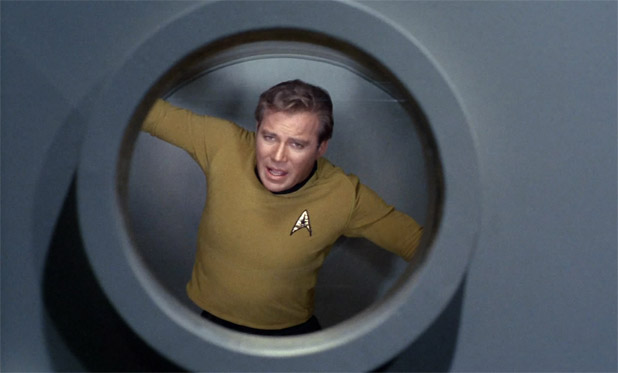 I've said it before and will again; The Shat is a force of nature. Not only is he increasing his convention schedule this year, but he's also steering his one-man-show around this beautiful country of ours. Starting on Broadway. . LA Weekly recently sat down with Sir Billiam (thought we forgot about it, huh?) and got the chance to experience The Shat's essence while he rehearsed for the launch of Shatner's World: We Just Live in It. Where Bill revealed that he's essentially happy with the way his life has turned out.
"I'm a happy man. I'm a somewhat anxiety-ridden man right now, with opening night and all that. But in its right perspective, there should be a sense of joy about it. I'm going to open on Broadway in a one-man show. It's extraordinary. What a gift — to me!"
Yeah, I would be happy too. I mean think about, all of his conquests throughout the galaxy (great and small) and having an alien as the best man for your wedding. What's not to be happy about?
By Crewman Becky | February 2, 2012 - 9:23 pm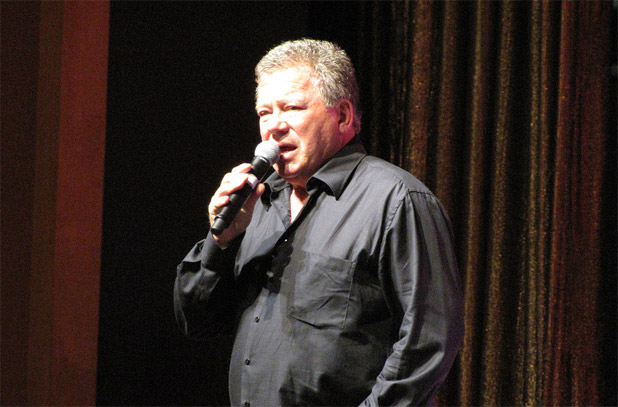 The Shat seems to be everywhere lately. I mean, really…everywhere. I don't think he ever stops working. Personally, I'm totally impressed (and a little jealous) of his never ending energy. How he juggles the dozens of projects he currently has going, I'll never know.
The latest announcement on the Shatner front is that he's joined Wizard World's Comic Con Tour. He just finished the New Orleans convention last weekend, and has three more on his schedule already.  One special note, he's listed as "Saturday Only" for each of the following locations. Be sure to check the schedules so you don't miss your favorite guest at any of them.
Philadelphia Comic Con Fri-Sat-Sun/June 1, 2, 3, 2012
Also at attending; Jeri Ryan (Voyager), Kate Mulgrew (Voyager), Avery Brooks (DS9), Paul McGillion (Stargate: Atlantis), and Bruce Campbell (…you name it)…and more
Chicago Comic Con Thur-Fri-Sat-Sun/August 9, 10, 11, 12, 2012
Also attending; Everybody from the above list, plus; James Marsters (Buffy The Vampire Slayer), Luke Perry (90210), Jason Priestly (90210) …and more
By Crewman Becky | January 18, 2012 - 12:27 am
Creation Entertainment announced today that Gates McFadden (ST:TNG - Dr. Beverly Crusher) and George Takei (TOS - Mr. Sulu) will be among the celebrity guests at this August's Vegas Convention. They have a stellar (ya, we meant to do that) line up so far for the upcoming convention. Most of the captains (hopefully more to be added), tons of the series regulars and a whole bunch of episode special guests. Confidentially, we haven't yet seen Gates in person because she doesn't seem to attend quite as many conventions as some of the other cast so we're pretty excited to see her in Vegas this year.
You can check out the current confirmed celebrity guest list here. If you have a favorite, make sure to jot down when they will be appearing, because not all guests will be there for the whole weekend.