Nichelle Nichols
By Captain Pyke | August 28, 2012 - 9:49 pm
What's a 100 Year Starship you ask? Well, it's an initiative to push human kind toward interstellar travel lead by retired NASA Astronaut / M.D. / Star Trek guest star Mae Jemison. According to the official initiative mission statement: 100 Year Starship will pursue national and global initiatives, and galvanize public and private leadership and grassroots support, to assure that human travel beyond our solar system and to another star can be a reality within the next century. 100 Year Starship will unreservedly dedicate itself to identifying and pushing the radical leaps in knowledge and technology needed to achieve interstellar flight while pioneering and transforming breakthrough applications to enhance the quality of life on earth. We will actively include the broadest swath of people in understanding, shaping, and implementing our mission.
By Captain Pyke | April 15, 2012 - 11:21 pm
So, for the past 35+ years Star Trek's Nichelle Nichols has been heavily involved with NASA's public relations department. From recruiting astronauts and public speaking, to singing at the Kennedy Space Center, Nichelle has done her fair share for the space program. Tomorrow night (April 16th), the lovely lieutenant will host the finals for Nasa's FameLab Astrobiology contest, live via NasaTV and streaming on the web.
By Captain Pyke | November 11, 2011 - 12:02 am
The long awaited release of the Star Trek documentary Trek Nation is getting closer and if you're like me, you can't wait. Eugene "Rod" Roddenberry has been working on the film for some time now and from what we've seen and heard, it's been an amazing journey for him. In the most recent trailer, exclusively released to the Perez Hilton website, Rod talks about his father Gene & the Trek legacy; "It wasn't until after he passed away that I realized that Star Trek actually touched people." The new clip also shows the lovely Nichelle Nichols and clips of an interview with Star Wars creator George Lucas.
By Captain Pyke | August 22, 2011 - 7:53 pm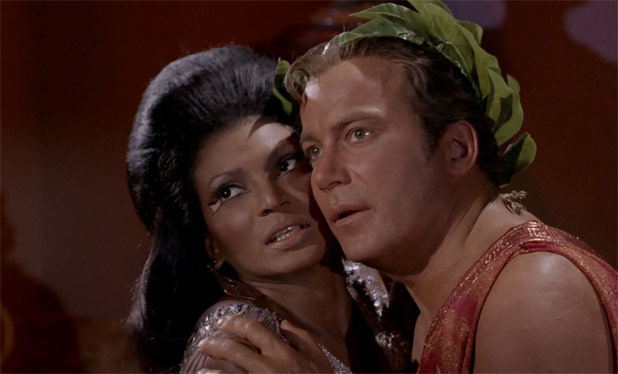 Calling all Trek fans in the Great White North! This weekend is shaping up to be a stellar one for Canadian Star Trek & Scifi fans alike. William Shatner (Sir Billiam, as we now call him), Nichelle Nichols, Marina Sirtis, Ethan Phillips, & Malcolm McDowell are all set to attend Canada's largest science fiction convention, Fan Expo Canada.
Now entering its 17th year, Fan Expo Canada showcases over 700 exhibits and sprawls to over 400,000 square feet and over 75,000 fans. On top of the listed Trek alumni, everything from Star Wars to Battlestar Galactica & I Dream of Genie to The Six Million Dollar Man will be represented. Oh, and did we mention that Freddy Kruger will be there as well. That's right, one of our favs, Robert England is set to appear. We say Freddy Kruger, but really Robert will always be Willy from V, to us. We still have a special place in our eight-chambered hearts for the original V & V:The Final Battle. But the series?... Not so much.
Anyway, check out the full guest list & convention details below.
By Captain Pyke | July 16, 2011 - 9:52 pm
Back in January at the Women of SciFi convention in Plano, TX., we overheard Nichelle Nichols mention an upcoming interview with famed astrophysicist Dr. Neil deGrasse Tyson. It seems that the most recent episode of the Dr's StarTalk Radio show features our favorite chief communications officer. In the first part of a two part series, Nichelle recounts her time on Star Trek and how her role as Uhura impacted her life and society "over space and time." The second half of the interview will air tomorrow (July 17th) at 6pm ET. You can catch the broadcast on the radio (stations listed below) or streaming via the interwebs here, plus a podcast version is available via iTunes here.
By Crewman Becky | May 19, 2011 - 7:20 pm
Here is your chance to see a Star Trek alum in person, plus…it's free. Nichelle Nichols will be a performing vocalist in "Human Spaceflight: The Kennedy Legacy" at The John F. Kennedy Center for the Performing Arts, May 25th at 7pm. Also performing are the Space Philharmonic, Soldier's Chorus of The US Army Field Band, and many more.
The National Aeronautics and Space Administration (NASA) invites you to a special musical celebration honoring 50 years of American spaceflight. The program includes a Special Tribute to Human Spaceflight, and musical selections by Copland, Holst, Beethoven, Bernstein, Mancini, Courage/Roddenberry, Silvestri, Vaughn Williams, and Saint Saëns. Performance Timing: One hour.
Even though this is a free event tickets are still required, and as far as we can tell, the only way to get tickets is in line at the Hall of Nations beginning at 5pm the day of the event.
By Crewman Becky | March 18, 2011 - 6:55 pm
We, here at Subspace Communique, are huge fans of Nichelle Nichols (you're thinking…"no duh?"). She's such a class act, so talented, and so giving that we didn't think we could admire her any more than we already did…until today.
Today she made an announcement that she would mail (for free, to ANY country) an autographed photo to the first 1,000 people that donate $50 or more to any organization listed on usaid.gov, the U.S Agency for International Development (USAID).
By Captain Pyke | February 10, 2011 - 10:56 pm
Here's our long overdue convention wrap-up for the Women of Scifi Con 2011 in Plano, TX. Sorry for the delay folks, we've been hard at work making the world a safer and better place for all mankind. Well, maybe that's overdoing it... but, we have been extra busy putting together a new episode of our Life After Trek podcast that we think you will really enjoy. Until then, check out the links below for our day-by-day coverage of the con, as well as photo slideshow and Q&A videos.
Women Of SciFi Convention: Plano, TX - Live Coverage - Day 2
Women Of SciFi Convention: Plano, TX - Live Coverage - Day 1
Photo slideshow
By Captain Pyke | January 30, 2011 - 1:11 pm
Check out day 2 of our live blogging coverage of the "Women of SciFi" convention in Plano, Texas below.