Star Trek: TNG
By Captain Pyke | October 20, 2012 - 11:51 pm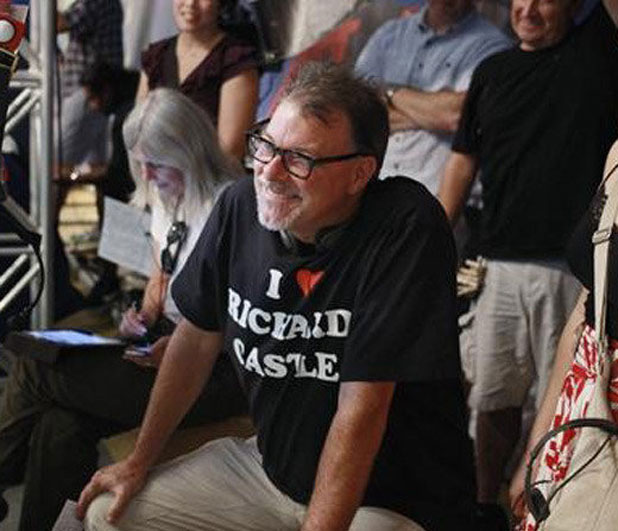 As we reported last month, Jonathan Frakes is directing a brand new episode of the hit show Castle guest starring Armin Shimerman. It looks like the first images from the set are starting to appear online. Zap2it.com has posted several pics from the set featuring both Frakes and Castle star Nathan Fillion.
By Captain Pyke | October 15, 2012 - 9:06 pm
While cruising the tubes (the late Senator Stevens would be proud) I ran across a really cool video from 1990 featuring DeForest Kelley & the TNG cast / crew. Described as a news segment for Primetime Live, the video features Dee giving us a tour of the inner workings of Star Trek: The Next Generation. The video quality is pretty terrible, but it's definitely worth a watch. Man, Dee, we miss you.
By Crewman Becky | October 12, 2012 - 8:30 pm
With his enormous contributions to Star Trek (in practically all of its forms), we fans are thrilled to see Herman Zimmerman get recognition for his efforts. On February 2nd he will receive the Lifetime Achievement Honor from the Art Directors Guild.
By Captain Pyke | October 6, 2012 - 11:17 pm
Wired's Underwire blog recently got the chance to talk with Ronald D. Moore about his experience on Star Trek: The Next Generation. They cover the full gambit of Ron's time on TNG and it's a fantastic interview that's sure-to-please any TNG or Ron D. Moore fan. We grabbed a quick excerpt of our favorite part of the article, where Ron describes one of his first encounters with Gene. You can check it out below. Be sure to read the full article here.
By Crewman Becky | October 5, 2012 - 10:14 pm
Short but sweet! …short story…sweet news.
Turns out that on an upcoming episode of The Big Bang Theory, Sheldon is making a new "Fun With Flags" webisode, this time focusing on the flags of Star Trek. While it's not totally clear how Wil and LeVar will play into it, we're guessing we won't be disappointed.
By Crewman Becky | September 29, 2012 - 11:44 pm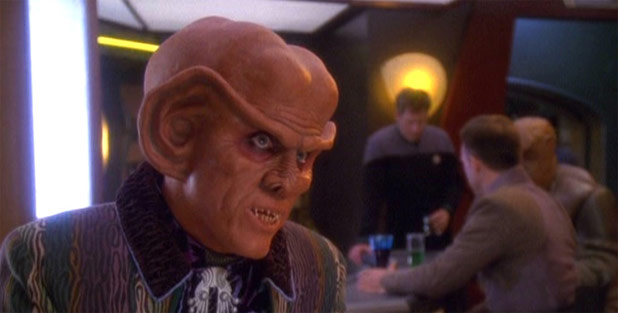 Here's a fun one for all you Star Trek: Deep Space Nine and Castle fans out there. Later this fall, Armin Shimerman is set to guest-star in a Castle episode that revolves around a sci-fi convention. It also, just happens to be directed by TNG's Jonathan Frakes.
By Crewman Becky | September 28, 2012 - 9:07 pm
Even though I can't seem to find a completely definitive answer to the actual date of your birth, I'd like to say Happy Birthday you wonderful show, you!
What can I say that hasn't been said before? How do you wish a TV show Happy Birthday? Well …
By Crewman Becky | September 27, 2012 - 9:51 pm
Star Trek: The Next Generation's Gates McFadden (Dr. Beverly Crusher) has been up to a bunch of new stuff lately. (How's that for a totally professional sounding opener?) Part of the reason for all of the new activities is the excitement of TNG's 25th anniversary, this year. Because of this milestone celebration she has begun attending conventions again, much to fans' delight. You see, she's been hard to find on the convention circuit all of these years mostly because of her devotion to theatre and the craft of acting.
By Captain Pyke | September 24, 2012 - 11:06 pm
Austin Comic Con is nearly a month away and Wizard World just announced that Wil Wheaton has been added to the roster. All that's left for a complete US Next Gen cast reunion is Denise Crosby. Fingers crossed... Here's the Trek guest rundown; Patrick Stewart (Captain Jean-Luc Picard), Jonathan Frakes (Commander William T. Riker), LeVar Burton (Lt. Commander Geordi La Forge), Michael Dorn (Lieutenant Worf), Marina Sirtis (Counselor Deanna Troi), Brent Spiner (Lt. Commander Data), Gates McFadden (Dr. Beverly Crusher), and Wil Wheaton (Wesley Crusher).