Star Trek: TNG
By Captain Pyke | April 9, 2012 - 10:44 pm
Captain Jean Luc Picard is better know for his diplomacy and wit than his sheer brawn and fighting prowess. Not to say that he didn't throw down on occasion, but he was quicker to talk and think than punch an advisory in the throat. We'll leave the double jump kicks to Captain Kirk. It appears though, that Patrick Stewart would rather double jump kick a Gorn than face a crazed actor in a Shakespearian play. In an interview for Radio Times (via Belfast Telegraph), the on-screen Captain reveals that fight scenes on the stage frighten him.
By Captain Pyke | April 8, 2012 - 9:46 pm
As we reported back in January, Star Trek: The Next Generation - Next Level was released
on Blu-ray. The four episode sampler was the first example of TNG remastered and in high-def. We just learned that a date is being reported for the full remastered first season of Picard & his crew and we could be seeing it as early as July.
By Crewman Becky | March 17, 2012 - 11:39 pm
Star Trek's Q, otherwise known as John De Lancie, is the newest guest added to the Dallas Comic Con Roster. As we previously reported, Patrick Stewart is also attending. How perfect is it now that the two polar opposite characters of TNG are going to both be represented. We're hoping that they will share stage time on a two man panel so we can see a little of the old Q vs. Picard shenanigans we all love.

Dallas Comic Con
May 19-20, 2012
Irving Convention Center 500 W Los Colinas Blvd
Irving, TX (At intersection of 114 and NW Highway)
Official Website
By Captain Pyke | March 14, 2012 - 10:28 pm
It's hard to believe that it's been nearly a year since the launch of Brent Spiner's popular webseries, Fresh Hell. If you're not familiar with it, Fresh Hell follows Brent as he's reeling from hitting rock bottom. What caused his sudden meteoric fall and societal pariah status? Well, we only know it as "the incident". According to the first episode, his situation is so bad that OJ Simpson has a better chance of a career recovery. Yeah, it's pretty funny.
By Captain Pyke | March 11, 2012 - 11:01 pm
Our good friend and Trek author / historian extraordinaire, Larry Nemecek, just released the final video in his interview series with Ira Steven Behr. As you all know, Ira was the showrunner & executive producer for much of Deep Space Nine's 7 season run. Larry recorded the interview last year and slowly released it in a 4 part series on Youtube. Throughout the interview Larry & Ira discuss his time working on Syfy's Alphas, The 4400, and of course his time in TNG & Deep Space Nine.
By Captain Pyke | March 8, 2012 - 11:17 pm
What do a boy-genius and two Klingons have in common? Well besides the obvious (yeah, we don't get it either...) they'll be in Toronto for the 26th annual Polaris Convention this July. Wil Wheaton, J.G. Hertzler, and Robert O'Reilly are slated for the event scheduled for July 6th-8th (2012) at the Sheraton Parkway Toronto North Hotel. We'd love to make the "trek" to the Great White North, and if past Polaris Conventions are any indication, they'll be adding more guest as we draw closer to July.
By Captain Pyke | March 4, 2012 - 11:48 pm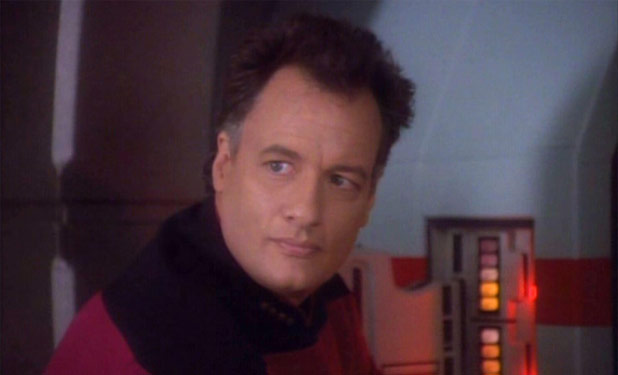 That's right kiddies, the universe's most mischievous omnipotent being is heading to The CW's The Secret Circle. John De Lancie is set to play Royce Armstrong, the powerful, yet recluse grandfather of Jake (Chris Zylka). Royce comes out of hiding to reveal disturbing conspiracy theories about the events of 16 years ago and how the present-day circle is involved.
By Captain Pyke | February 16, 2012 - 11:04 pm
Hey Trek & Reading Rainbow fans, it's the time of year to celebrate the one thing both of those show have in common. It's LeVar Burton's Birthday. Yay! (cue the confetti). If you haven't noticed, we like to celebrate the birthdays of Trek stars and LeVar is no exception. Heck, we knew him from Reading Rainbow way before he donned the visor and took the helm. We'd like to celebrate this special day with something just as special. That's right kids it's another installment of our Youtube video Round-up: The LeVar Burton Edition.
By Captain Pyke | January 31, 2012 - 11:56 pm
Here's something we've been anticipating since we launched Subspace Communique. That's right woodchuck chuckers, TNG has officially hit Blu-ray with the first released remastered episodes. After seeing the excellent work that was put into the TOS remasters, we hoped that CBS would go forth and make the Enterprise-D shine in all of it's 1080p glory. Well that day is finally here with the release of Star Trek: The Next Generation - Next Level [Blu-ray]
. Now granted, this is a sampler disc with only 3 episodes, but it's our first chance to see what's in-store for the entire series in hi-def. Just like TOS remasterd, Mike & Denise Okuda worked closely with CBS on this project and hopefully by the year's end, we'll see the first full season release of Star Trek: The Next Generation: Remastered.