Star Trek: TNG
By Crewman Becky | September 21, 2012 - 9:39 pm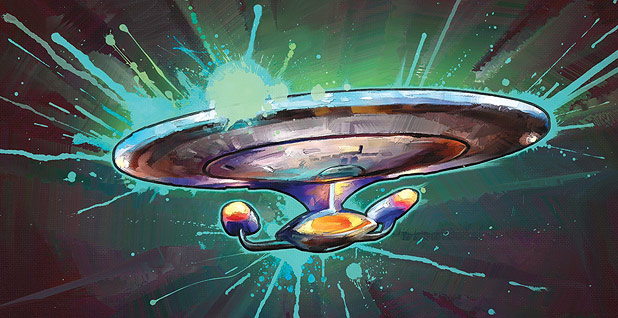 We're pleased to announce the official release of Bye Bye, Robot's eight newest posters. If you attended Vegas Khhaaan this year and stopped by the Bye Bye, Robot booth you had the inside scoop and saw them (early) in person. Maybe you were even there while Ira Steven Behr (writer of TNG's "Captains's Holiday") signed a copy of the new "Escape to Risa" poster. I know I was, and it was a blast! Well, for the rest of humanity (and extraterrestrials, alike), who didn't have the pleasure of spending a week in Vegas reveling in all things Trek, we're here to tell you all about the new posters.
By Captain Pyke | September 12, 2012 - 10:19 pm
Child literacy advocate and Star Trek: The Next Generation Star, LeVar Burton, will be joining the AIDS Research Alliance's Board of Directors. LeVar has been their national spokesman for over a year now and will play a key role in shaping AIDS Research Alliance's program and fundraising.
By Captain Pyke | August 28, 2012 - 9:49 pm
What's a 100 Year Starship you ask? Well, it's an initiative to push human kind toward interstellar travel lead by retired NASA Astronaut / M.D. / Star Trek guest star Mae Jemison. According to the official initiative mission statement: 100 Year Starship will pursue national and global initiatives, and galvanize public and private leadership and grassroots support, to assure that human travel beyond our solar system and to another star can be a reality within the next century. 100 Year Starship will unreservedly dedicate itself to identifying and pushing the radical leaps in knowledge and technology needed to achieve interstellar flight while pioneering and transforming breakthrough applications to enhance the quality of life on earth. We will actively include the broadest swath of people in understanding, shaping, and implementing our mission.
By Captain Pyke | August 21, 2012 - 10:37 pm
Our good friends over at The SciFi Diner Podcast recently wrapped their annual coverage of Shore Leave 34. If you don't know, Shore Leave is the largest fan run convention on the east coast and Scott & Miles have been covering the event for the past several years. They ended the convention with a bang by landing an interview with Star Trek: The Next Generation's LeVar Burton.
By Captain Pyke | August 19, 2012 - 10:10 pm
In years past we've celebrated Gene Roddenberry's birthday with a special salute and a Youtube video round-up. We've often overlooked another Trek alum's birthday that just happens to share the same date as Gene, Star Trek: The Next Generation's Jonathan Frakes. What better way to celebrate this special day with a video of Jonathan candidly remembering Gene. Happy birthday to both Gene "The Great Bird of the Galaxy" Roddenberry and Jonathan "Two Takes" Frakes. By the way, you can find out how Jonathan earned that special nickname here.
By Crewman Becky | August 19, 2012 - 12:03 am
We love Worf. Come on, who doesn't? So it was a pleasure for us when we stumbled upon a recent LA Times interview with his human counterpart, Michael Dorn. They decided to commemorate the 25th anniversary of Star Trek: The Next Generation by getting to know the man behind the mask. They discuss everything from the obvious makeup issues that he had to deal with all the way to his thoughts about the choice for TNG to have a very different kind of captain than Kirk.
By Captain Pyke | August 7, 2012 - 12:16 am
Brent Spiner is set to return to The University of Houston's School of Theatre & Dance with alums Brett Cullen, Sally Mayes, Sharon Montgomery, Billy Stritch, and Robert Wuhl for a special performance. The group will star in Legacy: A Celebration of the UH School of Theatre & Dance on September 7 at the school's Lyndall Finley Wortham Theatre.
By Captain Pyke | August 4, 2012 - 10:18 pm
We're Trek fans... Duh, right? Well, we're also metal fans. So when I found this video showing Youtube user TheHumanTim playing metal versions of the TNG (ST:TMP) & TOS themes, I had to post them here. Tim plays lead & rhythm guitars, drums, & I assume bass (although it's not shown) for all of his videos. He's produced several over the last year covering the gambit of geek culture themes. From the Avengers to one of our other favorites Reading Rainbow, Tim throws the rock-hand to the sky and wails on his axe.
By Captain Pyke | July 24, 2012 - 10:10 pm
The new phonebooks are here, the new phonebooks... uh, the new blu-rays are here. That's right kids, Star Trek: The Next Generation - Season One [Blu-ray]
was dropped off at Mr. Hartoonian's gas station. We've been talking about TNG remastered for some time now, and the day has finally arrived. The new 6 disc set includes all 26 Season One episodes in full HD with DTS-HD Master 7.1 audio.