Star Trek: TNG
By Captain Pyke | December 4, 2012 - 11:40 pm
Thanks to our good friend Darren Benjamin from Trekcast for sending us this link. Everyone's favorite android from Star Trek: The Next Generation beams into the this new robotics advertisement from General Electric. Along with Data, we get to see old friends like Robbie The Robot, Johnny 5, K.I.T.T. (minus The Hoff), GERTY from Moon, and a ton of other recognizable artificial life. Called "Robots on the Move", the advert runs about a minute long and is showcasing GE's robotics division, I think. Anyway, I thought it was rather clever.
By Crewman Becky | November 25, 2012 - 1:14 pm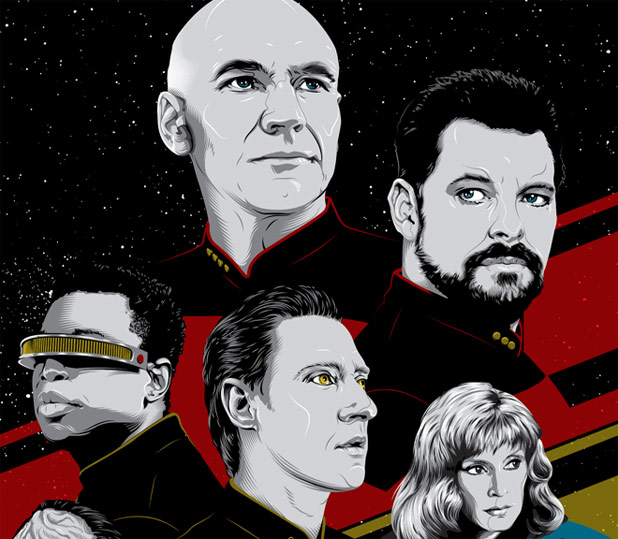 Subspace Communique's sister site, Bye Bye, Robot announces FREE SHIPPING on orders of 2 or more posters. In honor of Cyber Monday this sale starts NOW (noon Sunday the 25th), and runs through Monday. Act fast to take advantage of the free shipping.
By Captain Pyke | November 21, 2012 - 9:52 pm
Our good friend and Star Trek author Larry Nemecek is holding his first contest giveaway over at his site Treklandblog.com. If you haven't checked out Trekland... stop what you're doing and head over there now. It's full of behind the scenes info for our favorite scifi series, plus Trek happenings from all around the country and the globe. Not only that, but now you can get a chance to win tickets to the upcoming TNG season 2 screening. All you have to do is live in or be near Boston, New York City, Orlando, Chicago, or Seattle, answer the Trekland trivia question, and follow the entry steps below.
Do it quick, the contest ends 6 p.m Eastern Time/ 3 p.m. Pacific on Sunday, Nov. 25!
By Captain Pyke | November 19, 2012 - 11:47 pm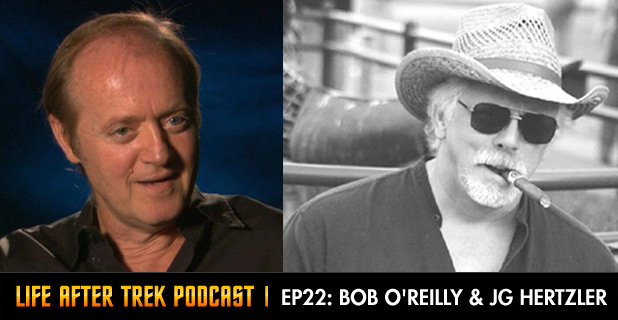 We're pleased to announce episode 22 of our "Life After Trek" podcast, featuring Robert O'Reilly & J.G. Hertzler. Many of you know them as Chancellor Gowron and General / Chancellor Martok. We would like to give a special thanks to the fine folks at Starbase Indy for hooking us up with this fantastic interview. If you're in the Indianapolis area, be sure to stop by this coming Thanksgiving weekend (November 23-25, 2012) and enjoy this fantastic fan run con. Both Bob & J.G. will be on hand in full Klingon regalia for a special panel, plus other (non-forhead ridged) events for the full run of the convention.
By Crewman Becky | November 9, 2012 - 12:20 am
Did you get to attend the TNG 25th Anniversary Movie Event in July? If the answer is Yes, you have the opportunity to have that kind of fun all over again. If No, then hang on to your polyester jumpsuit because Star Trek delight is waiting for you at your local theater at the end of this month. In case you haven't guessed it yet, the TNG Season 2 blu-rays are finished and having their own release party, of sorts. You'll get to experience two episodes on the big screen with thousands of other Star Trek fans at theaters across the country. As a fan, this is an event that you don't want to miss. It's like a mini-con that comes to you.
By Crewman Becky | November 5, 2012 - 9:21 pm
Don't make any plans for mid-February next year…your calendar is soon to be full of convention festivities. That's right kids, Creation Entertainment's Grand Slam: The Star Trek & Sci-Fi Summit XVIII, comes to Burbank, California on February 15-17, 2013. This con has a great set of celebs already lined up with more promised to be added as the event approaches. There will even be a Saturday night reunion event of the Star Trek: The Next Generation cast featuring; Sir Patrick Stewart, Jonathan Frakes, LeVar Burton, Michael Dorn, Gates McFadden and Marina Sirtis.
By Captain Pyke | November 1, 2012 - 11:01 pm
For all of you TNG fans, (and come on, who isn't?), Star Trek: The Next Generation Season 2 is headed to blu-ray December 4th. Hey, just in time for Christmas, or Picard Day, or whatever. The new release will include a special edition of "The Measure of a Man" that includes deleted scenes and different angles from the broadcast version. Pretty cool.
By Captain Pyke | October 30, 2012 - 10:34 pm
We just got back from a fantastic con in our neck of the woods. That's right earthlings, it's time for the Wizard World Austin Comic Con post convention wrap-up. This was a special Trek centric con, that featured the entire bridge crew from Star Trek: The Next Generation. We've been covering news about Austin CC for the past several months and the show really lived up to the hype.
By Captain Pyke | October 22, 2012 - 11:19 pm
For all of you that are excited about the Star Trek: The Next Generation reunion at Austin Comic Con, Wizard World just released the full programming schedule. In addition to all of the exciting TNG programming, our good friend Larry Nemecek is slated to appear at the con as well.