Cyber Monday FREE SHIPPING Starts Now For Bye Bye, Robot, Plus New Poster Release
By Crewman Becky | November 25, 2012 - 1:14 pm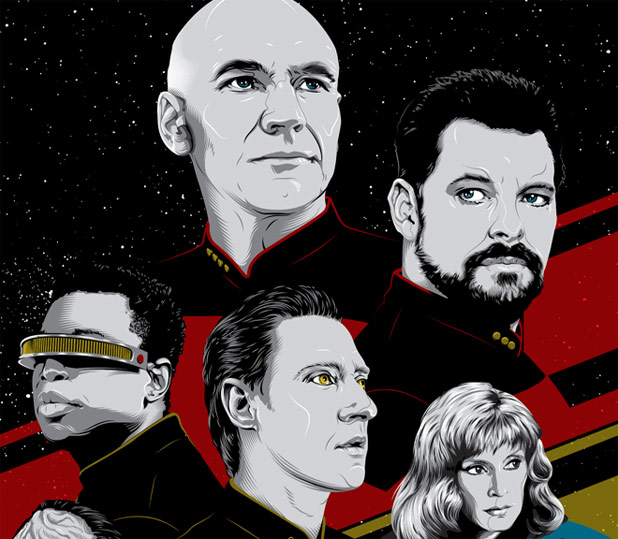 Subspace Communique's sister site, Bye Bye, Robot announces FREE SHIPPING on orders of 2 or more posters. In honor of Cyber Monday this sale starts NOW (noon Sunday the 25th), and runs through Monday. Act fast to take advantage of the free shipping.
If you haven't heard of Bye Bye, Robot then you're in luck, we're more than happy to give you the whole scoop. Bye Bye, Robot opened its cyber-doors on Feb 29th, 2012, this Leap Year (for a store with a time-traveling robot as its mascot, we thought the timing was impeccable). Specializing in fully licensed Star Trek artwork reproductions, posters, and stickers the new business has grown from working with a single artist to featuring five different artists and working with several more in the upcoming months.
Found not only online, but also at occasional conventions, Bye Bye, Robot has started catching the eye of some of Star Trek's alumni. At the recent Austin Comic Con we launched "TNG25" our newest poster by artist Tracie Ching. It's a portrait montage of 7 of the iconic bridge crew members of the Enterprise D, in honor of Star Trek: The Next Generation's 25th Anniversary.
This poster was a favorite at the convention, with many people buying it to have signed. At one point, Wil Wheaton was asked to sign alongside the other cast members' autographs. Not being on the poster, himself, he drew a sketch of his likeness and then signed next to that. Oh how we wish that was our copy of the poster!
With over a dozen posters to choose from, stickers, and limited edition canvas reproductions it's a fun place to spend some time for both Star Trek fans and art lovers, alike.
TNG25 Official Press Release
BYE BYE ROBOT LAUNCHES NEW STAR TREK: THE NEXT
GENERATIONTM

25TH

ANNIVERSARY LITHOGRAPH

Modern Art and Star Trek™ Fans Have a New Lithograph to Add to Their Collections

Austin, Texas – November 13, 2012 Bye Bye Robot is announcing a brand new lithograph, now available, featuring the bridge crew from Star Trek: The Next Generation commemorating the 25th anniversary of its beginning. The new lithograph, created by illustrator Tracie Ching, is titled "TNG 25" and conveys the heart and soul behind the characters of the series.

"We're extremely excited to be working with Tracie Ching," says Charity Wood, Co-Founder of Bye Bye Robot. "Her work has been established across many film genres and brings a modern bold style to the STAR TREK universe"

Created using the red, gold and blue colors of the different branches in Starfleet , the 18"x24" lithograph features portraits of the 7 most iconic characters of the series and includes an illustration of the NCC-1701-D .

The "TNG 25" lithograph, licensed by CBS Consumer Products, is available for purchase today from www.byebyerobot.com for $25 plus shipping.

# # #

About Tracie Ching

Tracie Ching is a graphic artist and illustrator specializing in pop culture imagery whose modern designs explode with bold linework and color. Her affinity for capturing the moments in movies, TV and childhood memories that we all have has led to an extensive portfolio of poster art.

About Bye Bye Robot, LLC

Founded in 2011 by Charity and Chris Wood, Bye Bye Robot is an independent publisher of art. Currently, they are a licensed seller of original works of art based on all of Gene Roddenberry's live action Star Trek™ TV series plus Original Series and Next Generation movies. Bye Bye Robot is dedicated to creating deeply immersive, visually spectacular pieces of art that will amaze and inspire viewers for generations.