Star Trek: TNG
By Captain Pyke | May 30, 2012 - 11:01 pm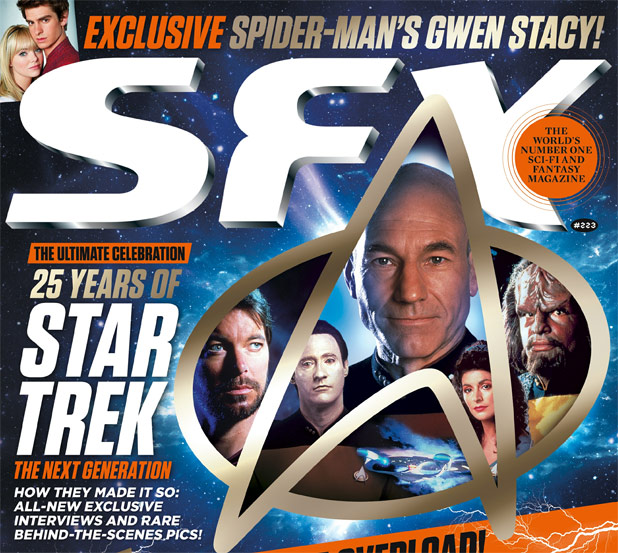 A brand new issue of SFX celebrates 25 years of Star Trek: The Next Generation with 17 pages of all-new interviews and rare behind-the-scenes pics. The exclusive interviews include; Jonathan Frakes, Mike Okuda, and many more. The issue also has awesome interviews with Prometheus star Naomi Rapace, The Amazing Spider-Man's Emma Stone, Nick Frost (one of our favorites), and features on Storage 24 and the new series Falling Skies.
By Captain Pyke | May 29, 2012 - 9:42 pm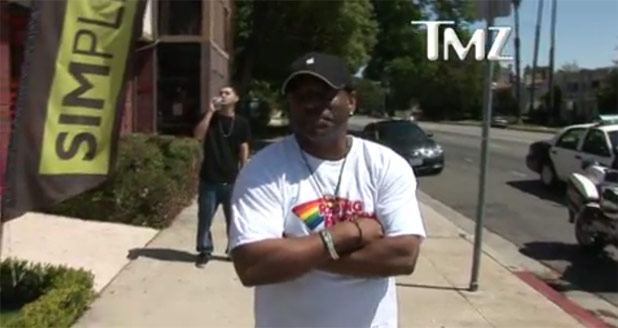 LeVar Burton, what can we say? He's a class act even when faced with TMZ cameras after a small fender-bender involving a police car. According to TMZ, LeVar was being pulled over for a moving violation yesterday when he was rear-ended by a patrol car. Good news is that no one got hurt and LeVar wasn't cited for the moving violation.
By Captain Pyke | May 25, 2012 - 9:50 pm
We thought that you fine folks in Trekdom would appreciate knowing that remastered versions of TNG on Blu-ray is now available for pre-order through Amazon
. With the rave reviews of Star Trek: The Next Generation - Next Level, we're really excited about the release of season 1. Heck, get to season 3 and we'll be super excited. Not to say that we don't enjoy season 1, "The Neutral Zone" is one of our favorite TNG episodes, but we can't wait to see "Yesterday's Enterprise" remastered and in hi-def. The set will be released July 24th.
By Captain Pyke | May 22, 2012 - 10:53 pm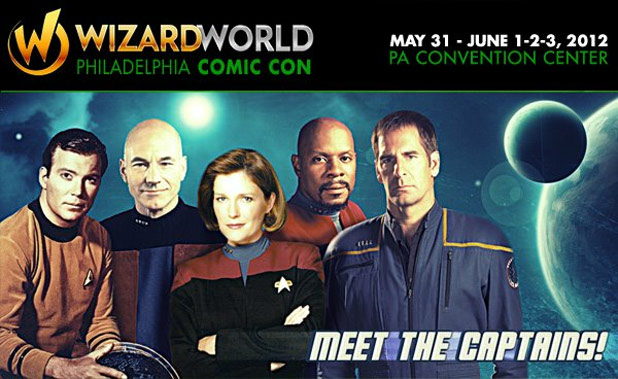 We've said it before and we'll say it again, we love Wizard World Comic Cons. They run some of the best conventions in the business. It seems that their world famous Philadelphia Comic Con is shaping up to be, not only a well run convention, but also a Trek fan's dream come true. All five captains are signed on as guests for the upcoming, May 31st through June 3rd convention. That's right woodchuck-chuckers, William Shatner, Patrick Stewart, Avery Brooks, Kate Mulgrew, & Scott Bakula are beaming down to the city of brotherly love. Really, you could say 6 captains will be on board since Chris Hemsworth will also be a featured guest. Chris plays Thor in all the Marvel awesomeness that's going on lately, but he also played George Kirk. He was captain of the USS Kelvin for 12 minutes, after all...
By Captain Pyke | May 17, 2012 - 9:44 pm
This is a friendly neighborhood reminder that the freakin' captain of the Enterprise and a loveable (well, maybe not loveable) omnipotent being will be at Dallas ComicCon this weekend (May 19th & 20th). That's right kidos Sir Patrick Stewart & one John de Lancie will be gracing the stage at the Irving Convention center in the Metroplex.
By Captain Pyke | May 5, 2012 - 9:22 pm
If we know one thing about LeVar Burton, it's that he's passionate about child literacy. This June, you can catch LeVar at the Bronx Zoo as a part of its Animal Tales Extravaganza Weekends. He'll be on-hand for a special story time / meet-and-greet June 16th & 17th at 1:00 p.m on the Asia Plaza Stage . LeVar will be there to share some of his favorite stories and host a demonstration of the new Reading Rainbow iPad book discovery and reading app.
By Captain Pyke | April 18, 2012 - 10:30 pm
Before LeVar was the chief engineer (or helmsman for the matter) on the Enterprise, he was inspiring children to read on Reading Rainbow. LeVar continues his fight for child literacy today by joining several other celebrities in a new PSA for the non-profit Reading Is Fundamental. The quirky, and well made, PSA consists of a video sequence featuring children's literature heroes and a song produced by The Roots with vocal support from Jack Black, Chris Martin, John Legend, Jim James, Jason Schwartzman, Nate Ruess, Melanie Fiona, Carrie Brownstein, Regina Spektor and Consequence. LeVar handles the voice over and appears as a cameo in the video.
By Crewman Becky | April 16, 2012 - 10:55 pm
It's getting closer to June and that means closer to BayouCon in Lake Charles LA. They have some fabulous guests lined up including J.G. Hertzler (DS9 – Martok), Robert O'Reilly (DS9 – Chancellor Gowron), and Larry Nemecek (Author of Star Trek The Next Generation Companion and the TNG Concordance). Besides all the cool stuff we previously told you BayouCon is putting on (like J.G & Robert in full Klingon costume) we're pleased to let you know about the latest addition to the cool-stuff lineup…A Klingon Breakfast! And it's presented by yours truly. That's right, Subspace Communique will be presenting J.G Hertzler and Robert O'Reilly to a group of 30 excited fans who get to chat with the Klingons guys while they spend time at each table. Besides chatting one-on-one, the breakfast's attendees will be able to take pictures with J.G. and Robert…so don't forget your cameras!
By Captain Pyke | April 11, 2012 - 11:52 pm
What do a telepath, a Klingon, and a god-like being have in common? Well, it's not those fabulous bouffant hairdos. No, in fact it's quite the opposite and more Canadian.. That's right woodchuck-chuckers, Marina Sirtis, Michael Dorn, & John de Lancie will be headlining the upcoming Fan Expo Canada in Vancouver. Not only will you get to see some of your favorite TNG's stars, but the expo features stars from all across the scifi universe. Stargate SG-1, SGU, Battlestar Galactica, Sanctuary, Smallville, & the freakin' The Hulk, just to name a few. Check out all the details below.