Star Trek Into Darkness
By Captain Pyke | May 15, 2012 - 9:50 pm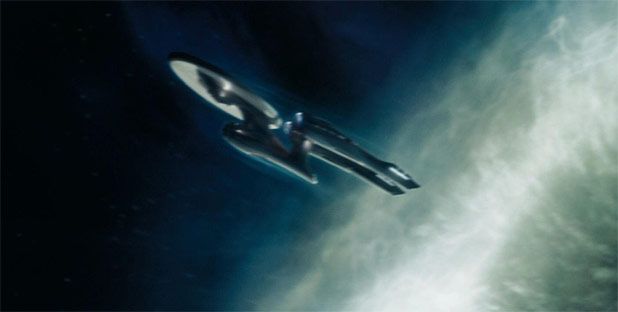 The wildly popular technology website The Verge will be broadcasting another episode of its talk show On The Verge this Thursday (May 17th) featuring Star Trek 2 producer / screenwriter Damon Lindelof. There's no formal announcement that Damon will be discussing Star Trek 2, but how could he not? Whether the discussion features the next installment of the J.J.-verse or that other little project that Damon co-wrote... ya know, Prometheus... it should be an interesting show.
By Captain Pyke | May 2, 2012 - 10:28 pm
We're not for posting every rumor about the upcoming J.J. Abrams Star Trek sequel, but we found this pretty darn interesting. According to MercuryNews.com (San Jose Mercury News), J.J. & Co. are filming scenes for Star Trek 2 at the Lawrence Livermore National Laboratory (in Livermore, California) this week.
By Captain Pyke | March 31, 2012 - 6:24 pm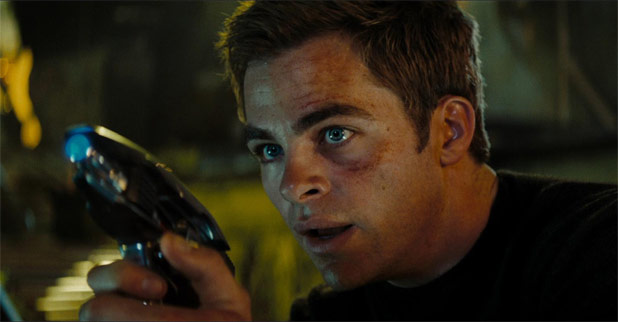 We all know how secretive J.J. Abrams can be with any film he's directing. As a fan, I can appreciate this. I'm one of the few (it seems) that still likes to be surprised when I drop $47 to see the latest schlop that Hollywood has to offer (I'm not putting J.J's Star Trek in the schlop category). Although, running a Star Trek website and reporting on the most recent Star Trek 2 happenings just adds to the problems, but I digress...
By Crewman Becky | February 26, 2012 - 11:39 pm
We agree with you J.J. We aren't super happy about it either. Over the years we've taken the matter of movie spoilers into our own hands by "tuning-out" when an anticipated title is mentioned. We just don't read or watch any news about movies we want to remain a surprise. Oh, we hear them mentioned...and feel the thrill of anticipation with each new "avoided story". But somehow, instead of forgetting about the "avoided" movie, we become more focused on it and are all the more excited when we finally do watch it.
By Captain Pyke | February 24, 2012 - 6:44 pm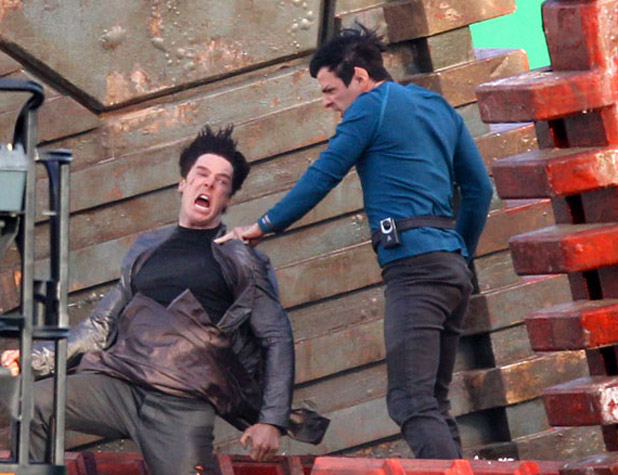 As with it's predecessor, the next film in the J.J. Abrams Trek universe is currently being shot and is veiled in secrecy.. Everyone is still up in arms about who the villian will turn out to be (possibly played by Benedict Cumberbatch) and how the plot will twist and turn. J.J. does an amazing job of keeping his projects underwraps and to be honest we prefer it that way. In this world of spoliers it's hard to still be suprised by a film's storyline.
By Captain Pyke | February 11, 2012 - 8:44 pm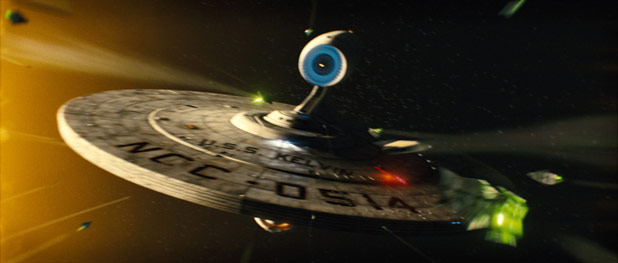 While you enjoy your Star Trek Online and wait patiently for Infinite Space, Paramount has just announced a partnership with Bandai Namco that will produce a brand new Star Trek game based on the upcoming J.J. Verse film and will pit Kirk & Spock against an alien race set on overtaking the galaxy.
"With our Namco Bandai partners leading the distribution effort, we are confident that we will meet an overwhelming demand to get this exciting console experience into the hands of gamers and Star Trek fans worldwide," said LeeAnne Stables, Paramount Pictures Executive Vice President of Worldwide Marketing Partnerships and head of the studio's video game unit.
Set for a release in 2013, sometime before the new film, the new game will be written by Roberto Orci, Alex Kurtzman, & God of War writer Marianne Krawczyk.
By Crewman Becky | January 13, 2012 - 11:39 pm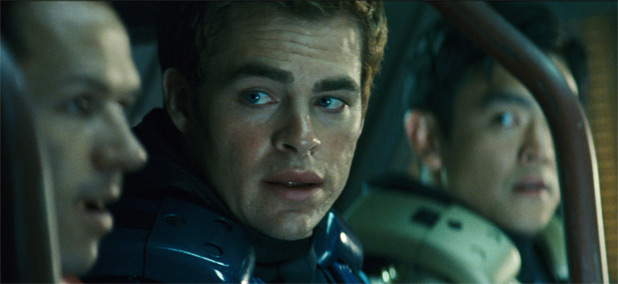 As we've mentioned before, we really aren't fans of the recent trend toward 3D movies. It just seems like the latest gimmick to get people in the theaters, and often times straight up obtrusive. So when we heard the rumors that Star Trek 2 was probably going to be in 3D we weren't thrilled. However, this new report of J. J. Abrams's own apprehension and subsequent acceptance has us feeling a wee bit better about the prospect. At least it sounds like the movie may be offered in both 3D and 2D, but no mention if that option will be available in theaters or just on Blu-ray.
By Crewman Becky | January 8, 2012 - 12:34 am
Three more actors have been slated to join the cast of J.J. Abrams's next Star Trek movie. Benedict Cumberbatch (War Horse), Naaneen Contractor (24) and Noel Clarke (Doctor Who) were all announced earlier this week but their characters' roles are still technically a mystery.
Benedict Cumberbatch, the British actor most recently seen in "War Horse" and "Tinker Tailor Soldier Spy," will play the main villain in the "Star Trek" sequel. This was the role for which Abrams originally wanted Benicio Del Toro, but had Édgar Ramirez circling once Del Toro was out of the picture, Variety reported.
By Captain Pyke | December 21, 2011 - 9:25 pm
So, shooting for Star Trek XII (or Star Trek 2 as the kids on the interwebs are calling it) is set to begin next month. J.J. tells MTV News that the sets are almost complete and that "Damon, Bob and Alex — they wrote the most amazing script, and I'm thrilled to get a chance to direct it. It's totally mine to screw up, so if you don't like it, it's completely on me." We dig J.J's self effacing humor. One thing that were not so keen on is post-production 3D. Everyone has heard that "2" will be 3D, but from what J.J. has mentioned, it won't be shot in 3D.
"We're shooting on film, 2-D, and then we'll do a good high-end conversion like the 'Harry Potter' movie and all that. Luckily, with our release date now we have the months needed to do it right because if you rush it, it never looks good."