Star Trek Into Darkness
By Captain Pyke | December 11, 2011 - 11:13 pm
So, by now you've all heard the rumors about Benecio Del Toro's quick rise and fall as a possible substitute for Ricardo Montalban's Khan. Now it seems that there are two more possibilities for an alternate universe super human with superior intellect. According to Variety (via Conventry Telegraph), Edgar Ramirez (The Bourne Ultimatum, Vantage Point, Carlos the Jackal miniseries, upcoming Wrath of the Titans) and Jordi Molla (Bad Boys II, Elizabeth: The Golden Age, Knight and Day) might be up for the job.
By Crewman Becky | December 5, 2011 - 9:20 am
Ok, so Peter Weller has already battled Lectroids from the 8th dimension (Planet 10, for you sticklers) and cleaned up the (future) streets of Detroit, making his adventuring days behind him, right? Not so! He has been announced the latest addition to the J.J. Abrams cast of Star Trek XII.
Variety has been kind enough to give all us hungry fans the poop.
J.J. Abrams has tapped veteran thesp Peter Weller for the ensemble cast of Paramount's upcoming "Star Trek" sequel.
Specifics of Weller's role are under wraps. His selection came on the heels of Abrams choosing Alice Eve as a character that's believed to be new.
By Captain Pyke | December 1, 2011 - 9:34 pm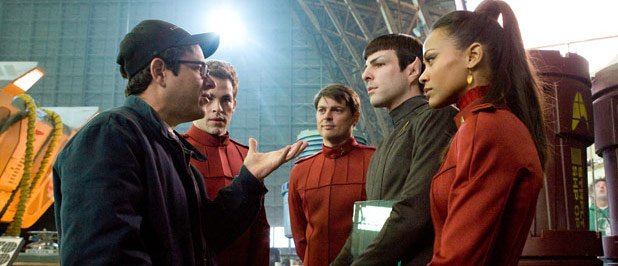 This may just be the coolest contest prize yet. You can enter to win a walk-on role in the next J.J. Abrams Star Trek movie. Umm, can I request a red shirt and a rock monster, please? That's right kids, with the release of J.J's Super 8 on DVD / bluray; Paramount Pictures & Amblin Entertainment have joined forces to make one lucky Trek fan's dreams come true. You can enter to win at Super8Sweeps.com by answering three simple questions about Super 8.
By Captain Pyke | November 27, 2011 - 10:43 pm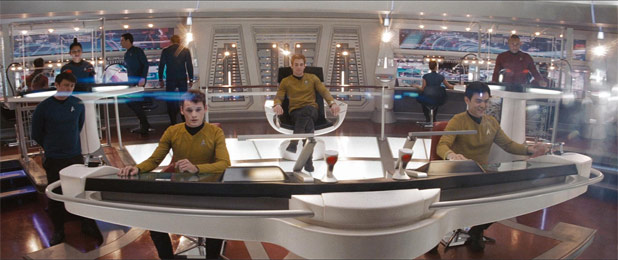 Since we're getting closer to the filming of Star Trek XII, more news is starting roll out about the sequel in the J.J-verse. Yesterday we learned that Michael Giacchino will be returning as composer on XII and today Paramount has set the release date for May 17th, 2013. That's right folks almost a full year off from the original June 29th, 2012 release date. Let's hope the Mayans & George Lucas aren't right, because I really want to see this.
By Captain Pyke | November 26, 2011 - 9:23 pm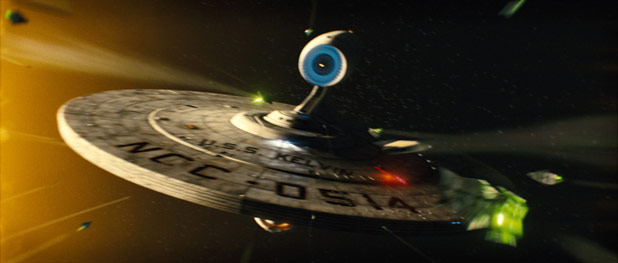 If you've been to our site before, then you know that we thoroughly enjoyed J.J. Abrams's version of Trek. That also includes the score. Michael Giacchino made the perfect emotional accompaniment to J.J's striking visuals. We just learned from ComingSoon.net that Michael will be returning to write the score for Star Trek XII or Star Trek 2 as some are calling it.
By Captain Pyke | November 15, 2011 - 12:09 am
We've been a bit hesitant to post news about the upcoming sequel to J.J. Abrams's Star Trek simply because there's been a real lack of it. Sure, we've seen that Zachary Quinto is shifting into gear for his return as Spock and that Anton Yeltchin is excited about returning to his role as Chekov. Oh, and the news of Benicio Del Toro being courted for a possible villain role (more on that in a few days) but not much real news is being shared about Star Trek XII. I did find something today that I found at least somewhat newsworthy, it seems that the next installment of the J.J.verse is being pushed back from it's June 29th, 2012 release date to sometime in 2013.
By Captain Pyke | October 12, 2011 - 11:30 pm
While we know that Star Trek XII is heading into production in early 2012, we're kind in the dark about the true nature of the film. We've been trying to stay away from the rumor mill and focus on hard facts about the next installment of the JJ-verse. We do, however enjoy hearing from the stars of Star Trek XI and Zachary Quinto is no exception. He recently sat down with the Orlando Sentinel to discuss his upcoming movie Margin Call and of course the topic quickly switched to his role as everyone's favorite pointy eared Vulcan... No, no...Sybok.
During the interview, Zachary talks about the opportunities that his role in Star Trek provides; "Starting my production company is something that 'Star Trek' allowed me to do, I could utilize that exposure and parlay it into opportunities that would allow me to tell my own kind of stories instead of stories other people see me in. It's all tied into Star Trek. It put me in a position to have access that I wouldn't have had otherwise. I wanted to use that access to tell my own sorts of stories, with me involved in telling them."
When asked about the upcoming sequel, Star Trek XII, Zachary states: "I'm starting to shift into that mode of preparation, I have physical training and other ways of prepping for it. None of us have seen the script. We're all very curious to see where he's taking us this time. We're going on rumors, little hints here and there, stories we've been told."
By Crewman Becky | July 20, 2011 - 11:57 pm
If you don't know Mary Czerwinski yet, you may get to in 2012. Mary is taking to the interwebs with a grass-roots effort to become the next Dr. Dehner in JJ Abrams's 2012 Star Trek sequel. Mary is an accomplished actor and model and has been a longtime co-host of DVD Geeks, not to mention a great friend to Subspace Communique. Although she has a long list of professional credentials, her "Dehner cred" should not be overlooked. We got a total kick reading the list which included awesomeness like; "Genuine fan of Star Trek", "Fluent in technobabble - Proof? Voice of The Computer, Star Trek: Reunion (machinima series)", and "Tall drink of water like Sally Kellerman"
By Captain Pyke | June 19, 2011 - 10:51 pm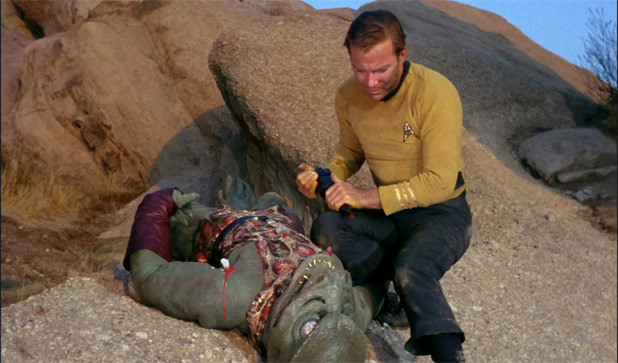 Even though William Shatner desperately wanted to be in J.J. Abrams first film in the Star Trek reboot, he's officially announced that he won't be in Star Trek XII either. At the 2011 Calgary Comic Expo, Shatner was asked if he would make an appearance in the next installment in the J.J.-verse.
The Shat revealed; "I have become an acquaintance of J.J. as of late but I'm afraid no.. no I will not be in Star Trek 2 I'm afraid." There is to say though, that all things can change. And really, it's not unusual for Bill to stir a little controversy to shed light on a topic.