Star Trek Into Darkness
By Captain Pyke | April 9, 2013 - 9:07 pm
Star Trek writer Roberto Orci is an admitted Trek fan. He and Alex Kurtzman penned both Star Trek 2009 and the upcoming Star Trek Into Darkness for director J.J. Abrams. When Roberto was asked about his thoughts on J.J. helming both the Trek & Wars franchises he mentioned feeling a disturbance in the force.
By Captain Pyke | March 24, 2013 - 11:00 pm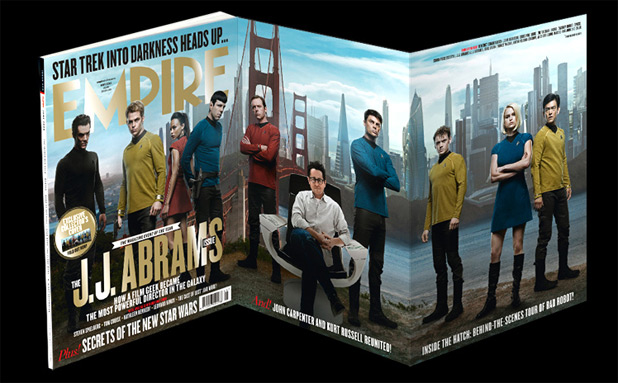 Empire magazine just released photos of its May issue cover featuring Star Trek Into Darkness cast and crew. In a first ever three page fold-out cover, the magazine features the main crew of the J.J.-prise with Alice Eve, Benedict Cumberbatch, and the director himself parked in the captain's chair. The magazine will be available March 28th and will feature a full 75 pages about J.J. and his "Star" franchises. You can get your copy from newsstands everywhere, online, or via your mobile devices. Any news on Khan, Klingons, or Robocop? Not yet, but we'll keep you posted.
By Crewman Becky | March 16, 2013 - 11:43 pm
Since Star Trek Into Darkness isn't out yet, and we know you're jonesin' for some cast interaction something fierce, here's one you might like. It's been reported that Sulu … er, uh… John Cho, will be guest starring in Sleepy Hollow, Fox's new supernatural crime drama based on The Legend Of Sleepy Hollow.
By Captain Pyke | March 9, 2013 - 4:32 pm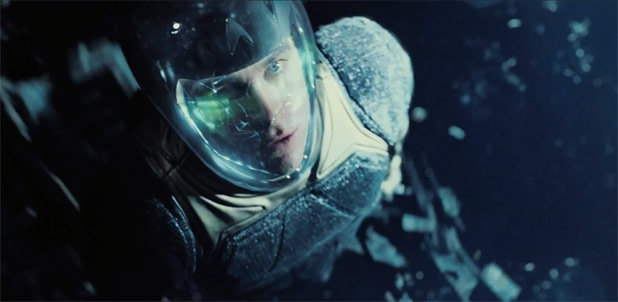 A brand new teaser trailer for the upcoming J.J.-verse Star Trek Into Darkness was leaked to the web. Supposedly, this is the trailer that's being shown as a preview before the new Disney film Oz the Great and Powerful. The new teaser features a handful of as-of-yet-seen intense action shots from the film including Kirk & Spock in a small (shuttle? fighter?) ship chase and general spacesuit awesomeness.
By Rebekah Eckhart | February 25, 2013 - 9:49 pm
"Star Trek was an attempt to say that humanity will reach maturity and wisdom on the day that it begins not just to tolerate, but take a special delight in differences in ideas and differences in life forms. If we cannot learn to actually enjoy those small differences, to take a positive delight in those small differences between our own kind, here on this planet, then we do not deserve to go out into space and meet the diversity that is almost certainly out there."
-- Gene Roddenberry
I personally think this war nonsense has gone on long enough; it's almost as annoying as the Trekkie/Trekker argument. Almost. So, let's start with the basics shall we?
By Crewman Becky | February 18, 2013 - 12:14 am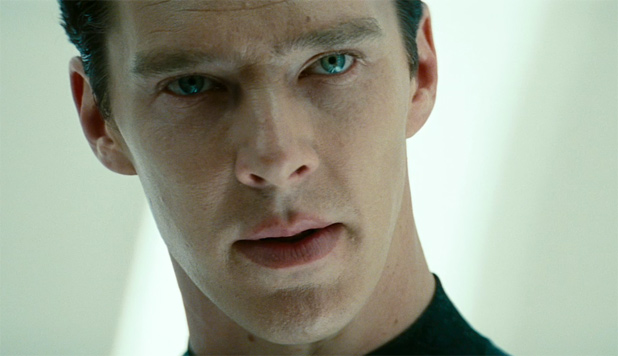 We all knew that Simon Pegg was a world class actor and writer. It now seems he can add world class prankster to that list.
British actor Benedict Cumberbatch spent a morning on the Star Trek set with cream smeared on his face after falling for a prank by his co-star Simon Pegg
By Captain Pyke | February 7, 2013 - 11:27 pm
Looks like the folks over at Entertainment Weekly have been privy to another Into Darkness exclusive, or exclusives, as the case may be. In the FEB 15, 2013 print & digital issues, EW is showcasing several new sneak peak images of the upcoming J.J. Abrams sequel.
By Captain Pyke | January 24, 2013 - 8:07 pm
Okay, so this is the second article I've written in so many months about that other "star" franchise. Let me set the record straight, I dig Star Wars too. In fact, I love Empire... both the Queensryche album and the Star Wars movie. So, when the news came through the tubes today that J.J. "will" direct the Episode VII, I got kinda excited. I was hoping for Joss Whedon, but what's a brother gonna do?
By g4nd7n | January 9, 2013 - 11:26 pm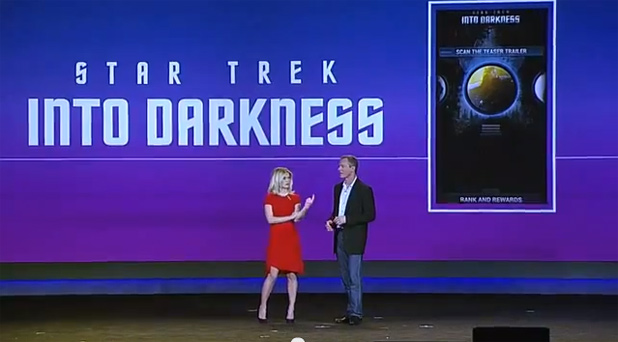 Two Star Trek Into Darkness videos have hit the web and showcase the upcoming film in different ways. First up is a video from the Qualcomm keynote address from CES in Las Vegas. CES is currently running all over Vegas with hundreds-of-thousands in attendance and Qualcomm has taken over as keynote presenter from Microsoft. The big Q had an awkward presentation that showcase everything from over-the-top actors, a fully electric Rolls Royce and Maroon 5. Sandwiched in there somewhere, was a brief appearance by Alice Eve (Dr. Carol Marcus), featuring a new augmented reality app for Star Trek: Into Darkness. You can see the video below, complete with awkward pauses and wandering teleprompter eyes.