Star Trek: Enterprise
By Captain Pyke | February 20, 2012 - 11:50 pm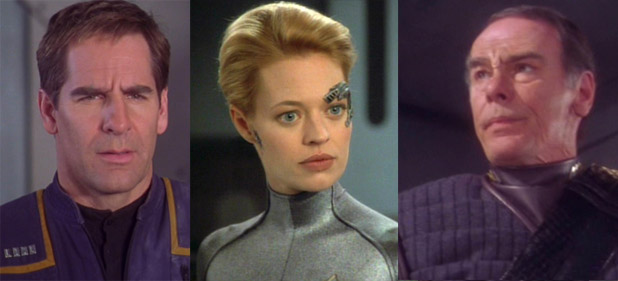 We've said it before and we'll say it again, Wizard World puts on a fantastic convention. With the likes of Scott Bakula & Jeri Ryan, it seems that their Toronto Comic-con will be no exception. That's right kiddies, April 14th-15th at the Metro Toronto Convention Centre, both Seven of Nine & Captain Archer will be in attendance. As an added bonus, for all you Quantum Leap fans, Dean Stockwell will also be in attendance. We're huge QL fans (not mention BSG) and would make the trip in a heartbeat to see Sam Beckett/Jonathan Archer & Al/Cylon John Cavil/Colonel Grat (bet you thought we forgot about Dean's appearance on Enterprise); oh and Seven of Nine too. Plus there are plenty of other stars, from various scifi series, that will be in attendance as well. Check the full press release below for all the details.
By Crewman Becky | January 24, 2012 - 7:40 pm
Well, knock me over with a feather…Scott Bakula was announced today, by Creation Entertainment as their latest guest at the 2012 Star Trek Las Vegas convention!!! (that totally deserved the 3 exclamation points) Do you guys realize if Patrick Stewart agrees to attend…that maybe, just maybe…we may get to see all the captains up on stage TOGETHER!!!! Oh my!
That would be the convention of all conventions to see. I can't speak for Creation, or Sir Pat, but I can't recall a Vegas convention (in recent years) that he didn't attend, so the odds are pretty good. Not to mention that this year is the 25th anniversary of The Next Generation and they already have most of that crew (sans their fearless captain) on the roster already. Yikes! I can hardly stand the suspense! If I were in Vegas now, I'd put money on it.
You can see the full Creation STLV guest list here.
By Captain Pyke | January 8, 2012 - 10:20 pm
Remember back in the late 80s / early 90s when simulator rides were all the rage? Heck, it seems that almost every theme park had one. I wanna say that it all started with Star Tours in the magic kingdom, but honestly I think it may have started with crappy sim rides at state fairs. You know the type, you sit in a tube shaped like a rocket and take an imaginary trip to Mars or through someone's GI tract. Maybe not the later, but you get the point.
By Crewman Becky | December 5, 2011 - 9:20 am
Ok, so Peter Weller has already battled Lectroids from the 8th dimension (Planet 10, for you sticklers) and cleaned up the (future) streets of Detroit, making his adventuring days behind him, right? Not so! He has been announced the latest addition to the J.J. Abrams cast of Star Trek XII.
Variety has been kind enough to give all us hungry fans the poop.
J.J. Abrams has tapped veteran thesp Peter Weller for the ensemble cast of Paramount's upcoming "Star Trek" sequel.
Specifics of Weller's role are under wraps. His selection came on the heels of Abrams choosing Alice Eve as a character that's believed to be new.
By Captain Pyke | November 24, 2011 - 12:18 am
Star Trek fans know Linda Park as Hoshi Sato, the communications office aboard the NX-01. Now you can find her on stage in Arthur Miller's classic All My Sons from now until December 18th at the Matrix Theater in Los Angeles. All My Sons is about Joe Keller and Steve Deever, partners in a machine shop during World War II, who knowingly turned out defective airplane parts that caused the deaths of many men. Now, the past has come back to haunt their families. Linda has taken on the role of Ann Deever, daughter of Steve Deever.
By Crewman Becky | November 7, 2011 - 11:09 pm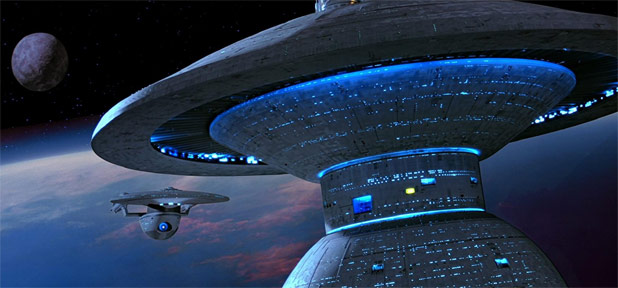 You say you haven't heard of Starbase Indy yet? You should have! We attended last year's convention and supplied live coverage to all of our readers. Oh, you weren't reading our site yet last November? ...ok I guess you get a pass on that one, but you don't have an excuse to be in the dark any longer.
Starbase Indy is an awesome fan run convention that is held every year around Thanksgiving. They get fabulous guests and put on one of the most interactive events we've seen. If you've yet to attend, their convention isn't a 9 to 5 deal where you go home early. It's what I like to call a fully immersive experience. They provide workshops, vendor access, fun events, and of course plenty of celebrity goodness practically around the clock, for kids as well as "grups."
By Captain Pyke | November 5, 2011 - 7:50 pm
We're pleased to announce the fifteenth episode of our "Life After Trek" podcast, featuring John Billingsley. We would like to thank the folks from Starbase Indy for hooking us up with John's interview. Many of you remember that we covered the Starbase Indy convention last year and that we had a blast meeting all of the lovely Trek fans of Indianapolis. In this episode we talk in depth about John's long career in Hollywood as well as some inside baseball topics about the business they call show. Of course, we also talk about John's tenure aboard the NX-01 as the venerable Dr. Phlox.
By Captain Pyke | October 9, 2011 - 8:53 pm
It's been a long road, gettin' from there to here... Okay, many of you are probably groaning by now, so I'll spare you the rest of the song, but who out there doesn't love the captain of the NX-01? I remember hearing about Enterprise shortly after the demise of Voyager and learning that Sam Beckett (AKA Scott Bakula) would be taking the reigns as the next captain (or first) of Starfleet's flagship. Oh man, I was stoked. You see, I absolutely loved Quantum Leap and remember thinking that Scott was the perfect choice. Through the unfortunately short run of Enterprise, Scott surely didn't disappoint. So, why not say happy birthday to the man who brought life to the first captain, Scott Bakula. He turns 57 today.
We've heard nothing but glowing compliments from Scott's former co-stars. Like, How he's the nicest guy in show business, or how "He's the calm voice of reason" according to Anthony Montgomery. Enterprise director LeVar burton had this to say about Scott; "His leadership is absolutely vital to the life and health of the show." Jolene Blalock continued; "I can go to him with any problem. He, I know, will have my back no matter what. " It's not often that you hear this kind of praise from other actors in the business we call show.
By Captain Pyke | August 31, 2011 - 10:53 pm
While we slowly recover from what seems to be the Cardassian Flu, we stumbled across a bit of news for Scott Bakula fans in the UK. It seems he's making his UK stage debut in the world premiere of Saul Rubinek's Terrible Advice. The new play will make it's stage premiere at London's Menier Chocolate Factory on September 22nd. Directed by the legendary Frank Oz (uh huh, that Frank Oz), the play is described as dark, dirty & dangerous.
Set for a limited run from September 22nd to November 12th, Terrible Advice is written by Saul Rubinek another Trek alum. You'll remember Saul as Kivas Fajo from the TNG episode "The Most Toys", one of our favorites. I guess Kivas is adding one starship captain to his collection. If we were in the UK, this would be on our calendars. Tickets start at £29.50 (£25.00 during previews) and you can find more info & synopsis below.
Terrible Advice Synopsis:
Stanley (Stinky to his friends) and Jake are best friends. Hedda and Delila are best friends. Jake loves Hedda; Stinky loves Delila. Stinky plans to marry Delila...until Jake shares some secrets and then gives him some advice... (source)