Star Trek: Enterprise
By Captain Pyke | August 19, 2011 - 9:03 pm
Eugene Wesley Roddenberry was born August 19th 1921 in El Paso, Texas. Today would have been Gene's 90th birthday, so we pay tribute to the late Great Bird of the Galaxy. Gene's brain child, Star Trek, is celebrating it's 45th anniversary this year and continues to inspire and provoke generations. We recently returned from Vegas Khhaaan! 2011, where more than 20,000 fans participated in one of the largest, if not THE largest, Trek Convention. This proves that Star Trek, and Gene's vision, still has an indelible mark on history with more fans added each year.
Gene started life as a sickly young boy who would dream of traveling to the stars. He flew combat missions in the Pacific Theatre during WWII with the "Bomber Barons" of the 394th Bomb Squadron, 5th Bombardment Wing of the Thirteenth Air Force. In total, Gene flew eighty-nine missions for which he was awarded the Distinguished Flying Cross and the Air Medal.
After WWII, Gene worked as a commercial pilot for Pan American World Airways (Pan Am). He received a Civil Aeronautics commendation for his rescue efforts following a June 1947 crash in the Syrian desert while on a flight to Istanbul from Karachi.
By Captain Pyke | August 6, 2011 - 10:32 pm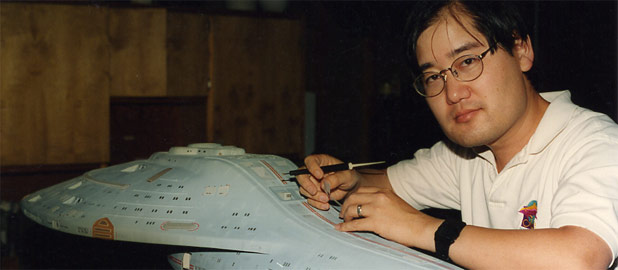 We would like to wish a very happy birthday to Mike Okuda. He has been responsible for a myriad of things throughout the various Trek incarnations since the mid-1980s starting with Star Trek IV: The Voyage Home. Mike gained notoriety for his work on Star Trek: The Next Generation as a scenic artist / technical consultant and for designing the futuristic graphical user interface (LCARS or Okudagrams) used throughout the TNG era and all the way to DS9. I would also like to personally thank Mike and give him credit for inspiring me to work professionally in the graphic arts and user interface design. Thanks Mike, your work has inspired an entire generation of graphics professionals!
By Captain Pyke | July 20, 2011 - 11:59 am
Just like the recent announcement and launch with Netflix, Amazon Instant Video
is adding Star Trek: The Original Series, Star Trek: The Next Generation, Star Trek: Deep Space Nine, Star Trek: Voyager, & Star Trek: Enterprise, for your streaming pleasure. Announced today, CBS via Amazon is also going to server up other hit shows like Cheers, Fraizer, plus more on Amazon's Netflix competitor. No word on an exact release date, but Amazon is promising "this summer". Check out the full press release below.
Update - Maybe The Animated Series? We noticed that the press release said the entire Star Trek Franchise. We'll have to get confirmation...
By Captain Pyke | July 1, 2011 - 4:08 pm
As of today (July 1st) 4 out of the 6 Star Trek series are now available on Netflix via it's Watch Instantly service. Notice how we say 4 out of 6, we're including The Animated Series in those numbers. Included are Star Trek: The Original Series, Star Trek: The Next Generation, Star Trek: Voyager, & Star Trek: Enterprise. Star Trek: Deep Space Nine will be available in October, with no word on when The Animated Series will be available.
We've started the celebration by watching some Voyager... That's right, the big V word. We love Captain Janeway and the crew and began our Netflix Trek journey with two favorites, "Workforce PT 1 & 2", and "Q2". What will you be watching?
Get your Trek on at Netflix.com
By Captain Pyke | May 30, 2011 - 11:06 pm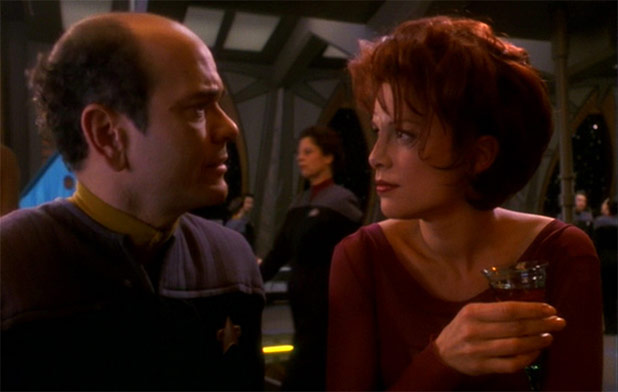 Here's an interesting event that was just brought to our attention by the show organizers. It's is called the Frank & Son Collectable show and on June 11th they will be hosting they're 2nd annual Star Trek Day featuring cast members & guest stars from every Trek series. It's not a convention per se, but more of a chance for fans to get autographs and photo-ops with their favorite stars. Also at the event, the Cinema Makeup School of Los Angeles will be on hand doing Star Trek/ Sci-Fi makeup effects on attendees. Cryptic Studios will be there as well, with PCs setup for you to try out "Star Trek Online", plus free trials of the game for the first 150 people in attendance.
By Captain Pyke | May 24, 2011 - 8:30 pm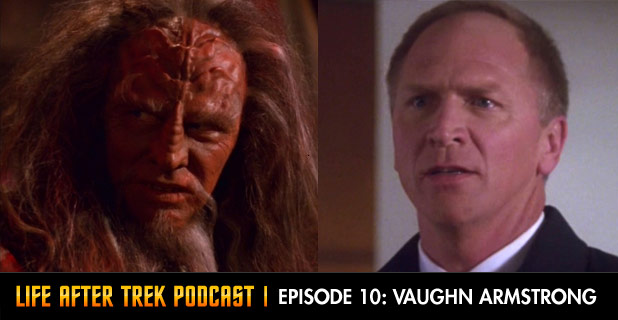 We're pleased to announce the tenth episode of our "Life After Trek" podcast, featuring Vaughn Armstrong. Many of you will remember Vaughn as Admiral Maxwell Forest from Star Trek: Enterprise, but Vaughn has also played countless characters throughout the Trek universe. From TNG to Voyager, Vaughn has played a myriad of Klingons, plus a Borg, Romulans, Cardassians, Hirogen, etc., etc. We had the pleasure of spending time with Vaughn at BayouCon this year and he was kind enough to sit down and tell us about his life after trek.
By Captain Pyke | May 15, 2011 - 9:33 pm
We're pleased to announce the ninth episode of our "Life After Trek" podcast, featuring Crystal Allen. Many of you will remember Crystal from her role as D'Nesh in the Enterprise episode "Bound". D'Nesh was one of the Orion Slave Girls used to gain control of the Enterprise and subdue Captain Archer and his crew. Crystal was also involved in the Tim Russ helmed fan film "Star Trek: Of Gods and Men" were she played Conqueror Navigator Yara.
We originally met Crystal at last year's Starbase Indy convention, but unfortunately ran into technical difficulties and were unable to record the interview live. Crystal was a great sport and called in to provide you guys & gals with insight into her time spent in the Trek universe. If you haven't checked out "Of Gods and Men", be sure to do so. You can find more info here on the official website.
We hope you enjoy listening to this episode as much as we did recording it. Be sure to stop by the official Crystal Allen website here to see what projects she has in store.
By Captain Pyke | March 21, 2011 - 11:08 pm
So, okay, maybe we're not sharpest tools in the shed, but we just ran across a fantastic new (to us) podcast called Trek Radio. We say podcast, but it's actually a full-fledged internet radio station syndicating other Trek podcast, plus their own. Well, coming Saturday March 26th, Trek Radio is interviewing none other than Scott Bakula. That's right Enterprise fans, Captain Archer is going to rock out with his Spock out and talk nothing but Trek to the Trek Radio crew. This is something we're NOT going to miss and neither should you. Check out the details below.
Trek Radio is proud to announce a rare interview with Scott Bakula, the individual that took Star Trek from First Contact to the forming of the United Federation of Planets. As Captain of the lead exploration vessel the USS Enterprise, history was formed by the actions of the crew that really did take those first steps into where no one had gone before.
By Captain Pyke | February 26, 2011 - 11:37 pm
Two captains, one show. William Shatner is set to host Star Trek: Enterprise's Captain Archer, or Scott Backula as he's known in the 21st century, on Shatner's Raw Nerve. The 30 minute talk show on The Biography channel is another link in the vast Shat empire and see's the man himself sitting down with celebrity guests to talk about their hot button issues. The show is set to air Monday, February 28th at 10pm ET. Check out the description below with links to the show's website.
Golden Globe-winner Scott Bakula sits down with host William Shatner for a personal conversation. Shatner talks to Bakula about what it was like to break into the business at a young age, his time as a Broadway singer, and what an honor it was for him to play a role on the Star Trek: Enterprise series. Bakula speaks about his healthy lifestyle and how he's implemented his philosophies into the raising of his sons.
"Shatner's Raw Nerver" official website.