William Shatner
By Captain Pyke | July 29, 2012 - 10:24 pm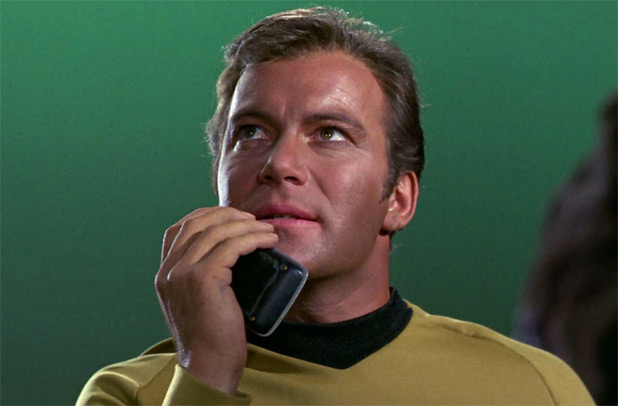 The Shat throwing a baseball? Yup. It's the inaugural Star Trek Night at Dodger Stadium Friday, August 3rd at 7pm. I gotta say, it's pretty darn cool to see the Dodgers embracing Trekdom. Not only will you get to see William "Sir Billiam" Shatner throw the first pitch, but if you order tickets now, you'll get a special edition Star Trek / Dodgers themed t-shirt. Which is actually pretty dope. So, just thinking in hypotheticals, but how awesome would it be to have the Gorn at bat for that first pitch? Maybe The Shat can run up and do a double jump kick over home plate. Check out the full description below and a pic of the sweet tee.
By Captain Pyke | June 28, 2012 - 11:25 pm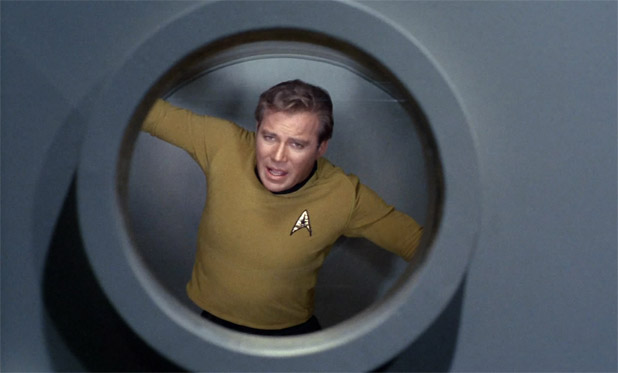 In a slightly embarrassing incident at LAX, William "The Shat" Shatner was going through a TSA checkpoint when his pants dropped like the shields on the Reliant. "He tasks me and I shall have him!".... Fortunately, Khan wasn't responsible. Due to his long flight to South Africa, Sir Billiam was wearing loose fitting clothing and didn't happen to wear a belt. Some lucky travelers got to see Bill in his Starfleet skivvies. I bet it was like looking into a rainbow made of lasers and unicorns.
By Captain Pyke | June 12, 2012 - 8:21 pm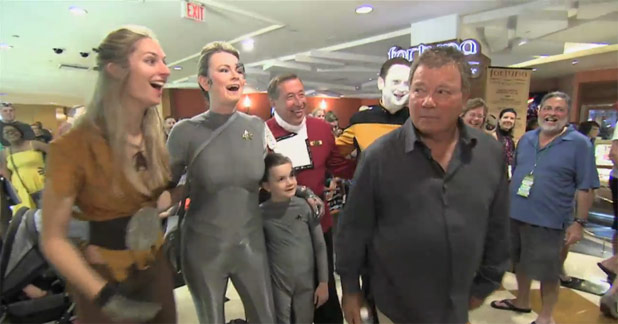 In what's a bit of surprise to us, William "Sir Billiam" Shatner is set to debut a new documentary called William Shatner's Get A Life! at San Diego Comic Con. According to IMDB, the new doc was filmed last year in Las Vegas. Could this be the same documentary that The Shat filmed at Vegas Khhaaan?.. Of course at the time it was a TV pilot documentary called FAN ADDICTS and was being produced by Creation Entertainment. The new documentary is an EPIX Original, just like The Captains, and will be debuted at his Comic-Con panel along with cult film director Roger Corman. Roger is also debuting an Epix original, his first 3D film Attack of the 50 Foot Cheerleader. The panel is set for July 14th and will moderated by none-other-than Kevin Smith.
By Captain Pyke | May 22, 2012 - 10:53 pm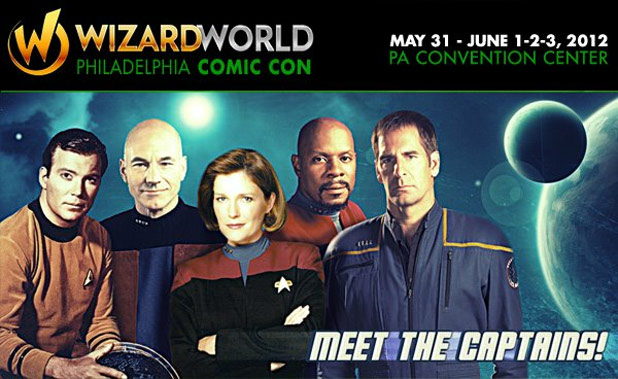 We've said it before and we'll say it again, we love Wizard World Comic Cons. They run some of the best conventions in the business. It seems that their world famous Philadelphia Comic Con is shaping up to be, not only a well run convention, but also a Trek fan's dream come true. All five captains are signed on as guests for the upcoming, May 31st through June 3rd convention. That's right woodchuck-chuckers, William Shatner, Patrick Stewart, Avery Brooks, Kate Mulgrew, & Scott Bakula are beaming down to the city of brotherly love. Really, you could say 6 captains will be on board since Chris Hemsworth will also be a featured guest. Chris plays Thor in all the Marvel awesomeness that's going on lately, but he also played George Kirk. He was captain of the USS Kelvin for 12 minutes, after all...
By Captain Pyke | May 10, 2012 - 10:32 pm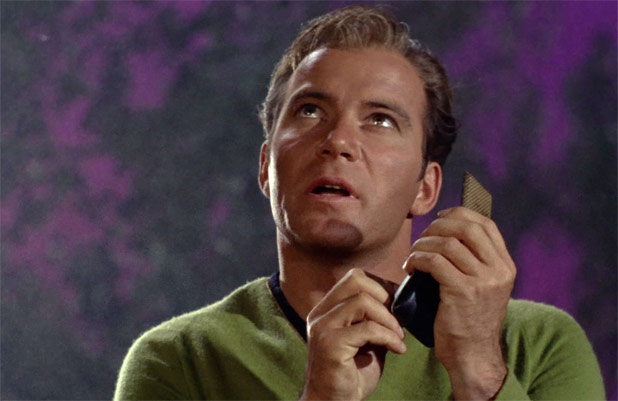 As you know, The Shat is a man of many talents. He's an actor, a director, an author, talk show host, avid turkey fryer, and now he's going to guest host the long running BBC comedy panel show Have I Got News For You! This will give him a good chance to practice his English..... cue the rimshot!
By Captain Pyke | April 21, 2012 - 10:03 pm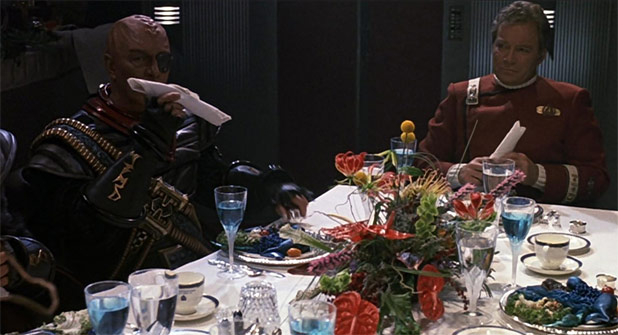 Okay, we've seen The Shat up close and person, but we've never sat down to break bread with the big man. One lucky fan can indeed claim that they've had the honor... Yeah, we're jealous. @WilliamShatner twitter follower Troy Pound was the lucky 1 millionth that earned the right to have dinner with Sir Billiam. While In South Carolina for his one man show Shatner's World: We Just Live In It, Bill made good on the promise and took Troy and his wife out to a fancy restaurant and then posted a brief video on YouTube to celebrate.
By Crewman Becky | March 22, 2012 - 10:24 pm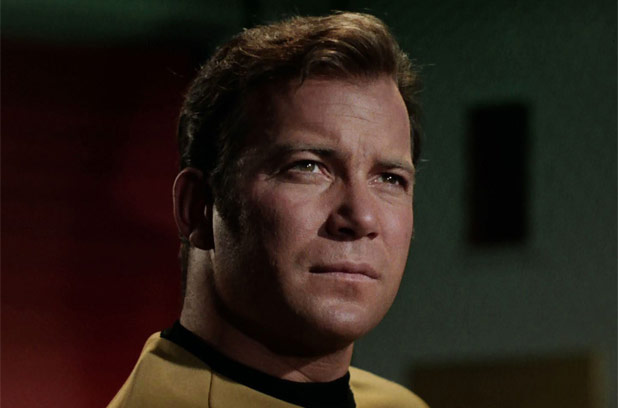 Hey out there, in case you haven't heard, it's William Shatner's birthday! Yah, we spelled out his name for that. It's special. It's March 22nd, his 81st birthday and he's showing NO signs of slowing down…or aging, for that matter. I gotta say, he looks fantastic on and off screen!! I hope I look that good when I'm 81.
By Captain Pyke | February 8, 2012 - 11:42 pm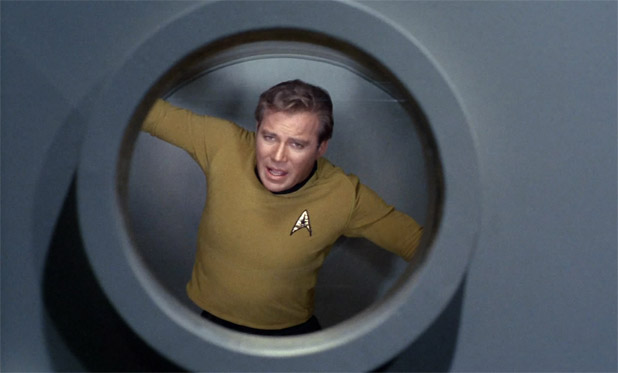 I've said it before and will again; The Shat is a force of nature. Not only is he increasing his convention schedule this year, but he's also steering his one-man-show around this beautiful country of ours. Starting on Broadway. . LA Weekly recently sat down with Sir Billiam (thought we forgot about it, huh?) and got the chance to experience The Shat's essence while he rehearsed for the launch of Shatner's World: We Just Live in It. Where Bill revealed that he's essentially happy with the way his life has turned out.
"I'm a happy man. I'm a somewhat anxiety-ridden man right now, with opening night and all that. But in its right perspective, there should be a sense of joy about it. I'm going to open on Broadway in a one-man show. It's extraordinary. What a gift — to me!"
Yeah, I would be happy too. I mean think about, all of his conquests throughout the galaxy (great and small) and having an alien as the best man for your wedding. What's not to be happy about?
By Crewman Becky | February 2, 2012 - 9:23 pm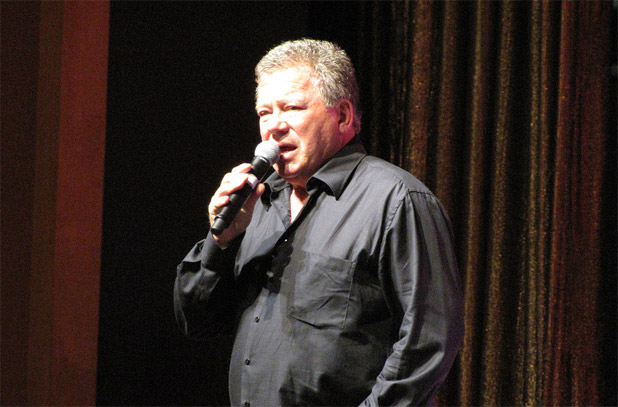 The Shat seems to be everywhere lately. I mean, really…everywhere. I don't think he ever stops working. Personally, I'm totally impressed (and a little jealous) of his never ending energy. How he juggles the dozens of projects he currently has going, I'll never know.
The latest announcement on the Shatner front is that he's joined Wizard World's Comic Con Tour. He just finished the New Orleans convention last weekend, and has three more on his schedule already.  One special note, he's listed as "Saturday Only" for each of the following locations. Be sure to check the schedules so you don't miss your favorite guest at any of them.
Philadelphia Comic Con Fri-Sat-Sun/June 1, 2, 3, 2012
Also at attending; Jeri Ryan (Voyager), Kate Mulgrew (Voyager), Avery Brooks (DS9), Paul McGillion (Stargate: Atlantis), and Bruce Campbell (…you name it)…and more
Chicago Comic Con Thur-Fri-Sat-Sun/August 9, 10, 11, 12, 2012
Also attending; Everybody from the above list, plus; James Marsters (Buffy The Vampire Slayer), Luke Perry (90210), Jason Priestly (90210) …and more