Star Trek Collectibles
By David Buchanan | March 23, 2012 - 10:21 pm
A great idea if you don't know what to give your fellow Star Trek fan would be to get him/her a collector's box of playing cards!
This box looks really cool with the text "Beam me up" written all over it. This tin box is also marked up with good old Kirk and the cards are all marked up with images from the original series. This deck is available through neatoshop.com.
By Crewman Becky | June 30, 2011 - 8:00 pm
This is in the "way too cool" category! We just heard about a Hollywood Prop auction July 30th and 31st that is going to include, among tons of other stuff, Mr. Spock's Ears from Star Trek III: The Search for Spock and an original production dialogue script/screenplay of Star Trek II: The Wrath of Khan. It's the Hollywood Auction Extravaganza II, put on by Premiere Props of Los Angeles. All of the Star Trek items look like they are being sold on the 30th and just like the last auction we told you about, you can bid online or by phone if you aren't in the Los Angeles area.
By Crewman Becky | June 24, 2011 - 11:58 pm
There's almost 2 days left to bid on a Vintage 1978 Original Star Trek Pinball Machine from an Austin TX auction house, and as of the release of this article the high bid is only $250. We heard about this one recently and you better believe that if we had a place to put it in our house we wouldn't be telling you about this, but since we are packed to the nacelles here we're letting you in on the opportunity. This particular auction house accepts online bids (as well as in person bidding). That way you don't have to live anywhere near Austin to win this item. They are even willing to help with the shipping coordination, you just have to spring for the cost. From their description and pictures, it looks like the pinball machine is in pretty good condition and even has it's original manuals...however with an "as is" tag we can't tell if it's actually in operating order.
Even if you aren't in the market for a pinball machine of your very own it's still pretty cool to look at. They have quite a few pictures online and quite a bit of detailed information.
If you end up buying this pinball machine let us know. We'd love to post pictures of you at play.
Good luck...and let the bidding begin!
By Crewman Becky | April 27, 2011 - 8:39 pm
So, just like the title "implies" (let's face it…"spells out" would be more apt)…have no fear, posters are near! Mondo is releasing 2 new Star Trek themed posters tomorrow, April 28, 2011, to add to your collection.
Introducing the newest entries in our STAR TREK poster series...the 1967 episode MIRROR, MIRROR by Tomer Hanuka and the 1966 two-part episode THE MENAGERIE by Mike Saputo! In addition, we will be releasing the remaining copies from the Alamo Drafthouse Terror Tuesday screening of Cronenberg's RABID by Phantom City Creative.
These posters will be going on sale Thursday, April 28, 2011 at a random time.
By Crewman Becky | March 18, 2011 - 6:55 pm
We, here at Subspace Communique, are huge fans of Nichelle Nichols (you're thinking…"no duh?"). She's such a class act, so talented, and so giving that we didn't think we could admire her any more than we already did…until today.
Today she made an announcement that she would mail (for free, to ANY country) an autographed photo to the first 1,000 people that donate $50 or more to any organization listed on usaid.gov, the U.S Agency for International Development (USAID).
By Captain Pyke | February 28, 2011 - 10:41 pm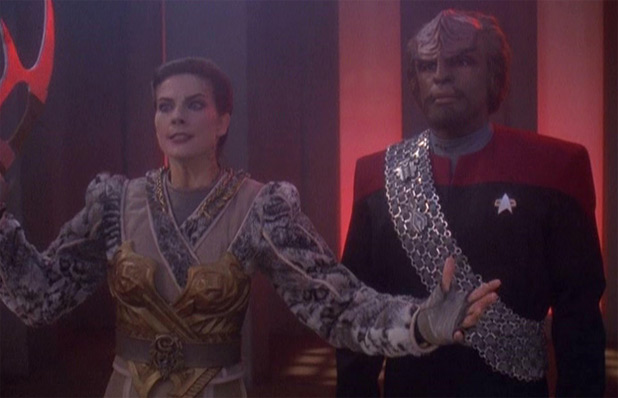 A bit of Trek history is up for auction on Ebay. The original Klingon opera costume worn by Terry Farrell in DS9's "Looking for par'Mach in all the Wrong Places" is available for bids. Not only was it screen worn by Terry Farrell, but the costume was purchased at the Christie's 40 Years of Star Trek auction by Lynn Sterling (Major Khalen) of Star Trek The Experience. Lynn wore the costume as Major Khalen on less than a dozen occasions, for Special Events at The Experience. Sure there was another made for the Lady Grilka character, but this one is special on two levels. Got a thousand clams? Here's your chance to start bidding on a DS9 & Star Trek: The Experience memento that is one-of-a-kind.
Start your bidding here.
Check out an image of the costume and the auction description below.
By Captain Pyke | December 30, 2010 - 11:35 pm
We just ran across this amazing deal from Amazon
and thought we would pass along the details. It looks like you can get all Star Trek comics issues from 1967 - 2002 plus every annual, all articles and advertisements in PDF form on one DVD. This includes all of the Gold Key & Western comics (featuring The Original Series), DC & Malibu Comics, Marvel Comics, & Wildstorm Comics. Over 500 issues in all. A pretty amazing deal for $6.99.
As Dr. Lazarus would say "What a savings..."
By Captain Pyke | December 1, 2010 - 11:07 pm
So you survived the Black Friday rush, waiting in line for $100 HDTVs and $10 video games, but we know what you really wanted... Star Trek stuff. It seems there was a complete lack of great deals on Trek merch through Black Friday to Cyber Monday. Though, It appears that your troubles may be over, both Entertainment Earth and Amazon have extended their Cyber Monday deals through this entire week and that includes a litany of Star Trek related schwag for your Ferengi pleasure.
We've scoured both of the sites and have put together a comprehensive list of Trek items we thought worthy and cheap. Check out the descriptions and links below. All of these prices are posted on 12/1/10, so if you read this later, they may have changed.
By Crewman Becky | November 21, 2010 - 10:32 pm
Here's a gem of a craft project that we were just clued into by a friend, Star Trek pot holders. Ok, so maybe you're saying, "Why do I care about knitting?!" Well, if you're thinking that…look at the pretty Delta Shield and then click one of our Life After Trek podcasts and amuse yourself with something more your style. However, I happen to know that many of our fans DO like to knit and crochet and this article is specifically for them. In fact I think our crafting friends have been sorely overlooked and we'd like to extend an invitation to them. If anybody makes these we'd love to post them as updates to this article. Just contact us and let us know. Now without further ado…*drum roll*…I give to you, the 24th century in yarn!