Star Trek Collectibles
By Captain Pyke | March 4, 2010 - 11:12 pm
Subspace Communique is approaching it's 1 year anniversary or as we like to call it; the first year of our five year mission to bring you true Trek culture. It's been an amazing year to be a Trek fan. From the brand new J.J. Abram's "Star Trek" to amazing Cons and of course Star Trek Online. We've thoroughly enjoyed bringing you, our readers, news and Trek Culture updates from around the galaxy. Plus, how could we do it with out you, our faithful readers.
By Captain Pyke | January 2, 2010 - 11:15 pm
Oklahoma Trek Fan Butch Roberts is putting his entire Trek memorabilia collection on display at his local library. This is exactly the kind of stuff we love. A local fan sharing his love for Trek with his community.
"I've always been into the whole 'Star Trek' phenomenon," Roberts said. "This is something I genuinely enjoy doing."
By Captain Pyke | December 23, 2009 - 11:11 pm
The closest thing we Trek fans have to Zombies in all of Trekdom, would have to be the borg. Just think of all the poor redshirts that had to die on various away missions, and suddenly, they are re-animated into a brain eating Zombie horde. Now, you can recreate that with your very own Zombie redshirt, uh, shirt. Thinkgeek.com is the place to grab your undead, security officer or engineer. Check the product description below.

By Captain Pyke | December 13, 2009 - 9:24 pm
It's the holiday season and what better way to celebrate than with your good friends from the Enterprise. No bloody A, B, C, or D. Found via Make.com, Trek Fans at Evil Mad Scientist Laboratories have put together a fantastic LED menorah using the Star Trek: TOS PEZ set.
By Captain Pyke | November 9, 2009 - 9:14 pm
Back in June we reported on the limited edition Jeff Staple Star Trek inspired Airwalk high-tops and the announced plan to sell them in Payless ShoeSource. We have good news, the shoes are finally available for purchase.
By Captain Pyke | November 3, 2009 - 9:38 pm
Here's your chance to own your very own Shuttlecraft. Well, actually, it's your chance to own a cool looking shuttlecraft exterior with lots of MDF and turn of the century Macs stuffed in the interior.
As reported by io9, the Alpine School District's Christa McAuliffe Space Education Center in Pleasant Grove, Utah is putting the shuttle up for the highest bidder. Check out the auction description below.
The USS Galileo Space Ship Simulator

By Captain Pyke | October 28, 2009 - 9:43 pm
As reported by Videogamer.com, a brand new Xbox 360 Elite bundle will be hitting store shelves featuring a theme based on J.J. Abrams "Star Trek".
According to the latest issue of trade publication The Future, Microsoft is readying two new Xbox 360 Elite bundles.
By Captain Pyke | October 13, 2009 - 8:26 pm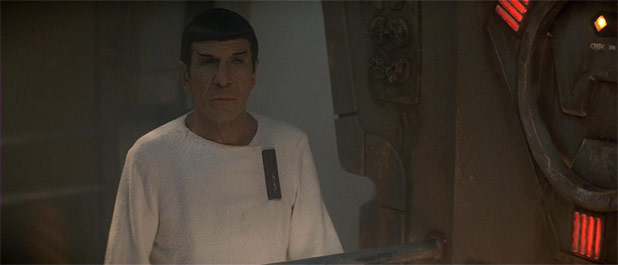 We reported last June on the Company of Angels Gala slated for October 17th to honor Leonard Nimoy. Looks like more info has been released about this Saturday's event. Apparently, Mr. Nimoy has placed his ears from Star Trek IV: The Voyage Home on the auction block. Plus, The Shat and George Takei will be in attendance with items of their own up for bids.
By Captain Pyke | October 12, 2009 - 8:00 pm
Thanks to contributor A.J. Gonzalez for making us aware of this. Star Trek XI is now available on it's own Delta Shield shaped USB drive. Heck, I just want the Delta Shield! Here's what A.J. had to say about it.
Over at Play.com they are selling a Starfleet Insignia shaped USB drive with Star Trek 2009 (on board). You can play the movie on five different devices and also burn it to a dvd.