Leonard Nimoy
By Captain Pyke | January 28, 2011 - 10:33 pm
Star Trek's Mr. Spock is making a guest appearance in the Dallas Metroplex this May with a few other special guests including comic book legend Stan Lee. Called the Dallas Comic-Con, the convention is scheduled for May 21st & 22nd (2011) and includes not only Nimoy & Lee, but also David Prowse (Darth Vader: Star Wars IV, V, VI) and a slew of artists, writers, & publishers from the comic book world. Check details below.
By Captain Pyke | November 1, 2010 - 10:37 pm
Before reality TV, scifi, or sitcoms ruled the small screen, westerns we're the studio's cash-cow. Almost every actor in Hollywood played a role on "Bonanza", "The Lone Ranger", "The Outlaws", etc., including William Shatner, Leonard Nimoy, Deforest Kelley, & James Doohan. Now, a brand new DVD set called "Trek Stars Head West", features the original Enterprise crew in pre-Trek TV westerns from the 50s & 60s. The episodes also include guest starring roles by Robert Redford, Cloris Leachman, & Lon Chaney Jr. Check out the episode list below.
By Captain Pyke | October 22, 2010 - 4:09 pm
We just got word that Leonard Nimoy underwent an emergency abdominal surgery and according to his rep is "recovering beautifully." The 79 year-old actor was set to appear at the Chicago Star Trek Convention & a special event in Long Beach, CA this weekend, but obviously had to cancel to due to what they're calling "a minor benign abdominal surgery."
By Captain Pyke | September 21, 2010 - 10:15 pm
Leonard Nimoy, once described by Gene Roddenberry as "the conscience of Star Trek", will be speaking for one night only at the Carpenter Performing Arts Center in Long Beach, CA. Set for October 23rd at 8pm, the intimate talk will touch on the subjects of innovation, creativity and personal development. Plus a ton of Trek!
According to EverythingLongBeach.com, Leonard will speak on Star Trek, its origins, and how a new genre for television and movies was created. He'll also share his portrayal of the rational and emotionally suppressed Vulcan as part of a remarkable and diverse career that's left an indelible imprint on American culture.
With his impending "retirement" this maybe one of the last chances to see Leonard in an environment such as this. Tickets for "An Evening With Leonard Nimoy are $65 for adults or $60 for seniors and can be purchased by calling (562) 985-7000.
Check out the Carpenter Performing Arts Center Website Here.
By Captain Pyke | June 20, 2010 - 10:35 pm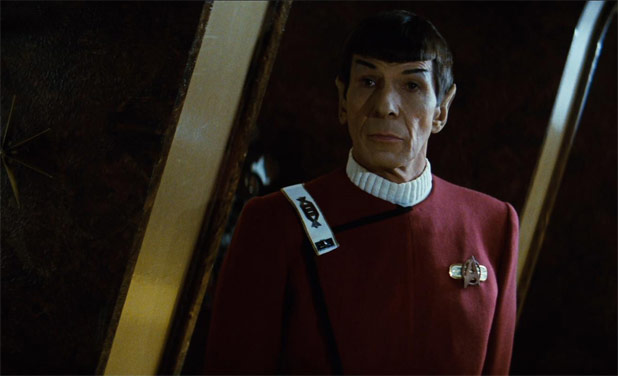 With the recent announcement of his retirement, Leonard Nimoy has been hitting the convention circuit pretty heavily. Not that we're complaining. We definitely want to see him before he buys a condo and moves to Florida. With the retirement news though, we just assumed that Vegas Khhaaan! was going to be his last show. Apparently not. It looks like the 44th annual Chi-town convention could be our Vulcan friend's last show (maybe). So, if you're looking for a chance to get a photo or autogarph with Mr. Nimoy beyond Vegas, you still have a chance.
By Captain Pyke | June 6, 2010 - 8:34 pm
Leonard Nimoy's retirement may be short lived if the rumors we're hearing are true. According to a few sites around the net, William Bell may be returning to the Fox hit "Fringe" in it's 3rd season. In a video entitled "Fringe: The Next Chapter" the cast talk about the season 2 cliffhanger and what may be in-store for season 3.
In the interview Leonard jokingly had this to say about William Bell's "death".
"Do I think he's really dead? Do I think William Bell is really dead? This is science fiction. I have died in science fiction many times and somehow magically or scientifically come back."
By Captain Pyke | June 1, 2010 - 11:08 pm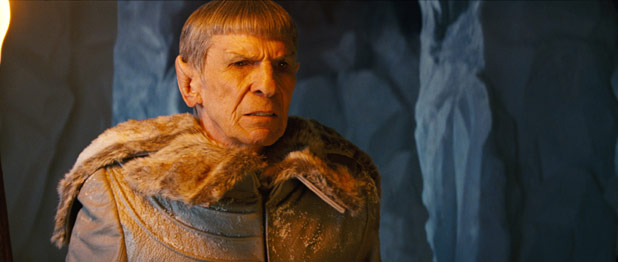 "Kingdom Hearts: Birth By Sleep" is the seventh game in the series that began back in 2002, released for the Playstation 2. Set for a September 7th, 2010 release, the new game also adds some familiar voices to the roster. One world famous Vulcan and a little know farmboy from a galaxy far, far away. That's right, Leonard Nimoy and Mark Hamil are set to star in the upcoming Playstation Portable release.
By Captain Pyke | May 1, 2010 - 10:16 pm
A brand new film festival is set for June 11-13 at the Mann Chinese 6 in Hollywood. Called the Hero Complex, the fest will showcase 5 different films with on-stage appearances from famous film makers including Leonard Nimoy.
The five films showcased will be presented on separate nights starting on Friday June 11th with "Star Trek IV: The Voyage Home". Voyage will be followed by a Q&A session with the movie's star and director, television and film icon Leonard Nimoy.
By Captain Pyke | April 20, 2010 - 8:33 pm
A little more than a month ago we posted an article detailing Leonard Nimoy's plans to walk away from the convention circuit. Today, we learn that he's actually walking away from Trek altogether. That's right ladies and gents, Spock is going to retire. According to and interview with Toronto Sun Leonard is ready to "Get off the stage".