LeVar Burton
By Captain Pyke | August 28, 2012 - 9:49 pm
What's a 100 Year Starship you ask? Well, it's an initiative to push human kind toward interstellar travel lead by retired NASA Astronaut / M.D. / Star Trek guest star Mae Jemison. According to the official initiative mission statement: 100 Year Starship will pursue national and global initiatives, and galvanize public and private leadership and grassroots support, to assure that human travel beyond our solar system and to another star can be a reality within the next century. 100 Year Starship will unreservedly dedicate itself to identifying and pushing the radical leaps in knowledge and technology needed to achieve interstellar flight while pioneering and transforming breakthrough applications to enhance the quality of life on earth. We will actively include the broadest swath of people in understanding, shaping, and implementing our mission.
By Captain Pyke | August 21, 2012 - 10:37 pm
Our good friends over at The SciFi Diner Podcast recently wrapped their annual coverage of Shore Leave 34. If you don't know, Shore Leave is the largest fan run convention on the east coast and Scott & Miles have been covering the event for the past several years. They ended the convention with a bang by landing an interview with Star Trek: The Next Generation's LeVar Burton.
By Captain Pyke | June 23, 2012 - 1:29 pm
Our favorite engineer & child literacy advocate, LeVar Burton, will be on a brand new episode of "On The Verge" this Monday (June 25th). Recorded live yesterday in New York City, in this episode LeVar discusses his brand new Reading Rainbow app for the iPad as well as his Trek fame and of all things, Gary Busey. From the clip we've seen, LeVar is stellar as always. Oh, and he's freaking hilarious. You can catch the episode on TheVerge.com this Monday.
By Captain Pyke | June 8, 2012 - 11:51 pm
In what Apple is billing as "Lunchtime Sessions" at its World Wide Developer Conference or WWDC, both Star Trek & Star Trek 2 director JJ Abrams & Star Trek: The Next Generation's LeVar Burton are scheduled to speak. Held at the Moscone West in San Francisco and set to run June 11th to the 15th, WWDC is the premiere event for Apple OSX & iOS developers. Hopefully you've already got your tickets and are set to attend because the conference has been sold out for weeks now. If you are going, be sure to check both of these sessions, they look like they'll satisfy both your inner Apple and Trek fan.
By Crewman Becky | June 4, 2012 - 11:15 pm
The first U.S. Star Trek: The Next Generation 25th anniversary reunion is happening right in our own backyard, Austin Texas. This October, Wizard World is bringing together 7 stars from the Next Gen cast for this bridge crew reunion. So far on board are Patrick Stewart (Captain Jean-Luc Picard), Jonathan Frakes (Commander William T. Riker), LeVar Burton (Lt. Commander Geordi La Forge), Michael Dorn (Lieutenant Worf), Marina Sirtis (Counselor Deanna Troi), Brent Spiner (Lt. Commander Data) and Gates McFadden (Dr. Beverly Crusher). Dang! With a line up like this my head might explode.
By Captain Pyke | May 29, 2012 - 9:42 pm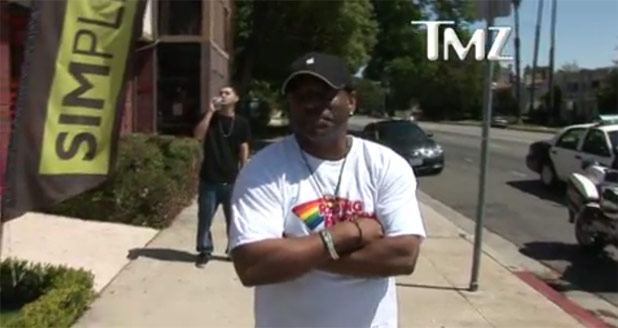 LeVar Burton, what can we say? He's a class act even when faced with TMZ cameras after a small fender-bender involving a police car. According to TMZ, LeVar was being pulled over for a moving violation yesterday when he was rear-ended by a patrol car. Good news is that no one got hurt and LeVar wasn't cited for the moving violation.
By Captain Pyke | May 5, 2012 - 9:22 pm
If we know one thing about LeVar Burton, it's that he's passionate about child literacy. This June, you can catch LeVar at the Bronx Zoo as a part of its Animal Tales Extravaganza Weekends. He'll be on-hand for a special story time / meet-and-greet June 16th & 17th at 1:00 p.m on the Asia Plaza Stage . LeVar will be there to share some of his favorite stories and host a demonstration of the new Reading Rainbow iPad book discovery and reading app.
By Captain Pyke | April 18, 2012 - 10:30 pm
Before LeVar was the chief engineer (or helmsman for the matter) on the Enterprise, he was inspiring children to read on Reading Rainbow. LeVar continues his fight for child literacy today by joining several other celebrities in a new PSA for the non-profit Reading Is Fundamental. The quirky, and well made, PSA consists of a video sequence featuring children's literature heroes and a song produced by The Roots with vocal support from Jack Black, Chris Martin, John Legend, Jim James, Jason Schwartzman, Nate Ruess, Melanie Fiona, Carrie Brownstein, Regina Spektor and Consequence. LeVar handles the voice over and appears as a cameo in the video.
By Captain Pyke | February 16, 2012 - 11:04 pm
Hey Trek & Reading Rainbow fans, it's the time of year to celebrate the one thing both of those show have in common. It's LeVar Burton's Birthday. Yay! (cue the confetti). If you haven't noticed, we like to celebrate the birthdays of Trek stars and LeVar is no exception. Heck, we knew him from Reading Rainbow way before he donned the visor and took the helm. We'd like to celebrate this special day with something just as special. That's right kids it's another installment of our Youtube video Round-up: The LeVar Burton Edition.