TOS
By Crewman Becky | May 9, 2014 - 2:02 pm
Remember back in March when we told you about the ultimate Star Trek themed guided tour? Well, if you can't make that one, how about a single day excursion? Geek Nation Tours has added a Star Trek themed Day-Trip called "Trek into the Valley of Fire - One Day Adventure" to their roster!
By Crewman Becky | April 2, 2014 - 2:54 pm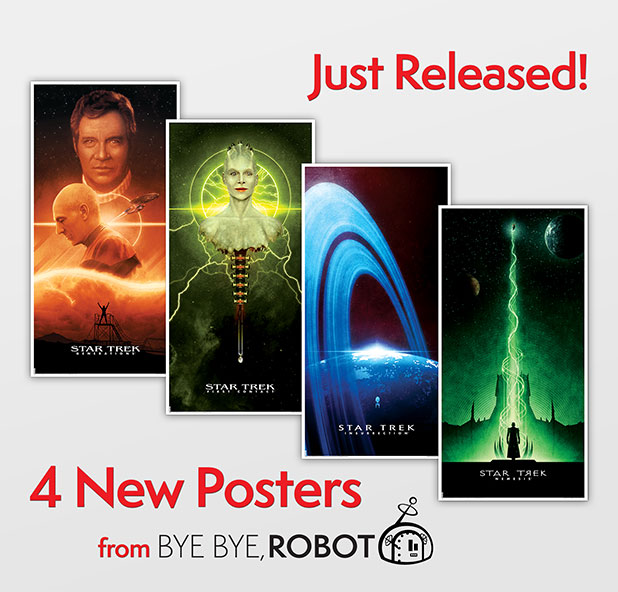 We are super excited to announce Bye Bye, Robot's latest release... 4 NEW Star Trek: The Next Generation lithographs! Created by artist Matt Ferguson, they are vivid, beautiful, graphical representations of each of the Next Gen movies.
Like Matt's last 6 lithographs for Bye Bye, Robot, which were created to embody each of the The Original Series movies, these new 4 contain a poster for each of the TNG movies; Star Trek: Generations, Star Trek: First Contact, Star Trek: Insurrection, and Star Trek: Nemesis.
By Crewman Becky | March 27, 2014 - 8:04 pm
We've been seeing quite a lot of new Star Trek inspired devices being developed lately. Many of them similar to tricorders. While several of these new diagnostic tools are focusing on the medical side of the tricorder functionality, we found one the other day (thanks to our friend Drew) that is focused on analyzing food.
This new tool, by TellSpec is designed to scan your food, right on your plate, and tell you what's in it and how much. If this new scanner hits the market, functioning as described, it will be a great tool for those watching calories for weight loss and those looking to stay within safe dietary parameters for diabetes and other health concerns. While it isn't quite to the consumer-ready phase (they're still working on making it as small and good looking as the design calls for), it is well on its way to living up to all of the goals these developers have set for it.
By Crewman Becky | December 2, 2013 - 10:37 pm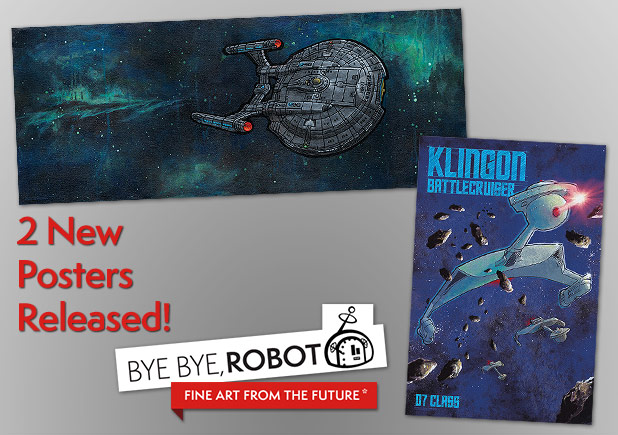 Two recently released prints from Bye Bye, Robot are now available! The Enterprise NX-01 and the Klingon Battlecruiser!!
If you make your purchase before the end of Cyber Monday, December 2, 2013, you get FREE SHIPPING on everything!
Be sure to catch the oversized (14"x36") Enterprise NX-01 right away, while it's still at its introductory price of $25 (regularly $30).
By Crewman Becky | October 22, 2013 - 7:56 pm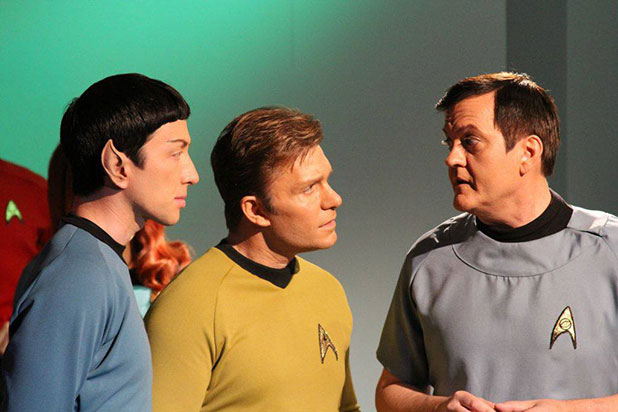 In June we reported on the premiere episode of the new fan series, "Star Trek Continues", and we're happy to report now that they are on their way to making three brand new episodes, with your help. They have recently launched a KirkKickstarter campaign that will allow them to bring these new episodes right to your very own living room...er, computer.
This fan series is pretty darned cool! When I watched the first episode, it felt so much like an actual TOS episode that I kept forgetting that it wasn't. We're super excited to hear that there are three new episodes on the horizon...and we can't wait to see them! Go to their Kickstarter page, and MAKE IT SO!!