Spock
By Crewman Becky | December 2, 2014 - 3:04 pm
CBS Watch! magazine released a Star Trek special collector's edition this week. Retailing for $9.99, the issue features an inside look at the show and releases never-before-seen photos. It hit the newsstands yesterday, December 1st, so they're still out there waiting for you.
We also happened to be handed two of the photos that are included in this collectors issue, and thought you might like to get a sneak peek. Check them out below.

By Crewman Becky | October 22, 2013 - 7:56 pm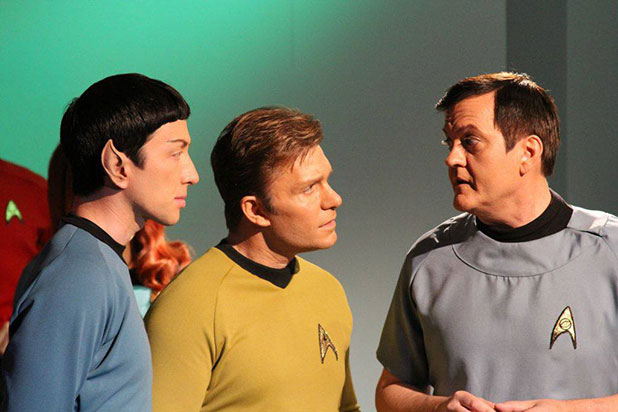 In June we reported on the premiere episode of the new fan series, "Star Trek Continues", and we're happy to report now that they are on their way to making three brand new episodes, with your help. They have recently launched a KirkKickstarter campaign that will allow them to bring these new episodes right to your very own living room...er, computer.
This fan series is pretty darned cool! When I watched the first episode, it felt so much like an actual TOS episode that I kept forgetting that it wasn't. We're super excited to hear that there are three new episodes on the horizon...and we can't wait to see them! Go to their Kickstarter page, and MAKE IT SO!!