CBS Watch! Magazine Special Star Trek Collector's Edition
By Crewman Becky | December 2, 2014 - 3:04 pm
CBS Watch! magazine released a Star Trek special collector's edition this week. Retailing for $9.99, the issue features an inside look at the show and releases never-before-seen photos. It hit the newsstands yesterday, December 1st, so they're still out there waiting for you.
We also happened to be handed two of the photos that are included in this collectors issue, and thought you might like to get a sneak peek. Check them out below.

Here's a full shot of the cover.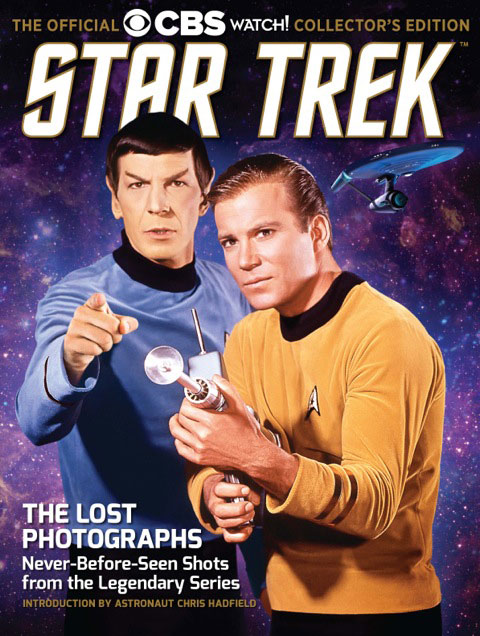 (Photos courtesy of "CBS Photo Archive")
Official press release:
CBS WATCH! ANNOUNCES RELEASE OF STAR TREK COLLECTOR'S ISSUE, ON SALE DECEMBER 1 AT NEWSSTANDS EVERYWHERE

Watch!, the glossy celebrity/fashion/lifestyle magazine published by CBS, has released its Star Trek special collector's edition, available December 1 for fans across the U.S. This is the fourth "bookazine" that the publication has released.

The issue features 100 glossy pages of never-before-seen photos, iconic memorabilia, interviews and more:

· Introduction by Col. Chris Hadfield, Former Commander, International Space Station.
· The incredible story of how Gene Roddenberry created Star Trek, and ultimately brought it to the screen.
· An inside look at the Star Trek that could have been.
· The crew of the U.S.S. Enterprise look back
· Captain Kirk vs. Captain Pike, an analysis by renowned 'Trek-spert' Larry Nemecek.
· A blueprint of the U.S.S. Enterprise
· Famous Trek fans on why they love the series

Retailing for $9.99, the publication is available for purchase on newsstands through February 1. For more information, go to CBSWATCHMAGAZINE.com

With previous issues focusing on "NCIS," "The Wizard of Oz" and George Strait, the collector's edition issues are produced in conjunction with Topix Media Lab.

About Watch!
Watch! is a mass market glossy magazine that gives readers a window into the world of celebrity and style through the eyes of television's biggest stars. From revealing interviews to glamorous portraits and sumptuous fashion shoots in the world's most exotic destinations, Watch! covers entertainment like no other magazine today. Witness "NCIS" star Pauley Perrette modeling French couture at the Hotel Plaza Athenee Paris ... "The Big Bang Theory" star Johnny Galecki dancing the hallways at the Mandarin Oriental Hyde Park London ... and "Two Broke Girls" stars Kat Dennings and Beth Behrs shopping the fashion triangle in Milan. With a stable of contributors that includes Patrick Demarchelier, Ellen von Unwerth, Art Streiber, Ruven Afanador, Kate Betts, Michael Musto, Hudson Morgan and Brantley Bardin, among others, Watch! brings the very best journalism to TV's most popular stars. The bi-monthly magazine is sold on newsstands and available for subscription through www.cbswatchmagazine.com