BYE BYE ROBOT LAUNCHES 2 NEW STAR TREK™ PRINTS
By Crewman Becky | December 2, 2013 - 10:37 pm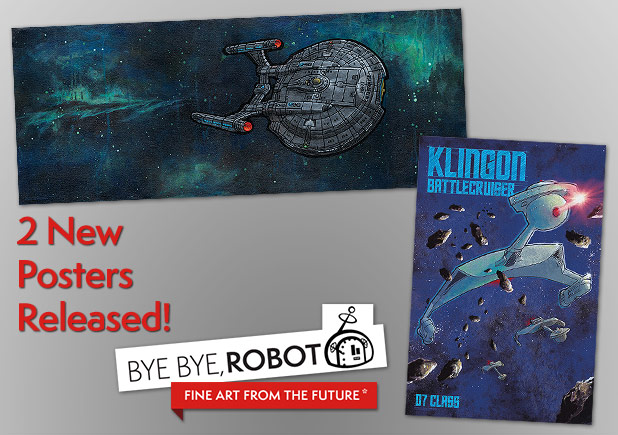 Two recently released prints from Bye Bye, Robot are now available! The Enterprise NX-01 and the Klingon Battlecruiser!!
If you make your purchase before the end of Cyber Monday, December 2, 2013, you get FREE SHIPPING on everything!
Be sure to catch the oversized (14"x36") Enterprise NX-01 right away, while it's still at its introductory price of $25 (regularly $30).
Check out the official press release, below:
BYE BYE ROBOT LAUNCHES TWO NEW STAR TREK™ POSTERS
FEATURING THE ORIGINAL SERIES AND STAR TREK: ENTERPRISE™ IMAGERY
Modern Art and Star Trek™ Fans Have Two New Prints to Add to Their Collections
Austin, Texas – April 22, 2013 Bye Bye,Robot is announcing the release of two new posters by artists Mark Brayer and Charity Wood. The release of these prints builds onto each of the artists' growing print series with exciting additions.
Mark Brayer's new 16x24" poster featuring a notorious enemy's ship from Star Trek: The Original Series, "Klingon Battlecruiser" is the third poster in his ever expanding series for Bye Bye, Robot. Brayer's love of book cover art from the mid to late 1900s is the basis for the retro design of this new ship's portrait poster. The poster depicts a band of prowling Klingon Battlecruisers as they blast their way through an asteroid field.
"The energetic scene, chaotic asteroids and the blast from the ship give this print a great sense of movement and dynamism. You can really feel the palpable threat from the Klingons as they disguise themselves from their prey and ready their fleet to attack their enemies," says Bye Bye, Robot Co-Founder Chris Wood.
The second print being released is "NX-01" by artist Charity Wood. This poster features the same extra wide size of 14x36" that is seen in her other ship portrait print, "Boldly Go." This is Bye Bye, Robot's first Star Trek: Enterprise print. It features a three quarter top view of the iconic ship as it banks through a turn as it begins its journey. Charity's signature style combined with the detailed rendering of the "NX-01" gives this ship portrait a unique feel. Utilizing deep rich colors and set atop a stylized star field filled with distant aqua colored nebulae, the ship stands out as the fearless space traveler that it is.
Both of the new posters are printed on heavyweight card-stock-like acid-free, archival paper.
The extra wide 14x36" "NX-01" poster, under license by CBS Consumer Products, is available for purchase today from www.byebyerobot.com for a limited-time introductory price of $25 (reg. $30) plus shipping.
The 16x24" "Klingon Battlecruiser" poster, under license by CBS Consumer Products, is available for purchase today from www.byebyerobot.com for $25 plus shipping.
Available in the U.S.A.
™ & © 2013 CBS Studios Inc. STAR TREK and related marks are trademarks of CBS Studios Inc. All Rights Reserved
# # #
About Mark Brayer
Mark Brayer is a full time illustrator and cartoonist with his own studio, Lightspeed Studios, and has been working in the field for over 25 years. He has created a vast amount of art for greeting cards, comic books, illustrated characters, book covers and illustrations, magazines, corporate logos and branding, websites and graphic design. His unique style and versatility has led to a wide spectrum of endeavors.
About Charity Wood
Charity Wood is a professional artist and a Co-Founder of Bye Bye, Robot. She has a background in traditional painting, and has worked in the film and gaming industries as both a concept artist and production artist. She is currently focused on creating more of her Pas de Lignes style paintings in her private studio, and the day to day running of Bye Bye, Robot, in the office.
About Bye Bye Robot, LLC
Founded in 2011 by Charity and Chris Wood, Bye Bye, Robot is an independent publisher of art. Currently, they are a licensed seller of original works of art based on all of Gene Roddenberry's live action Star Trek™ TV series plus Original Series and Next Generation movies. Bye Bye, Robot is dedicated to creating deeply immersive, visually spectacular pieces of art that will amaze and inspire viewers for generations.