Star Trek's Sir Patrick Stewart & LeVar Burton At Wizard World's Chicago Comic Con In August
By Captain Pyke | June 27, 2011 - 9:39 pm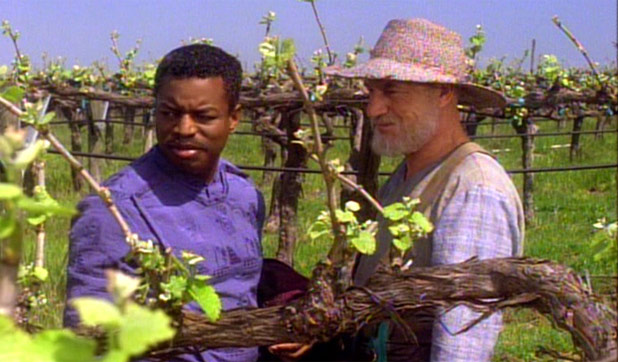 Drum roll...!!!...!!!...It was recently announced that Patrick Stewart will be appearing at Wizard World's Chicago Comic Con this August. The convention runs from August 11-14, 2011. If you are planning to attend, be sure NOT to miss Friday and Saturday (12th & 13th) in particular. That's when Patrick Stewart will be there in all his knighted glory. Not only will Sir Patrick be there but he will be joined by at least two other Star Trek alumni; his son Daniel Stewart (who, coincidentally, played alt-Picard's son on ST:TNG episode "Inner Light") and LeVar Burton (Geordi La Forge, ST:TNG). You can even have your photo taken with the (one, two, or) three of them while you're there. Oh, and as an added bonus, Christopher Lloyd, who played Commander Kruge in Star Trek III: The Search for Spock, will also be in attendance.
North America's largest pop-culture tour continues as Wizard World Chicago Comic Con returns to the Donald E. Stephens Convention Center, August 11-14, with superstar guests Patrick Stewart, Bruce Campbell, Christopher Lloyd, Morena Baccarin, Felicia Day, Academy Award Winner® Lou Gossett Jr. and James Marsters headlining the list of celebrity attendees. The event will bring together thousands of fans of all ages and dozens of celebrities and industry professionals to celebrate the best in pop-fi, pop culture, movies, graphic novels, comics, toys, video gaming, television, sci-fi, gaming, original art, collectibles, contests and more.
Stewart (X-MEN, "Star Trek: The Next Generation") will attend on Friday and Saturday only. Campbell ("Burn Notice," ARMY OF DARKNESS) and Day ("The Guild," "Dr. Horrible's Sing-Along Blog") are scheduled to appear on Saturday and Sunday. The three-time Emmy Award winner Lloyd (BACK TO THE FUTURE, "Taxi") and Baccarin ("V," "Stargate SG-1") will be available on Saturday only. Marsters ("Buffy The Vampire Slayer," "Caprica") is scheduled for Friday through Sunday.
"Wizard World Chicago Comic Con is our longest running event, and we are excited to be bringing our most star-studded field of celebrities and artists ever to the Stephens Convention Center," said Gareb Shamus, Wizard World CEO. "The show has huge stars like Patrick Stewart and Christopher Lloyd who are known all over the world, and, as always, features guests from some of the most popular film, TV and comics franchises like Star Wars, Buffy and Spider-Man. This is by far the largest pop-culture event in the region, and the fans, vendors, guests and other attendees have rewarded us by coming in more record numbers every year."
In addition to Patrick Stewart, LeVar Burton, and Daniel Stewart other celebrities attending include; Peter Mayhew (Chewbacca, Star Wars), Christopher Lloyd (Doc Brown, Back to the Future), Bruce Campbell (Evil Dead), Morena Baccarin (Firefly), Felicia Day (The Guild), James Marsters (Buffy The Vampire Slayer), Ray Park (Star Wars; Episode 1), Edward Furlong (Terminator 2), Pam Grier (Jackie Brown), Anthony Michael Hall (The Dead Zone), Louis Gossett Jr. (Enemy Mine), and TONS MORE…even Peter Tork of the Monkees. With that line up, how can you resist?!?!
Read more here.
(Source; Wizard World)