It's Going To Be A Klingon Party With Martok And Gowron This Weekend At BayouCon
By Crewman Becky | June 25, 2012 - 8:45 pm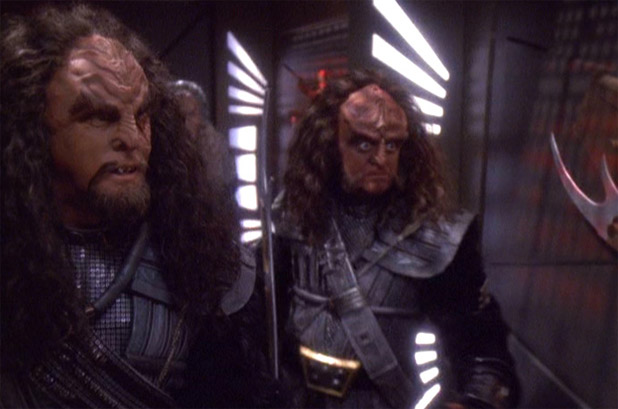 Actually, do Klingons ever party? I suppose revelry and astonishing tales around a bonfire count…as long as blood wine is involved. Speaking of partying Klingons, two of the most raucous will be appearing this weekend at BayouCon in Lake Charles, Louisiana. JG Hertzler (Martok) and Robert O'Reilly (Gowron) will be speaking on panels, signing autographs, posing for photos and mingling with guests at the Klingon Breakfast. Oh, and did we mention that they will be appearing in full Klingon costume during some of the convention? How could it not be awesome?!
BayouCon is a fabulous time you don't want to miss. There will be Events, Panels, Gaming and more to keep you busy all weekend. A panel we're especially looking forward to is the Klingon Makeup Demonstration. Join JG Hertzler and Robert O'Reilly's personal makeup artist for an in depth demonstration on the art of Klingon makeup. You'll learn the basics of how to apply a prosthetic piece, adding the wig, and finally how to bring it all together. This 60 minute panel will also give 1 lucky fan an opportunity to be placed in makeup.
Along with JG Hertzler and Robert O'Reilly BayouCon guests include authors Larry Nemecek, Kimberly Richardson, Alexander S. Brown, and Allan Gilbreath. Also appearing are comic artists, fan groups, and live music.
If you're anywhere near Lake Charles Louisiana this weekend, this is a fan run con you can't miss. It has a down-to-earth charm that lets you interact with the guests on a one on one basis.
BayouCon
Lake Charles, LA
June 30 – July 1, 2012
Weekend Adult Passes are $25 at the door or $20 if you buy them before June 27th.
Located at the Lake Charles Civic Center
Ticket information here