Star Trek's George Takei Appearing at Dallas Fan Days Ocotber 8th & 9th
By Crewman Becky | September 12, 2011 - 11:18 pm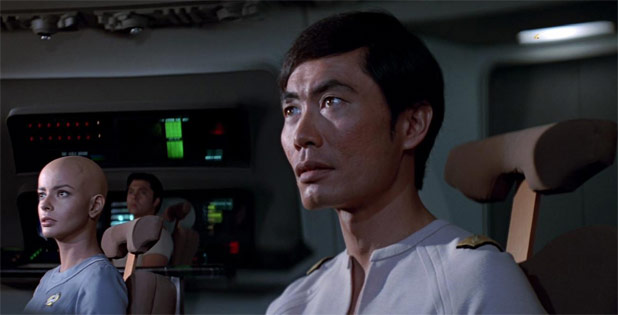 Dallas Comic Con is at it again. Their newest convention is coming up on October 8th & 9th. This particular "Fan Days" convention, is Star Wars themed, but we thought Trek fans would want to know because George Takei will be appearing over the weekend. If you haven't been to any of the conventions Dallas Comic Con puts on, you're really missing out. They run a great show. They are big enough and well known enough to get a ton of the great guests, but small enough to allow fans greater access to those guests. If you are anywhere near Dallas, TX on October 8th & 9th we totally think you should stop by and check it out. It's shaping up to be a great show.
Among the non-Trek guests (and lets face it, that's just about everyone else) are Billy Dee Williams (Lando Calrissian), Peter Mayhew (Chewbacca), and Ben Burtt...BEN BURTT!! (Sound designer for Star Trek XI and Star Wars!..did you hear that kiddies? He created the lightsaber sounds and R2's voice...squeee).
When? October 8-9, 2011 Saturday 11:00AM - 6:00PM, Sunday 11:00AM - 4:00PM.
Where? Irving Convention Center 500 W Los Colinas Blvd Irving , TX (At intersection of 114 and NW Highway)
How Much? General Admission $20.00. VIP and Priority tickets also available. Parking is available onsite and in nearby lots for $5.00. Shuttle service will be provided.
Read their official press release, below:
Free signings during Star Wars-themed Fan Days
Star Wars fans are in for a special treat at this year's Fan Days where at least half a dozen guests will offer free autographs. Tom Kane, the narrator and voice of "Yoda" on the Cartoon Network's Star Wars: The Clone Wars, will sign Fan Days' exclusive photos at no charge during the show Oct. 8 and 9 in the new 300,000-square-foot Irving Convention Center in Irving, Texas.
"We have a large, dedicated following of Star Wars fans at our shows, and offering coveted signatures for free is just our way of saying, 'Thanks!' to our many customers," said Ben Stevens, co-producer of the show he started in 1994.
Also signing for free: Stephen Stanton, the voice of "Tarkin" in the Clone Wars series; Star Wars book authors Timothy Zahn and Aaron Allston; memorabilia collector and fan favorite Steve Sansweet; and Kyle Newman and Ernie Cline, director and writer, respectively, of the popular Fan Boys movie.
Fan Days also will feature a plethora of guests who helped create the Star Wars magic both on camera and behind the scenes. Topping the media guest list is actor Billy Dee Williams, best known among Star Wars fans for playing the roguish "Lando Calrissian" in The Empire Strikes Back (1980) and Return of the Jedi (1983). In a career that spans more than 50 years, Mr. Williams has logged an impressive array of roles in such movies as Brian's Song (1971), Lady Sings the Blues (1972) and Batman (1989).
On the artists' side, Fan Days welcomes living legend Jim Steranko, whose work as artist-writer on Marvel Comic's S.H.I.E.L.D., Captain America and X-Men revolutionized the comics form. Mr. Steranko also is a musician, art director, magician, fire-eater, designer, publisher and filmmaker who has collaborated with Steven Spielberg, George Lucas and Francis Ford Coppola.
Also making a rare appearance is artist Herb Trimpe, co-creator of Wolverine. He'll be joined by almost 40 artists, including at least two dozen specializing in Star Wars artwork. Among the latter are Spencer Brinkerhoff, Joe Corroney, Scott Harben, Tom Hodges, Lawrence Reynolds, Cat Staggs and Denise Vasquez.
Fans of the animated Star Wars: The Clone Wars series also can meet actor George Takei. Although best known for his role as "Sulu" on the original Star Trek television and movie series, Mr. Takei crossed over into the Star Wars realm as the voice of "Lok Durd" on the The Clone Wars. Other Clone Wars voice actors appearing at the show are Catherine Taber, Ashley Eckstein, Jaime King and Meredith Salenger.
Among the guests who worked behind the scenes to bring Star Wars to life are sound editors/specialists Ben Burtt, who has worked for Lucasfilm and Pixar; Matthew Wood, who also provided the voice of "General Grievous" in Revenge of the Sith; and David Acord, whose current work includes The Clone Wars series.
Stunt man Dickey Beer also will appear, along with actors Peter Mayhew ("Chewbacca"), Alan Flyng (an Imperial Officer in Return of the Jedi) and Veronica Segura ("Corde" in Attack of the Clones).
Outside the Star Wars genre, Fan Days welcomes actors Julie Benz (Angel and Dexter) and Clare Kramer (Buffy the Vampire Slayer).
Attendees also are invited to an after-show party on Saturday night that will include a screening of the new comedy Hughes the Force, a costume contest, and a silent auction benefitting PKDcure.org. Admission to the party is free with show entry badge but limited to the first 1,500 people.
Fan Days tickets are available online through Sept. 15 and at the door. Admission to Fan Days varies depending on level purchased.
VIP passes ($75) give customers admission to the show 30 minutes prior to other ticket holders, first access to the autograph area, and first seating in the Q&A sessions. Passes are good Saturday and Sunday with a limited number available.
Priority passes ($40) also are limited in number, allow customers into autograph areas ahead of general admission, and are good Saturday and Sunday. One-day General admission is $20. Admission for children ages 5-12 is $5 when accompanied by a paid adult; children's passes are good both days.
Hours for the two-day show are 11 a.m. to 6 p.m. Saturday, Oct. 8, and 11 a.m. to 4 p.m. Sunday, Oct. 9. The Irving Convention Center, 500 W. Las Colinas Blvd., is at the intersection of SH114 and Northwest Highway in Irving, Texas.
For more information or to order advance tickets, please visit the website at www.fandays.com.