Abrams Explains Chance Kirk, Old Spock Meeting In Star Trek XI
By Captain Pyke | October 19, 2009 - 9:42 pm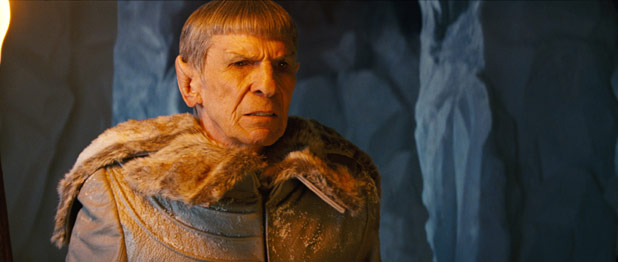 Some Trek fans out there have been discussing and discussing and discussing how the chance meeting between Old Spock and Kirk would even be possible.
Many say that the odds of Kirk being put in an escape pod, then crash landing on the exact planet, and finding the right cave would be next to zero.
J.J. Abrams takes that sentiment head on in a recent interview with Wired.
"I know there are some fans out there who watch the movie and say, 'How could Kirk land on that planet and meet up with Spock?'" Abrams told Wired.com. "But I think (screenwriters Roberto Orci and Alex Kurtzman) handled it by doing it. They went at it directly and decided to do it because this film is about fate and friendship."
When Star Trek arrives on Blu-ray and DVD Nov. 17, extras like deleted scenes and commentary will answer some lingering questions. Abrams said the DVD includes a scene cut from the film that features Spock Prime (Nimoy) dropping some logic about the unlikely chance meeting.
"In the scene, Spock explains that (the encounter of Kirk and Spock Prime) is a result of the universe trying to restore balance after the time line is changed," Abrams said. "They acknowledged the coincidence as a function of the universe to heal itself."
Abrams said he cut that scene because he liked the mystery the chance meeting provided — and the idea that Kirk and Spock are destined to be friends. (source Wired)
Read the full article here.